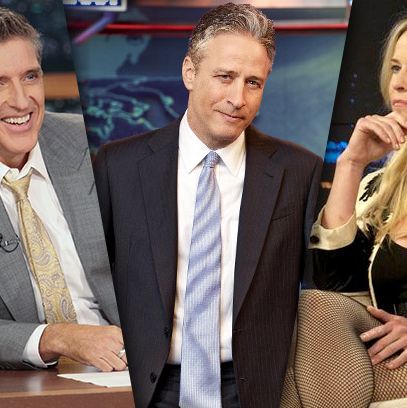 Photo: Getty, Comedy Central and E
Earlier today, David Letterman announced he will be leaving Late Show. Although this is definitely a fine time to look back at his greatness, it's also a moment to cast an eye forward, as the question of how CBS will replace him is a question that the industry will be speculating about until the network's succession plan is set. But replacing a legend isn't an easy decision; as a TV industry insider we spoke with says, "Doing that job is not as easy as it seems from the outside. Even if you've been a standup for years, it's a whole different skill to host." There are some obvious choices and also some less than obvious ones, but here are eight that make the most sense to us.
Craig Ferguson
Ferguson is the obvious first choice here, as he's been following Letterman for nine years with Late Late Show and has previously had so-called Prince of Wales clauses in his contracts, giving him first dibs on the chair or a big buy-out if he's passed over. Letterman also produces the show, so if he didn't like Ferguson we would know by now. Ferguson is an affable enough host and his show does well enough, so it doesn't seem out of the question. The bigger issue is Ferguson's relative lack of name recognition, which will be important for CBS as this host will have to compete instantly with the already established Jimmys (Fallon and Kimmel).
Jon Stewart
Stewart certainly has the name. And it certainly helps that Comedy Central and CBS are both owned by the same company, so much so that many speculated that the only reason Stewart has stuck with The Daily Show, in the face of wanting to do other projects, was the promise of Letterman's gig. The question is would he really want to leave a show that has been so good to him and allowed him a certain amount of creative freedom, just for the possibility of a slightly bigger (albeit older) audience. As one industry expert told us, "If Stewart called tomorrow and said he wanted the job, CBS would have a hard time saying no. The question is: Does he really want to leave his current situation?" (Colbert doesn't really seem like an option, by the way, as he has never shown signs of wanting to work deep out of character, although the TV industry expert we spoke with argues it could conceivably be a great fit. "He's different enough from the other guys on now, and it would be great to see him freed from his Colbert Report persona." And speaking of Colbert, Letterman's Worldwide Pants did produce the Strangers with Candy movie, so maybe Amy Sedaris is an outside the box option. He does seem to love her whenever she stops by the show.)
Chelsea Handler
The timing of her announcement that she wants to leave E! is certainly curious. Handler has experience, hosting Chelsea Lately since 2007, and a loyal (though relatively small) audience. She also has a clear point of view, which, although a bit edgier than CBS on the whole, it might be necessary to stand out amongst the Jimmys.
Amy Schumer
Maybe CBS will want to go with a rising star and Schumer is arguably one of the brightest ones rising. Not only does she have a hit show for Viacom already (Comedy Central's Inside Amy Schumer), she has Trainwreck, the potentially star-making movie she's writing and starring in for Judd Apatow. So, maybe she doesn't make sense for the beginning of 2014, but maybe she does for the end of 2015. Coicidentally, she also killed it as a guest on Letterman earlier this week. Still, she's likely too edgy for our least edgy of networks.
Chris Rock
Maybe, Louis C.K. knows something we don't. C.K. spent three episodes of his last season on a story arc surrounding who would replace David Letterman. Eventually, Rock, who has experience with his own HBO talk show, got it. (Some might say C.K. has a shot, and it would certainly be big news — "Louis C.K. would be really interesting," says our insider — but, frankly, Letterman seems unlikely to give the stamp of approval to someone so opposed to wearing a suit.) Rock obviously has the name recognition, but frankly seems too committed to making his own movies at this point.
Conan O'Brien
Conan likes to talk about how much he loves cable, but that's just what people say when they are on cable. O'Brien and Letterman obviously have a kinship and mutual respect. And O'Brien definitely has experience. Still, bringing in O'Brien would feel a little like CBS was getting NBC's sloppy seconds and it's not like his TBS ratings have been anything to write home about.
Ellen Degeneres
DeGeneres sure seems like a good fit. She is super well-known and has been killing it on daytime for over ten years. It also helps that she has a completely different energy than the late night bros. Still, our insider isn't totally sold on her leaving for a nighttime gig. "Ellen is incredibly talented, but she seems to be so entrenched in daytime," says the insider we spoke with. "Maybe that's just because we've seen her in late-night for so long."
Neil Patrick Harris
Okay, now we are having a little fun here, but bear with us. NPH is out of a job. NPH has obvious ties to CBS. NPH, with his theatre background, obviously enjoys live performing. NPH has very well-regarded award show hosting experience. Though he's never hosted a late night show, he was a beloved guest host on Live with Regis and Kelly. Also, considering the crowded market, his inexperience might be a benefit, as it would create intrigue around its debut. To add another layer, How I Met Your Mother creators Craig Thomas and Carter Bays got their start as writers for Letterman, so they could either vouch for the gig or, if we are really dreaming, sign on to run the thing. The question is really if he'd want to abandon a solid acting career for the rigors of late night.