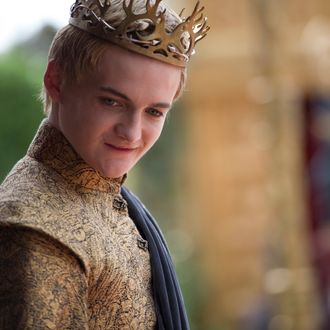 Jack Gleeson, who plays King Joffrey on Game of Thrones, doesn't really care about fame. He has never desired a long acting career and is dismissive of celebrity culture in general. All the 21-year old Irishman wants to do, it seems, is continue to attend Trinity College, Dublin and stay out of the spotlight. Here's a primer on Joffrey's real-life counterpart.
He appears to be serious about quitting acting, as he had previously announced in the Irish Independent.
"The crux of it is that I don't want to be an actor after Game of Thrones. Interviews are good if you want to be an actor because they raise your profile. You're also more interesting to talk to if you're more passionate about acting. I don't need to do those things, and I also suppose I'm just private. I find it slightly uncomfortable to see my face on a bus or a poster. I like just being known by my friends and family." —Entertainment Weekly
He really hates celebrity culture, which he refers to as approaching "religious hysteria," as you can see in this nearly half-hour talk he gave at the Oxford Union.
And in this 15-minute Q&A session afterward.
He gave himself a Game of Thrones–esque injury when he was a lad.
"I chopped the top of my finger off in a door when I was running away from my cousin about five years ago. Ever since then, I've been very touchy around doors. They scare me a lot." —GQ
That was before his small role in Batman Begins as the kid who believes in the Dark Knight.
He wants to stay close to school, and in 2012, he was made a Trinity College scholar, an honor granted after a series of difficult exams.
"I'd like to be an academic, a philosophy lecturer if possible. I'd do a Masters in Ancient Hebrew maybe, and a PhD hopefully, if I get in." —Irish Independent
Or maybe he wants to be a poet.
"I've always, the past few years at least anyway, wanted to be a lecturer or professor," he confesses, "but that's because I feel like I'd be good at it. If I were to have a dream job, it would probably be a poet. Then again, I don't think I'm a very good poet! I don't write that often, not as much as I used to. I like a lot of Irish poetry because I think it's easier to connect to in some ways, the intonation and the rhythm, but I don't like writing it because I'm not good at it. I think it's fascinating though. I keep trying to define poetry but it's so difficult. —Hot Press (article behind paywall, accessible here)
Gleeson had no idea how much Joffrey was hated in the books before he took on the role. Also, he claims not to watch Game of Thrones.

He's an activist. In 2012, he read a poem at an Amnesty International concert honoring Burmese democracy leader Aung San Suu Kyi.

In late 2013, he visited Haiti with the humanitarian organization GOAL as part of that group's continuing efforts following the nation's 2010 earthquake.
Gleeson acted in a musical puppet production by Collapsing Horse Theater, a troupe he helped co-found.
Apparently he's not a horrible person.
"Jack's the nicest person on earth probably and is so thoughtful; he's funny, he's decent to people," says Thrones executive producer Dan Weiss. "And yet he has this unfailing sense of what the most horrible person in the world would be like and how he would say a line — because he always gets it right." —Entertainment Weekly