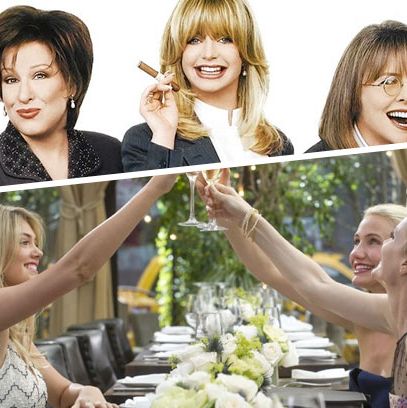 Photo: Paramount Pictures and Twentieth Century Fox
Ugh, men are the worst. Lying, cheating, trying to get you thrown to your death: They're just bad news. That's why women have to team up to get back at the dudes who mess with them. Last weekend's No. 1 movie, The Other Woman, stars Leslie Mann, Cameron Diaz, and Kate Upton as a wife and the two women her husband cheated on her with becoming best friends to screw over the man they have in common. There's a hearty history of women joining forces to seek vengeance. Which notable movie female teams did the worst damage?

John Tucker Must Die
Offense: John Tucker is dating three girls at the same time. He can do that because they are in different cliques, and this high school is weird like that. They eventually find out and vow to get back at him for being such an asshole.
Revenge: They make people think he has genital herpes and slip him estrogen, yet he manages to make all of those things work to his advantage. After deciding that breaking his heart is the only revenge, Kate (Brittany Snow) seduces him on video-chat, tells him to put on a thong, and leads him to climb into a teacher's hotel room. He then makes thongs a thing. They put it all on tape and play it for him.
Severity: Wait, the movie is called John Tucker Must Die and he doesn't die? Get out of here.
The First Wives Club
Offense: Brenda (Bette Midler) and Elise (Goldie Hawn) have husbands who have left them for younger women. Little does Annie (Diane Keaton) know, her husband Aaron (Stephen Collins) is sleeping with their therapist. After getting letters from their dear friend Cynthia (Stockard Channing), who recently committed suicide, they realize they were severely underappreciated by their ex-husbands and start a First Wives Club. For revenge.
Revenge: Brenda discovers that her ex, Morty (Dan Hedaya), is guilty of tax fraud. Annie buys out her husband Aaron's advertising agency. They have a hard time figuring out what to do with Elise's ex, Bill (Victor Garber), until they realize that his new girlfriend is underage. All three are blackmailed into giving money so the women can start the Cynthia Swann Griffin Crisis Center for Women.
Severity: Brenda takes Morty back and, really, all of these "donations" are tax deductible. Honestly, they could've done a lot worse.
The Other Woman
Offense: Kate King (Leslie Mann)'s husband Mark cheats on her with Carly Whitten (Cameron Diaz) and then cheats on them both with Amber (Kate Upton). He also sets up a fake money-laundering start-up under Kate's name.
Revenge: Laxatives in his cocktail, Nair in his shampoo, hormones (!) in his morning smoothie, and finally: a visit to the Bahamas to withdraw the millions of dollars he stashed there, leaving him penniless.
Severity: Mark is broke, but he's still got a very pretty face.
She-Devil
Offense: Ruth Patchett's (Roseanne Barr) accountant husband Bob (Ed Begley Jr.) is having an affair with romance novelist Mary Fisher (Meryl Streep). She confronts him, he leaves her, and she writes a list of the four things she'll need to ruin to achieve vengeance: his home, his family, his career, and his freedom.
Revenge: She blows up the family house and starts an agency that helps other women get good jobs in exchange for aiding Ruth in her revenge plot. With the agency's help, she even frames Bob for embezzlement. He's arrested, convicted, and sentenced to eighteen months in jail.
Severity: Bob may have lost his house and mistress, but he's out of jail in a year and a half. So much for taking his freedom.
Nine to Five
Offense: Judy Bernly (Jane Fonda) and Violet Newstead (Lily Tomlin) have an awful boss (Dabney Coleman): He's both verbally and sexually abusive, harassing his employees and even spreading rumors of an affair with another, Doralee (Dolly Parton), to damage her credibility.
Revenge: The three women kidnap their boss, hiding him in his own home while trying to figure out some sort of blackmail. Easy: He's illegally selling company property and keeping the profits. Doralee forges his signature and makes changes around the office while he's "indisposed" — adding flexible hours, equal pay, job-sharing, and daycare services.
Severity: Thanks to a post-credits montage, we learn that the boss was abducted by a tribe of Amazons in the Brazilian jungle and "never heard from again." Yikes.
Death Proof
Offense: "Stuntman Mike" (Kurt Russell) uses his "death proof" car to murder four women. Fourteen months later, he messes with three other women he comes upon at a gas station, slamming his car repeatedly into theirs. One of the girls (Zoe Bell) is almost killed.
Revenge: They total his beloved car and beat him up.
Severity: I mean, they beat the shit out of him.
The Craft
Offense: Bullies, man! Three of our protagonists are harassed by various mean girls — including Laura Lizzie (Christine Taylor), who calls Rochelle (Rachel True)'s hair nappy and makes fun of Bonnie (Neve Campbell)'s scars. Nancy (Fairuza Balk) is abused by her stepfather. New girl Sarah is almost raped by her boyfriend Chris (Skeet Ulrich). (To be fair, she did put a love spell on him.)
Revenge: Poor bully Laura Lizzie loses her beautiful blonde locks. Nancy uses newfound power to kill Chris by magically pushing him out a window and cause her stepfather to have a heart attack and die. Bonnie takes her revenge by casting a beauty spell; she loses all those scars. That'll show 'em.
Severity: Turns out, the true revenge had to be taken on fellow witch Nancy — whose power became too much for her to handle. But the enchanted rapist boyfriend did die.

Thelma & Louise
Offense: Two friends, Thelma Dickinson (Geena Davis) and Louise Sawyer (Susan Sarandon), are slighted by men at each and every turn: controlling husbands, rapists, thieves, cops, and a trucker who crudely cat-calls them.
Revenge: They don't quite take revenge on specific men, but the entire gender: Killing that rapist and locking a cop up in his own damn police cruiser.
Severity: It's pretty bad, but if you consider the two drive off a cliff to avoid giving the Man a chance to further bring them down? That's the ultimate revenge.*
*Vulture does not condone suicide.