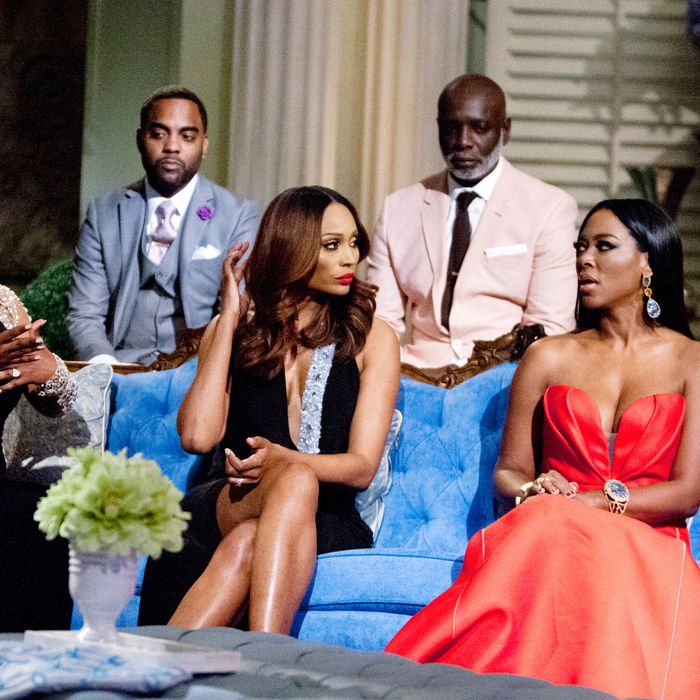 Photo: Wilford Harewood/Bravo
Is this the first time a physical assault has happened at a housewives reunion? Plenty of cast members have stormed off to prevent themselves from punching someone, but I think this is the first time actual fisticuffs happened.

Everyone looked lovely. NeNe wore a floor-length hot pink gown and her finest lacefront, the one that makes her hair look like it is molded from plastic; Phaedra had on her best smug attitude and fake smile; Kenya was carrying a scepter and wore Gary Oldman's battle armor from Bram Stoker's Dracula; Cynthia wore … something, I'm sure, but can't remember for reason of a boring nature; Porsha wore her new tits; and Kandi cosplayed as the Winter Soldier.
Apollo has apparently been under federal investigation for fraud, which, Phaedra is quick to explain, is not an indictment, she has nothing to do with it, and they're fine. I legitimately cannot understand why she stays with him at this point. They are SO mismatched! They can barely stand to be in the same room together! Being a criminal shouldn't preclude you from love, but it should preclude you from loving a lawyer. Does no one see the conflict of interest? A prenup will not prevent you from being disbarred, y'all.

NeNe takes blood thinners and wears compression socks now to handle her pulmonary embolisms, but she was so busy being a nasty bitch that I couldn't muster up the give a shit to worry about her health. She's generally flippant at these gatherings, but this time she was downright hateful, and it sucked all of the fun out of the room immediately. Here's the truth: NeNe does not want to be on this show anymore. I think she's backed herself into a corner, but it's obvious from her insistence on special treatment (an entire Watch What Happens Live for her?) and outward intolerance that she feels she has outgrown this show. What pull does she have over Andy? She barely makes for interesting TV anymore. I know it won't happen, but I'd be happy to see her go next season. Do I say this at the end of every season? I feel like I say this at the end of every season, like I'm conjuring a spell to make it real.
After a dance segment and a quick round of Is Kenya's Butt Real? (because Lord forbid we go an entire week without somehow denigrating the black female body or reducing it to stereotype), Kenya admitted that she takes everything as a compliment, which explains her fundamental aversion to reality. Finally, it has been solved! She has a Babelfish in her head that translates every insult to something fabulous. Does it work in reverse? If you give her praise, does she shrink into a bottomless depression?

What's important to note at this point is that the body language of every cast member tells a much bigger story than their mouths are letting on. The eye rolling, visibly looking away from Kenya, arms crossing, turning their entire body away from her — no one can stand Kenya. They may have tolerated her for the show, but in real, actual life, every single person on those couches is trying to manipulate their bodies into an astral plane that might not even exist yet and far away from her.
After Kenya weirdly recited the entire dick speech she gave on the beach in Mexico word-for-word, there was a quick flashback to Kandi, that terrible red phase I still can't get over, and all of the awful people in her family fighting about her dream man and dream marriage. Listen, it all worked out — they got married, and Kandi insists her relationship with Joyce is fine. But there's nothing you can do to convince me Mama Joyce treats Kandi or Todd with respect. Based on last week's episode, she's chosen to turn a blind eye to their relationship entirely, which is the exact opposite of working through your problems. Kandi's wedding was documented for Bravo; it's too bad Celebrity Death Match was already chosen as a title by something else long ago.

I'm glad Andy called NeNe out on her comment about not wanting to work on Kandi's play, right before a viewer called her out on her double standard about lateness. You can't call CP time on everyone else and still be late, NeNe! For some reason, this segued into a viewer calling Kenya out for commenting on Kandi's body, and watching Kenya try to backpedal was fun. Calling someone a brickhouse doesn't remove the insult of you saying they shouldn't eat any sandwiches, but nice try, Kenya! You still have zero friends on this show. A different viewer asked Phaedra if calling Kenya a "whore" was a Christian thing to do, which makes me think she doesn't understand how the word whore operates as an insult. Phaedra said something about looking at the Bible on her iPhone, and Andy looked as confused as I felt.

Things started to get dicey right after Kenya's Year in Review. She cried about Velvet again, and it was revealed that NeNe was the only one who didn't send her any sort of consolation after the dog died. If even Porsha says something to Kenya, you know you're an asshole if you don't. But hey, NeNe thought about buying Kenya a new dog, so that's the same as sending condolences, okay? There were lots of comments about Kenya's invisible African prince boyfriend, NeNe debunked the rumor that she met him, and Porsha jumped in to tell Kenya she knows she tried to pay a man $15,000 to play the role of the African Prince. Porsha snatched Kenya's scepter after she pointed it at her one too many times, and then Kenya did the most amazing thing — she whipped out a megaphone! Why doesn't Bravo make one of these available at every reunion?
Porsha continued yelling at Kenya, calling her boyfriend another fake Walter and threatening to jam the scepter up Kenya's ass. In retaliation, Kenya asked Porsha to spell "scepter," which was funnier than it had any right being.
Things really got heated when Kenya insisted that Phaedra and Porsha were victims of karma for all of the shitty things they've said about her. Porsha said she is just sick of a grown woman playing the victim, and I am surprised she didn't get BIBLICALLY SMOTED for that little act of hypocrisy. After calling Kenya a "slut from the '90s," which is an admirable and well-sought-after title, and telling Kenya her vagina is rotten, Kenya said that Porsha cheated on Kordell. At the assassination of her character, Porsha stood all the way up, and the next thing you know she and Kenya were on the floor.

Andy tried to break them up! Kenya ran away! Porsha lied on the floor wailing about how embarrassed she was! NeNe covered Porsha's mouth with both hands when she tried to speak! Everything about this was very, very intense!

It was really sad to hear Porsha mournfully wailing about how embarrassed she was. Later she says that she blacked out and has no memory of anything happening until she was on the ground looking at NeNe, who was trying to comfort her by smothering the life out of her, I guess? Porsha was carried off by a man in a Cosby sweater, and backstage was a total frenzy. Kenya is calling for Porsha to be fired, and I would be surprised if she doesn't already have a lawsuit pending against her. Andy felt pretty terrible for what happened, as if he could have stepped between these two MMA fighters and done anything but get punched in his mouth, too, and after checking on Kenya he told Porsha to go home, thinking she's not ready to do this.

Everything about this was very weird. Though I'm mostly nonviolent, I can't imagine being on a cast with Kenya and not punching her directly in her face at least once a day. But I also never expected the prim, proper princess that is Porsha to be the one to do it! What do you guys think — was Kenya provoking Porsha?

Next week, there's a message about not condoning violence, Kenya keeps the "fire Porsha" train rolling, Joyce shows up to act like a fool, more bickering ensues, and Kandi reveals Joyce has opened credit cards in her name. So far, the reunion is leagues better than the last half of the season. I AM RIVETED.