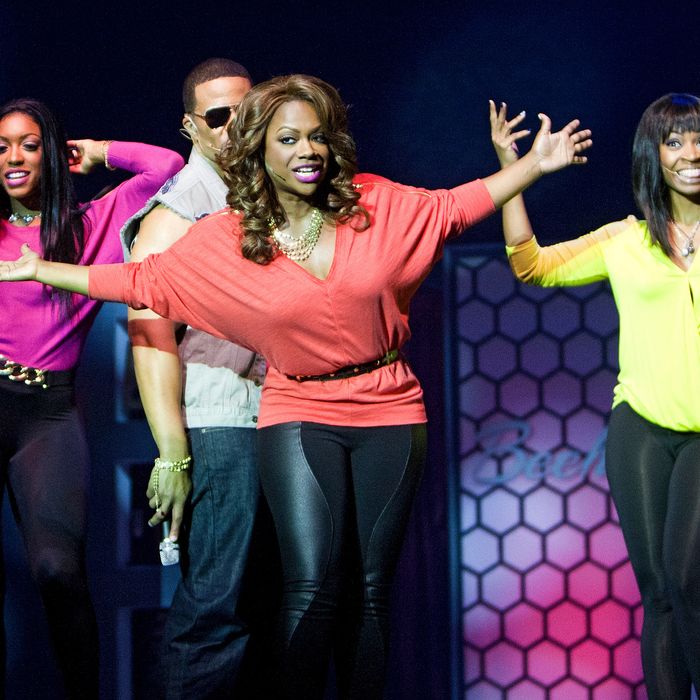 Photo: Bravo/2013 Bravo Media, LLC
It's hard to encapsulate this season. It felt less cohesive, but there was more drama and higher ratings than ever. No one seems to have any redeeming characteristics anymore, so I don't have my usual allegiance to anyone. All in all, I feel a little bored, a little amused, but mostly annoyed with the ladies this season. What exactly were these 22 episodes about?
Kandi still has questions, too, namely "Will this musical I wrote instead of actually communicating with my mother be a success?" and "Will Todd sign this prenup or what?" She's using A Mother's Love to talk to her completely crazed, horrible mother, so of course she wants it to be a success: If it's a box-office success, she's proven somehow that Todd is capable of working (even though he already has a stellar job), and if Mama Joyce likes the musical, maybe that means she sees the error of her ways and will stop being such a conniving, shitty parent. There's a lot riding on this performance — maybe too much. But they also have a wedding to plan after this, and Kandi wants Todd to sign their prenup and be done with it the way Phaedra and Apollo and Cynthia and Peter did with theirs. In Todd's defense, these are terrible examples. I think Kandi is right to protect her properties, retail stores, songwriting, and sex-toy line, and holy crap, she owns a lot of things! In the midst of all the fighting with her mom, I forgot that Kandi is actually a boss, and one of the most successful people on the show. She can definitely hire someone to rid Mama Joyce of the demon that is possessing her.
Oh, Kenya. I'm still sad that her dog died so violently, but she really did turn the drama at this memorial service up to 11. Why is this dog being memorialized in a mud pit? Has no one seen Poltergeist? It was a small affair; Kenya's Aunt Lori played the minister and talked about Velvet's friends and relatives, and we got to see a montage of her being adorable and doggish. Kenya arrived like a grieving widow, wearing a used artist's tarp and making a slow progression to the memorial site, holding the tiny urn. I know her anguish is real, but her arrival was undoubtedly dramatic. She wailed, and we all felt terrible, knowing that Kenya put all the love she had to give into that dog. Remember how she handpicked Cynthia last week to attend Velvet's wake as one of her only real friends? Well, Cynthia brought her dog. She brought her dog to the wake of a beloved, dead dog! And that dog was acting up — squirming in her arms, walking around her nervously, and really reminding people that she was alive, alive, alive. Cynthia cared enough about Velvet to mix up her pronouns, and Kenya cried like her very heart was being ripped out. Does she really think God killed her dog so she could have room for a baby? Come on.
Speaking of babies, Ayden is turning out to be as adorable as possible despite the fact that his parents hate each other. From decorating the cake to saying "you can do the honors" to that little Band-Aid on his forehead, I was positively charmed by this little cutie! Apollo, on the other hand, still makes me want to put my fist through a wall every time I see his smug face. He tried to pull that "now your mind won't be clogged" malarkey, as if Phaedra's constant patrolling of his behavior is her fault, and Phaedra turned it right around on him, insisting that he try to have a vagina for one day and see how he held up. She's actively building this business despite her naysayers, and one day, the Atlanta area will have a Fabulous Funerals by Phaedra to look forward to. I think she's well aware that she married a dunce, and is actively looking for a way to fill her time and her wallet to prepare for the day when she finally gives him the boot.
Porsha decided to celebrate her official divorce by hanging a giant portrait of herself over the mantel and drinking with her family. Her mother and sister came over to find out how she was doing and, after staring at it the way a cartoon coyote stares at Porky Pig, finally made her take off her wedding ring, which Porsha seemed more attached to than she was to Kordell.  She didn't take any alimony from him in the end, but if you looked at the previews for next week's reunion, she certainly found enough money somewhere to get a comical boob job.
Speaking of boobs, Cynthia decided she needed to be better at seducing Peter. Since that idea came from her sister Mal, she figured why not invite Mal over to help me sex up the joint! Does Mal still live there? I thought she was living there for two months and then going back to her husband, but we haven't seen much of her since her trunk show. Either way, Mal is eager to either earn her keep or try to keep the peace, so she's arranging tea lights while Cynthia tries out different variations of daddy to gross us out with. Cynthia made Mal the Peter surrogate while she practiced lighting cigarettes and feeding strawberries to him, and I was honestly surprised that Mal does a great Peter impression, right down to the gruff questions and accusatory tone. Mal split, and when Peter finally came home and caught a glimpse of Cynthia, he burst out laughing and asked her how sexy she was really going to be with Spanx on. I hate Peter, but this was the best moment of the season for me, laughing at this dummy while she tried to be seductive. He certainly wasn't worth the effort, but at least he could recognize the absurdity of it all.
NeNe came home and Gregg made a huge fuss about it — maybe too much of a fuss? There was a very short leash clamped on that man when he decided to remarry NeNe, and he seems to perform the happy husband more than he actually feels it. NeNe has some pain radiating around her midsection, but Gregg knows just the trick — she clearly needs to fart! Doctor Gregg prescribes Alka Seltzer and lots of "pushing," to which NeNe rolls her eyes and calls a doctor immediately.
The bulk of this episode was taken up with A Mother's Love, and Kandi and Todd are running around before the show starts making sure everything is okay. Well, Kandi is — Todd doesn't seem to have any idea what is happening, and keeps asking everyone, "How does this work?" Porsha arrives just in time for it to get very hectic; a man in a headlamp is roaming around onstage, makeup artists are furiously applying thick coats of varnish to every face, and Lark, the director, is on Porsha's ass. But don't worry, guys, Porsha is pretty sure this is her calling, saying, "Some stars are born, but I was made for this." In this quote, can you tell me the difference between being born for or made for something? Because Porsha sure can't, and that's because there is no difference. Having a conflicting thought makes her very tired, so while everyone else is running around like a chicken with its head cut off, Porsha takes a nap. This abject unprofessionalism is all part of the Porsha experience, you guys!
There was a huge crowd for the show — sure, Tyler Perry was there, but did anyone else notice how adorable Riley looked? I start humming Whitney Houston's "The Greatest Love of All" whenever I see the offspring of a housewife, hoping against hope that they turn out okay. Porsha's sister showed up backstage to congratulate her and give her a chance to compare herself to Beyoncé, which I'm sure is in her rider, and then Mama Joyce finally appears. Eddie Levert asked her "Were you really like that?" in regards to the show being based on her, and Mama Joyce deflected with "Well, I have to see the play." Bitch, anytime someone has to write an entire musical to communicate with you, you are really that bad, trust me.
After a quick prayer and a bunch of Kandi's nervous farts peppering the stage, it's finally happening. Phaedra and Cynthia talked through the entire thing, and Apollo was dead asleep the minutes the lights went down. Kandi broke through the fourth wall immediately to garner some applause, and then Porsha sang terribly off-key and too loud for a bit. Everyone in the audience clapped when Fake Mama Joyce was put in her place while the Real Mama Joyce looked on, expressionless. In the end, Mama Joyce said she actually liked the play, and would agree to disagree about Kandi and Todd's relationship. I don't think that's a levelheaded approach to welcoming someone into your family, but based on past behavior, we're lucky she didn't douse anyone in gasoline and light them on fire. Plus, she has a boyfriend! Where did he come from? And where's his reality show?
NeNe was absent from most of this finale because after years of blowing hot air, her lungs finally collapsed. Andy Cohen rewarded her with her own half-hour Watch What Happens Live as a result, where she took up more time to make enemies. Did you watch? Could you believe it? Andy looked at her like she was crazy the entire time, and I'm really starting to believe there's some sort of late onset mental issues brought on by her raging ego. She insulted everyone, saying Kenya was a useless instigator but good drama for the show, and backhandedly saying Cynthia should be kicked off the show for not bringing anything to the table and "blowing whichever way the wind took her." The tide has turned! All it took was Cynthia standing up for herself once after NeNe called her husband a bitch, and NeNe was out of that friendship faster than The New Normal was cancelled.
In the end, Porsha found an African tycoon to date, Kenya might try to have a baby with her invisible African prince, Phaedra will keep trying to open her crematorium, Cynthia admits her friendship with Kenya, and Kandi and Todd finally got married.

The reunion promises to be balls-out crazy — Kenya talking through a megaphone, Cynthia fighting with NeNe, Phaedra and Kenya going at it again, and Porsha finally snapping and physically fighting Kenya! There are still two more episodes, so I'll see you next week.