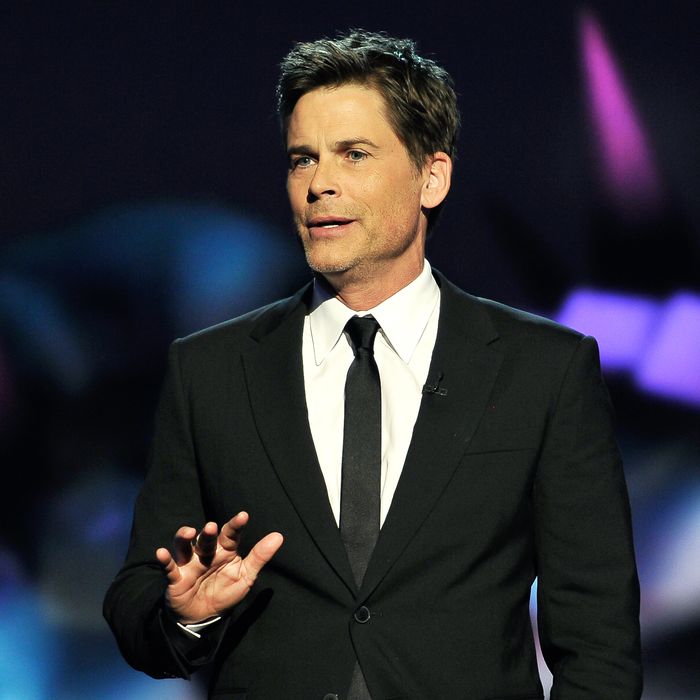 Photo: Steve Jennings/Getty
Rob Lowe's second memoir, Love Life, is more notable for what isn't there than what is. For instance, there's no mention in the just-published book of the infamous sex tape he filmed with an underage teen, the nanny lawsuits, or if he ever got anything in return for sending a nude photo of himself wrapped in a toy snake to Andy Warhol. What Rob Lowe, now 50, does want you to know, however, is that he's older and wiser and loves his family — especially his wife, Sheryl — very, very much. At times, he seems a little bit like his character Chris Traeger from Parks and Recreation: buoyantly optimistic with a belief that hard work and dedication are the ultimate determinants for success. Still, there are plenty of anecdotes from the 259-page memoir that Lowe fans will enjoy, including why he turned down Grey's Anatomy and behind-the-scenes tales from the set of the short-lived Lyons Den.
1. In order to fit in with the other kids, a teenage Rob Lowe bought a pipe and pretended to smoke pot.
It was his first real attempt at acting.
2. He learned that a "young, successful actress" he was dating was also sleeping with Warren Beatty … from Warren Beatty.
Lowe, who was about to break out with The Outsiders, was being cuckolded by someone far more famous than he was at the time. This unnamed young love interest apparently reminded Beatty of his onetime sweetheart Natalie Wood … who had been cuckolding a pre–Splendor in the Grass–fame Beatty by simultaneously sleeping with Frank Sinatra. Oh, the parallels!
3. Being a regular at Lakers games informed Lowe's "transgendered Bee Gee" look in Behind the Candelabra.
Lowe based his look on shiny, plastic-looking guys he used to see courtside. It was such a success that, during the shoot, Matt Damon couldn't look at him without busting a gut.
4. After Jewel filmed a kissing scene with Rob in The Lyons' Den, she wiped the back of her hands across her lips in disgust.
After seeing Jewel's performance in Ang Lee's Ride With the Devil, he convinced the studio to hire her as a love interest for a four-episode arc in The Lyons' Den, his flailing NBC legal drama. However, when shooting a climactic make-out scene, Jewel brought her boyfriend, an iconic rodeo champ, to the set, and kept trying to get out of macking with Lowe. She eventually acquiesced, but not without a public display of discomfort.
5. Ryan Murphy wanted Lowe to star in Nip/Tuck.
Over lunch after the fact, Murphy told Lowe that he'd written the part of Dr. Christian Troy with Lowe in mind. But since Ryan Murphy wasn't yet "Ryan Murphy," Lowe's agents never even showed him the script.
6. CBS honcho Les Moonves talked Rob Lowe out of taking the lead role in Grey's Anatomy.
In 2004, Lowe was deciding between headlining CBS drama Dr. Vegas and taking the part of Dr. Derek Shepherd on Grey's Anatomy (which would eventually be taken by Patrick Dempsey). Even though Lowe thought that Grey's had the better script, he listened to Moonves, who was arguing that ABC hadn't launched a successful new drama in more than a decade and that Grey's wouldn't be any different. Dr. Vegas lasted one season.
7. Rashida Jones calls him a "benevolent narcissist."
Well, it's better than "benevolent dictator."
8. He went on a date with Madonna at the Palladium in New York.
Madonna had just released Like a Virgin and he had just wrapped up St. Elmo's Fire. They were sitting in the VIP area when she said she wanted to go dance in the crowd. Rob thought she was nuts and didn't go. She told him, "I'm just not going to let success fuck up my fun."
9. He once dressed up as Bigfoot.
On a camping trip with his family, he wanted to give his kids a good story to talk about. One morning, he dressed up in an ill-fitting Bigfoot costume in which he couldn't see through the mask. When the kids saw him, his 7-year-old son Matthew kicked him in the groin before running away. He eventually limped his way back to the campsite.