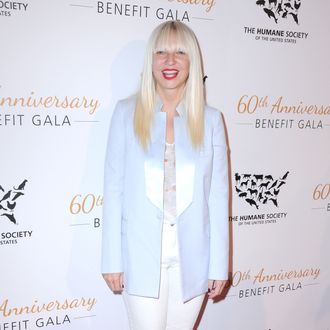 A New York Times Magazine profile on Sia Furler this weekend revealed that "Diamonds" only took her "14 minutes" to write, she "futzed around on the internet and pumped out 'Titanium' in 40 minutes," and she once wrote a song for Lea Michele after the Glee star "sobbed on her couch" ("Maybe it was because I have a dead boyfriend, too"). Yesterday, the Times posted a breakdown of three of Furler's songs and the stories behind them — including Beyoncé's "Pretty Hurts," revealing how easy it is to get (and lose) a track. And how much it matters to be BFFs with the world's biggest pop song writer:
Furler emailed the song to her friend Katy Perry, but Perry didn't see the email. So Furler passed the song along to Rihanna's manager, who held it for eight months, but ultimately did not pay the fee to secure the track. "When Beyoncé heard it, she slid into home base and just closed the deal," Furler says. Last summer, Dr. Luke, one of Perry's producers, got hold of the Beyoncé version and played it for Perry. She loved it. She texted Furler: "I'm pretty hurt you never sent me this song." Furler responded: "Check your email." Still sounding disappointed, Perry says, "It was meant to be with Beyoncé, of course."
Or perhaps Beyoncé just knows how to answer an email promptly.