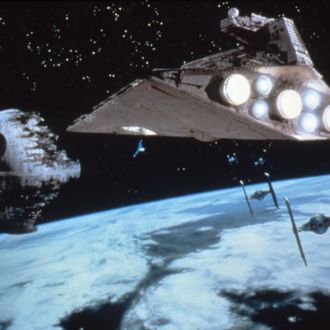 1983 — On the set of Star Wars: Episode VI - Return of the Jedi directed by Welsh Richard Marquand.
Photo: Sunset Boulevard/Corbis
In an interview with The Hollywood Reporter's Stephen Galloway, Walt Disney Studios chairman Alan Horn not only revealed that Star Wars: Episode VII has started filming, but that the majority of the film's lead roles have also been cast. Though Horn wasn't ready to name the actors, he did say that "We have a lot of them [in place]. We're just not completely done yet." Even better, Lawrence Kasdan and J.J. Abrams's screenplay is finally ready to go, so now it's just a waiting game until December 2015.