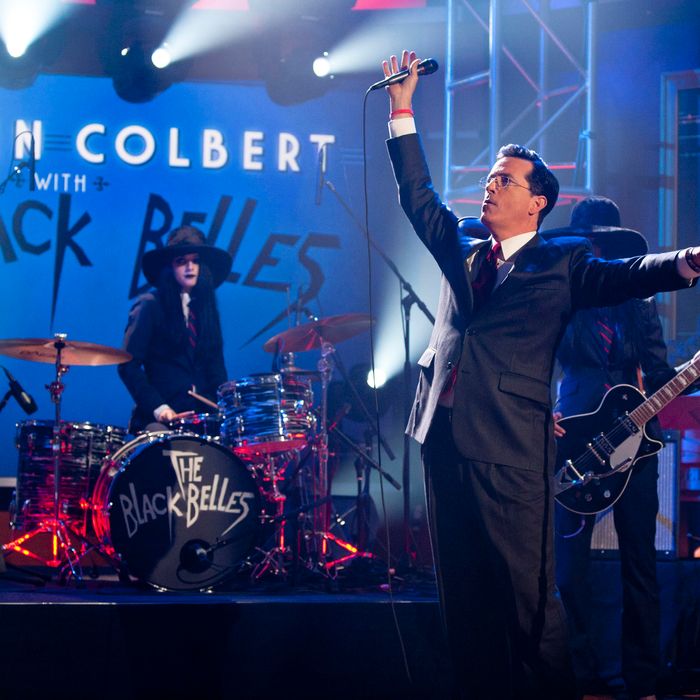 It's really happening: Colbert will take over as host of The Late Show when David Lettterman retires next year. While this means he'll be abandoning his role as the ultraconservative "Stephen Colbert" in favor of his true self (also conveniently named Stephen Colbert), will he also ditch all the singing? Likely not, as Colbert is known for being a triple threat (not to mention his soon-to-be-competitor Jimmy Fallon's penchant for a musical numbers). Just so we know what's in store for Late Show, let's take a look back at Colbert's best musical moments.
Colbert joins his Steve counterpart, Carrell, in a tribute … to Carrell.
And during Comedy Central's Night of Too Many Stars, they come together again to sing a song about Captain Sully.
He's also really good at subbing in for people on duets. Here, he takes over for Dolly Parton alongside Kenny Rogers on "Islands in the Stream."
And here he is subbing for Jay Z with Alicia Keys on "Empire State of Mind."
Okay, this song wasn't originally a duet, but how good does he sound with James Taylor on "Carolina in My Mind"?
His all-star "Get Lucky" performance more than filled the space left by a canceled Daft Punk appearance.
He harmonized on a rousing a cappella version of "Lean on Me" with Brian Eno and Michael Stipe.
His album A Colbert Christmas: The Greatest Gift of All! featured a ton of great performances — but this one with Mavis Staples, Jeff Tweedy, and Sean Lennon might just take the (fruit?) cake.
Speaking of traditional songs, Colbert came up with a new way to sing the copyrighted "Happy Birthday" on TV without having to pay royalties on it — by using similar lyrics over a public domain song like "The Star-Spangled Banner." God bless America!
And for a peek at what's ahead, check out Colbert's team-up with The Tonight Show's Jimmy Fallon on Rebecca Black's "Friday" — back when they were both in their "lesser" time slots.