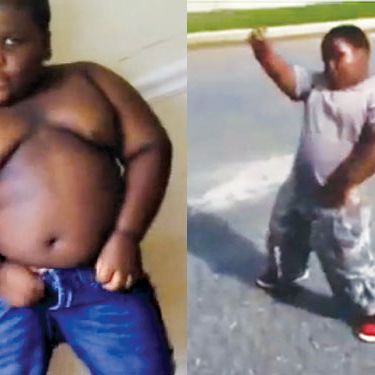 TerRio Harshaw is in first grade, and nearly as wide as he is tall. He's also the most recognizable star on Vine, despite not having an account. Instead, the Riverdale, Georgia, native stars in clips taken by his teenage neighbor Maleek — or that's what he did before leaving home to travel the country as a viral sensation, showing up at nightclubs (reportedly earning $8,000 per appearance), Super Bowl Media Day (where he drew the attention of cheerleaders), music-video shoots, and The Arsenio Hall Show, all under the care of a 25-year-old manager from Florida. TerRio controls no aspect of the business that's grown around him, not even the camera-phone.
TerRio is known for a dance, first recorded by Maleek last summer in a Vine post that collected more than 300,000 "likes" and even more re-Vines. Maleek commands, "Ooh, kill 'em!" — which would become the TerRio catchphrase — as the spherical child, in camo shorts and an Air Jordan shirt, points left, points right, jerks his shoulders back, swirls his wrist, and swoops his right arm toward the pavement with lips pursed. Then, by design, the video repeats, becoming hypnotic by the second play. Although the original will loop forever if you let it, Maleek got TerRio to do his move again, and then again, but never quite the same way twice.
By August, TerRio was doing his thing in the studio with influential Atlanta personality DJ Drama; before the month was over, a #FreeTerRio campaign picked up on Twitter as observers wondered where his parents were and why he wasn't in school. ("For the people that say 'Go to school' or say 'Do you ever go to school?' Y'all ever heard of ONLINE SCHOOL," countered TerRio's Twitter.) The meme, backlash, and inevitable profiteering all overlapped.
"I found him online before he got big and went and got him," Herbert "Dooney" Battle, whose Tha Lights Inc. company logo can be seen on most of TerRio's clothing, told the Miami New Times on the set of the kid's first all-night video shoot. (Battle has numerous arrests on a variety of charges, including domestic abuse against his pregnant girlfriend; that case didn't go to trial.) TerRio did indeed get big: NBA player John Wall did the TerRio dance on video; NFL star DeSean Jackson — with whom Battle claims business ­connections — made it a touchdown celebration (the rest of the NFL followed); and LeBron James said, "Ooh, kill 'em!" in a Samsung commercial. With representation, TerRio became a logo in rotund silhouette, on T-shirts ($27.99) and iPhone cases ($20), along with an "Oooh Kill Em" rap single featuring two nobodies and TerRio's brother, released for 99 cents on iTunes. Actual hip-hop star Meek Mill has referenced him multiple times ("Pockets all fat like TerRio," goes one line), and YouTube is full of amateurs doing the Kill 'Em dance. Meanwhile, TerRio's single mother, a hairdresser with four children who'd faced eviction pre-Vine, reportedly upgraded to a five-bedroom house.
Since that first video, TerRio has been pictured multiple times on Twitter and Instagram with grown women in bathing suits. "Just fucked TerRio," one joked. He's also put on a noticeable amount of weight, the ballooning a Twitter punch line. Arsenio Hall, on national television, looked into his eyes and asked about "your size for a 6-year-old and how much you weigh." "250,000 RT's and I'll lose weight I promise #ooohkillemCalories," whoever is in charge of the @OfficialTerRio account wrote in January. There have been more than 10,000 retweets, but not nearly enough. "I'm losing weight," the child told Hall, "but I'm gaining money."