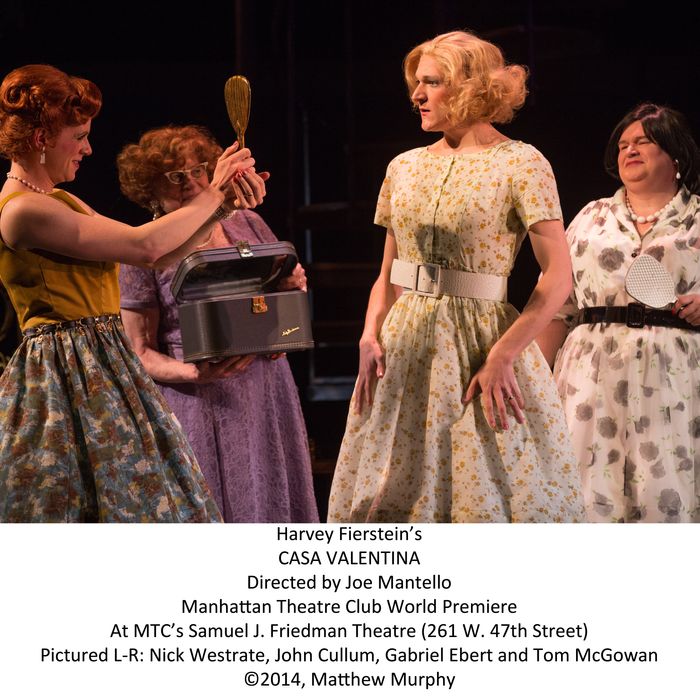 In the dressing rooms of at least seven Broadway shows right now, men are donning wigs and dresses and other gear to appear onstage as women. Chicago, Matilda, A Gentlemen's Guide to Love and Murder, and, more overtly, Kinky Boots have built their brands on varieties of drag, whether as part of the story or just a casting gimmick. Earlier this season, too, we had male witches in Macbeth and traditional boys-will-be-girls productions of Twelfth Night and Richard III. And now, in the furious pre-Tony throes of April, the falsies are really flying. Just yesterday, Neil Patrick Harris opened as the semi-transgender title songstress of Hedwig and the Angry Inch; his falsies are tomatoes. Tomorrow, Alan Cumming opens as the androgynous Emcee in Cabaret, performing as a Kit Kat Girl in its tawdry kickline. And nearly the entire cast of Casa Valentina, opening tonight, relies on Miracle Gel inserts or plain old duct tape to portray the bosomy patrons of a Catskills retreat for heterosexual men in 1962.
If each show uses its cross-dressing differently — for surprise or empowerment or music-hall laughs — only Casa Valentina, by Harvey Fierstein, really focuses on the phenomenon. (His book for Kinky Boots offered just a brief sketch of its main character's drag philosophy.) But even within the new play's sampling of seven cross-dressers, the meaning of the act varies widely. For some it's a hobby, for some a sexual fetish, for some a substitute for the worse sin of gayness, and for some an expression of deep allegiance to the feminine side of their soul. For most, regardless, it's also a jumble. ("I don't kid myself that the world is suddenly going to understand me," says Bessie, a blowsy Ethel Mertz type. "How could they? I don't understand me.") In any case, the way these motives come together, or don't, to advance the cause of liberation for "self-made women" is the subject of this fascinating if somewhat musty play.
Fascinating and mostly true. There really was a Chavalier d'Eon resort in the Catskills, catering to a "sorority" of cross-dressing married men. (It's now a camp for Hasidic families.) And though Fierstein has changed some names, and extrapolated some characters, the basic conflict that arises from the invented plot is both accurate and, in an odd way, timeless. Set over the course of 14 continuous hours during a June weekend, it concerns a turning point in the movement to bring transvestism out of the closet. To that end, Valentina, the resort's hostess, who in regular life answers to the name of George, invites a national leader in the cause to share bold news with the weekend guests: She is organizing the ad hoc sorority as a legal nonprofit. Charlotte, a real purse-snapping Bette Davis type in Reed Birney's beautifully detailed performance, argues that incorporation will help keep cross-dressers out of the hands of the police by proving what they do to be harmless and above-board.
But there are two big hitches. First, the nonprofit's officers' names must be public — not a problem for Charlotte, who has already been arrested for publishing the group's magazine, or for Valentina, whose wife Rita (Mare Winningham, lovely) helps run the resort and is stunningly supportive. But the others — a lifeboat of types including a decorated war veteran, a judge, a 70ish elder, and a terrified newbie — are less ready for liberation. The second hitch is in some ways worse: All members must now sign an affidavit stating that they are not homosexual. ("We either ban homosexuals," Charlotte says, "or we are homosexuals.") It's something of a shock to consider a time when it seemed to some people that cross-dressers, by trumpeting their straightness, would get further faster than the gays. Certainly Charlotte thinks so: "Fifty years from now, when homosexuals are still scuttling about as the back-alley vermin of society, cross-dressing will be as everyday as cigarette smoking." The ironists (and smokers) among you may now laugh.
But not for long; anyone who has spent time in the gay rights movement, or really on any rampart of the left, will recognize Charlotte's pledge as a variant of every divisive litmus test progressives have ever forced on themselves in the name of progress. Indeed, in the 1980s, when the pump was on the other foot, gays tried to do the same thing to cross-dressers, and for the same reason: The cross-dressers made the gays look disreputable to a public they were trying to convince of their harmlessness. Even today, despite the general acceptance of drag as entertainment — or at least as a Broadway subgenre — the political solidarity between movements that share only some outer similarities remains shaky, and for the very reason Fierstein demonstrates: Individual psychology makes for uneasy coalitions. It does not take much external pressure to undo a rainbow, or to turn a sorority into a case of every woman for himself.
So Casa Valentina is a cautionary tale. Not just for political alliances but also for personal ones: How Rita deals with George's (or is it Valentina's?) betrayal of his friends is the saddest and most thoughtful aspect of the play. (Oddly, Patrick Page is stiffer as him than as her.) And if you're not familiar with Fierstein's early work, you may be surprised by how good he can be at sad and thoughtful. It's the campy stuff that seems routine here; when Bessie, played with big-gal sass by Tom McGowan, lends a nightie to the newbie — a touching Gabriel Ebert — we get this exchange:
            JONATHON: But what will you wear?
            BESSIE: What won't I?
Fierstein is the same way with jokes. Was there ever a pun he wouldn't romance? (Work, he has Charlotte quip, is "the curse of the Y chromosome and it's punishable by dearth.") It may be a tic meant to convince general audiences of his harmlessness. Luckily, Joe Mantello's disciplined direction pulls the script swiftly past its punch lines and sops up some of its sentimentality as well. The design and the cast (which also includes John Cullum, Larry Pine, Nick Westrate, and Lisa Emery) are up to the Manhattan Theatre Club's usual high standards.
Still, none of these fine attributes can quite disguise the odor of over-ingratiation that clings to Casa Valentina like day-old Prince Matchabelli. It took me a while to realize that it's not the cross-dressing men who are the problem. It's the "GGs" — genuine girls — they dream of being, content to lead lives of "fashion, bubble baths, daytime dramas, bridge clubs, and weddings." Women's lib knocked those ladies to the side of the road ages ago.
Casa Valentina is at the Samuel J. Friedman Theatre through June 15.
*This article appears in the May 5, 2014 issue of New York Magazine.