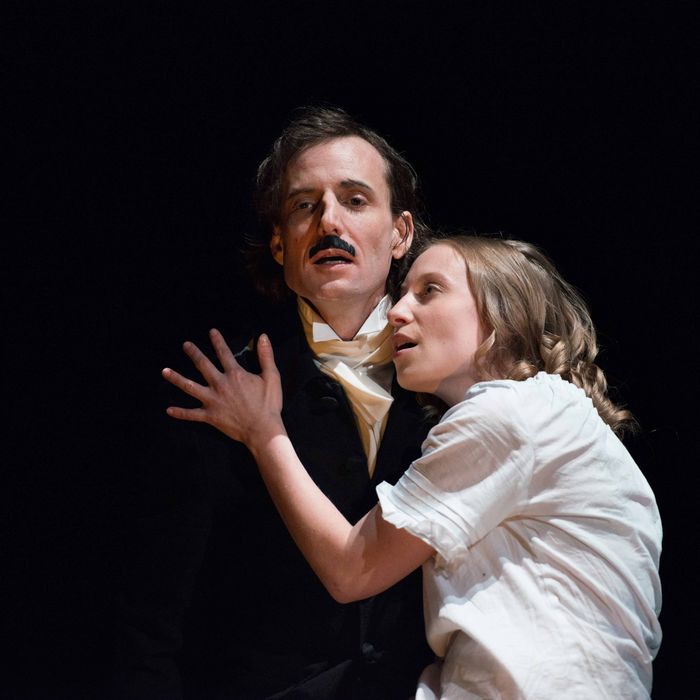 Lucidity Suitcase Intercontinental is — what else? — a theater collective. According to its website, it focuses on "the creation of new work through ecstatic collaboration with artists from around the world." You might think that an entity with such an outré moniker and mission would at least be comfortable with its pretentions. But its latest collaboration, Red-Eye to Havre de Grace, now at New York Theatre Workshop, seems a trifle less ecstatic than embarrassed. It wants us to take seriously the story it offers of Edgar Allan Poe's final weeks, when alcohol, laudanum, grief, and madness made quick work of unraveling him for good. (He died at 38.) But at the same time, as if ashamed to be caught braving the inky waters of gothic literature, it makes fun of itself just in case. It has its angst and eats it too.
The method is established immediately, as Red-Eye begins with a red herring. A park ranger from the Poe National Historic Site in Philadelphia emerges in uniform to explicate, a bit sheepishly, the "program" you're about to see, as if it were a newfangled animatronic exhibit. ("It's kind of different," says Ranger Steve. "I think you folks are in for a real treat.") But after providing some charming docentlike backstory, he breaks the ironic frame he's just built by abandoning the ranger persona altogether. As the curtain opens, he starts singing, beautifully, a setting of Poe's poem "The Conqueror Worm." Philadelphia provincialism disappears in favor of cosmopolitan élan.
The tone keeps alternating that way, while the text proceeds by collage. Aside from that worm, "in human gore imbued," we get "Annabel Lee" (sung in French) and "El Dorado" (read in English and sung in Spanish) as well as a running gag about "The Raven." These are interspersed with enactments of excerpts from Poe's letters of the period, mostly seeking assurance that his beloved "Muddy" — the mother of his late wife, Virginia, who haunts the poems and the proceedings — is not herself dead. Scenes drawn from contemporary accounts of Poe's midnight prowls and paranoiac harangues are spoken, mimed, sung, and danced, sometimes on stilts, by a company of four.
If there's something dioramalike about this, it's nevertheless gorgeously done. Those songs, for instance, are part of a beautiful and nearly through-composed score written and performed by David and Jeremy Wilhelm, operating under the Greenpoint-ready name "Wilhelm Bros. & Co." (Jeremy also plays Ranger Steve, among other roles.) Alessandra L. Larson, as an all-purpose wraithlike Virginia figure, dances the evocative choreography of Sophie Bortolussi with fierce theatricality. And the director Thaddeus Phillips, who also designed the set, stages the twisty tale thriftily with just a few doors, chairs, a bedframe, sod, a piano, a lantern, and some Edison lightbulbs. He is by no means the first practitioner of devised theater to find these found objects, but he deploys them with unusual narrative imagination, particularly as Poe races up and down the Eastern seaboard by train (hence the title), chasing money while escaping demons. The bits and bobs aren't just decoration; they actually tell the story.
But every time you feel yourself being drawn into that story, some camp backpedalling draws you back out. The first of the three short acts, for instance, ends with Poe in a state of collapse after reciting "The Raven" before the Philadelphia Literary Society. Ean Sheehy's marvelous performance as the febrile poet makes palpable the cliché of genius as madman, and with it the painful emptiness as one turns into the other. Unfortunately, on the heels of this moment of real pathos, we get, as a kind of entr'acte, a recording of Neil Diamond singing "Done Too Soon": an anachronistic joke excused, apparently, by its mention of "E.A. Poe" (rhymed with Rousseau). "That didn't go too well," says Ranger Steve afterward, having reappeared to gape at the spent poet still splayed on the floor. He gets his laugh, but you can't help wondering for whose benefit the play spends so much effort establishing its kitsch cred.
The tick-tock tonal high jinks eventually become wearying; worse, they begin to undermine the portrait. The use of Poe's madness as fodder for humor has the paradoxical effect of privileging it, of endorsing the man's delusional view of himself as merely eccentric and impassioned. Whatever you may think of "The Raven" or "Annabel Lee" — I've always found them impossibly rococo — "Eureka," a prose-poem manifesto on physics and metaphysics, here celebrated as the visionary culmination of Poe's life work, is way too bonkers to rest a dramatization or even an argument upon. Come to think of it, I was never quite sure whether the play was actually celebrating "Eureka" — or, for that matter, Poe. But when admiration and mockery look so much alike, perhaps you've overdeveloped your conceit. (Members of Lucidity Suitcase Intercontinental have been working on Red-Eye, in one form or another, for at least a decade.) Time to pack it in?
Red-Eye to Havre de Grace is at New York Theatre Workshop through June 1.