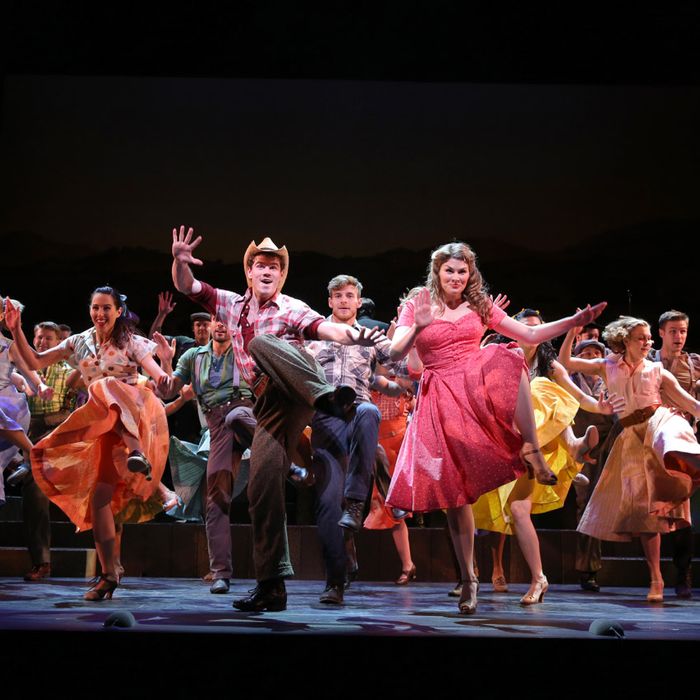 At Encores!, The Most Happy Fella.
Photo: Joan Marcus
Three years ago, when a panel convened by New York Magazine set out to pick the greatest musicals ever, our only discussion of The Most Happy Fella concerned whether it should be categorized as an opera, and thus outside our purview. It certainly feels like one in its scope and depth and color, and it demands, in certain roles, classically trained voices. The title character is even Italian. But Frank Loesser, who wrote the whole damn thing, score and libretto and fascinating stage directions, resisted the high-tone label, even as he poured on the Puccini. He considered The Most Happy Fella a musical with a lot of music.
That's an understatement; there are 54 cuts on the unabridged original cast album, constituting more than two hours of music. (My Fair Lady, which opened seven weeks before Fella in 1956, has less than half as much.) Don Walker's unparalleled orchestrations call for 38 instrumentalists in the pit, a big number even then for Broadway. (Now it's prohibitive.) And the variety of the show's forms — songs, chorales, recitatives, underscoring, scenas, dances, in every style from verismo to vaudeville — is unmatched in American theater. But none of that is dispositive as to genre, and none of it matters. After seeing the Encores! staged concert production last night, perhaps the last opportunity for decades to hear the show live in its nearly full glory, I cannot imagine what we panelists were weaseling about. Define the terms how you will: The Most Happy Fella is one of the greatest musicals ever. Or one of the greatest operas. Hell, it's just great.
Loesser had most recently written Guys and Dolls (tied for first on the panel's list) when he turned his attention to a 1924 play by Sidney Howard called They Knew What They Wanted. From that Pulitzer Prize-winner, which reviewers already found musty when it was revived in 1939, he took not much more than the main setting — Tony Esposito's Napa Valley grape ranch during Prohibition — and the central love-triangle plot. It's a good one, though. Tony, a middle-aged immigrant from Palermo, falls in love with a twentysomething waitress during a trip to San Francisco. Too shy to "intrafaduce" himself, he instead initiates a "mail-order love affair," pouring out his joyful passion in letters. But when Rosabella, as Tony absurdly calls the waitress, requests a photograph, he quails. As his spinster sister takes every opportunity to tell him, he is neither young, handsome, nor smart. (And he talks funny.) So he sheepishly sends a photograph of his hunky foreman, Joe. When Rosabella arrives in Napa to marry the man she thinks is Tony, complications both comic and nearly tragic ensue.
How Loesser frames this story, the order in which he delivers information, his piercing understanding of the longings of lonely people (even Joe, in his vulpine way, is lonely), reveal the hand of a master craftsman working at the peak of his confidence. But he was also a master showman, and in shaping the libretto invented subplots and characters to complicate the main story. Hence the possessive sister, in Sicilian black, and hence, too, Rosabella's friend Cleo, who wouldn't wear black to a funeral. Like Tony with his Italianate arias and jaunty tarantellas, and like Joe with his croony smooth-jazz numbers, each is so distinctly characterized in music that you hardly need the lyrics to know all about them. (But the lyrics are superb.) Indeed, the sister's vocal line is replaced at one point by a nattering soprano saxophone as she goes on miming her disapproval.
I'll make do with one example, among hundreds, of how Loesser presses the popular forms of musical comedy into operatic sophistication, without leaving the matinee audience behind. Near the beginning of the second act, after Rosabella has been living with Tony in a frozen state of recrimination, he asks if they can start over with the kind of introduction he should have been brave enough to make in the first place. Loesser provides for this moment a classic allegretto charm duet, "Happy to Make Your Acquaintance," in which Rosabella teaches him how to say all the polite things "you may not mean":
ROSABELLA: How do you do? Please to know you.
TONY: 'Ow do you do? Pleased to know you.
ROSABELLA: And though my English is poor—
TONY: My English is-a god-damn' poor!
After the first chorus, Tony reveals that, having observed Rosabella's sadness for weeks, he has imported Cleo from San Francisco to cheer her up; in a second chorus, he uses all his new phrases to welcome her. Same ditty, additional meaning. And then Loesser takes it one step further. Realizing that Tony is "a nice kind man" for fetching Cleo, Rosabella begins to thaw; in the third chorus the same words of introduction have a new, romantic edge. The ice is broken.
At its best, as in this number, the Encores! production, directed and choreographed by Casey Nicholaw, follows with perfect naturalness the curves of Loesser's writing. The principals' acting — in music and words — is especially strong. Shuler Hensley is younger and handsomer than you might expect of a Tony, which allows him to bring out, more interestingly, the feelings of worthlessness instilled in him by his sister and his own sense of outsiderness. Cheyenne Jackson is a gimme for Joe, and offers enough louche detail (a lip-lick here, a cocked brow there) to fill in the outline of a figure who's mostly a catalyst. (He sings "Joey, Joey, Joey" and his other numbers beautifully.) As Cleo, Heidi Blickenstaff provides all the musical comedy verve you could ask for; her "Big D," belted with the delightful Jay Armstrong Johnson as her dopey boyfriend Herman, is a smile-jerking highlight. But it's Laura Benanti, as Rosabella, who makes the most definitive case for her character, in the process changing the focus of the drama. Even recovering from a flu, she gracefully turns a very heavy role, filled with far flung arioso and heavy-duty longing, into a naturalistic character portrait worthy of Inge. And when she sings "My Heart Is So Full of You" with Hensley (also ailing as of Wednesday night), you understand why someone as successful as Loesser wanted to put everything he'd learned about writing for musical comedy performers into the mouths of operatic singers, and into a story of operatic dimension. Happily, though he didn't know what to call the result, he knew what he wanted.
The Most Happy Fella is at City Center through April 6.