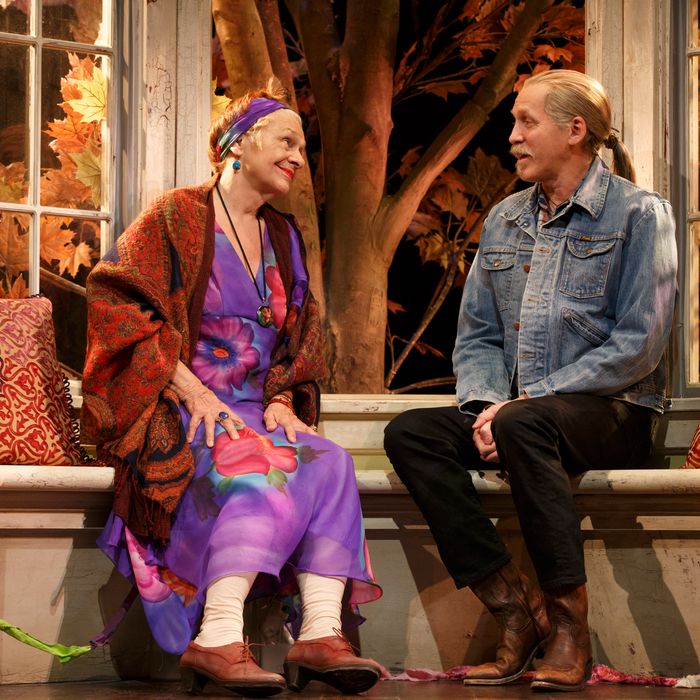 In 1981, after seeing a very bad play called The Whales of August, I invented a party game. The rules are simple: Using nouns that don't belong together — one of which ideally suggests the sad passage of time — create a portentous but nonsensical title for a future television-type stage drama. My favorites until today were November's Carburetor and The Last Gesundheit of Indian Summer. But ladies and gentlemen, we have a new winner in The Velocity of Autumn. This new Broadway production is ridiculous not just on the copyright page of the script by Eric Coble but also on every page thereafter.
Start with the premise: 79-year-old Alexandra (played by that 86-year-old powerhouse, Estelle Parsons) has barricaded herself in her Brooklyn brownstone, threatening to light hundreds of Molotov cocktails if she is not allowed to spend her remaining years among the familiar comforts of home. (A living will might have been simpler, but then there wouldn't be a play.) Her two older children wait outside, ready to call the police unless Chris, her youngest — the gay one, naturally — manages to hammer out a peace treaty within a convenient 90-minute timeframe. To this end, Chris climbs into Alexandra's second-floor living room by means of, you guessed it, a very large autumnal Dutch Elm in the midst of shameless deciduousness. "You break one twig on that tree," Alexandra responds reasonably to the harming of a symbol, "and I'll blow this whole house to kingdom come."
The play proceeds to tick off every item on the bad playwriting checklist (not to mention fans of good theater). Purple prose? How about Alexandra's ode to her father's Zippo: "The flame is pure. Primal. It's like going back to where we came from. Like home." Overwrought existential imagery? In a long monologue Alexandra compares life, with its spiraling perspectives, to the Guggenheim Museum. (Elsewhere, life is a sand painting, blown away in a moment, and, of course, a tree in autumn, velocitizing quickly). There is no shortage, either, of torturously set up jokes built on cute misunderstandings:
ALEXANDRA
: I have to call Rose this afternoon. I call her every day at her nursing home up in Connecticut, just to keep her sane.
CHRIS: Okay.
ALEXANDRA: Although she actually claims to like living there.
CHRIS: Different strokes.
ALEXANDRA: She did. She had two different stokes.
Deploying every trick she knows, Parsons miraculously makes this whirlwind of clichés coherent, but nothing can make her believable. And Stephen Spinella, in a sad ponytail wig as Chris, is essentially her caddy: carrying the lumpy bags of exposition and teeing up her shots. Nor can the director Molly Smith — whose one big gesture, an aural cataclysm before the curtain, is a gross overreach — do much to improve the texture of a play that's so synthetic it slips out of your memory even as you watch it. Or even before. Wasn't this a very special episode of The Golden Girls? At any rate, it's the same kind of writing, crass in its characterizations and almost larcenous in its lines. Attempting to pass off old sayings as witty spontaneities, it informs us, for instance, that cheese is "milk's bid for immortality."
Is it ever. But if the author wants to squeeze out a sequel, I think we've found his title: The Immortality of Cheese.
The Velocity of Autumn is at the Booth Theatre through August 17.
*This article appears in the May 5, 2014 issue of New York Magazine.