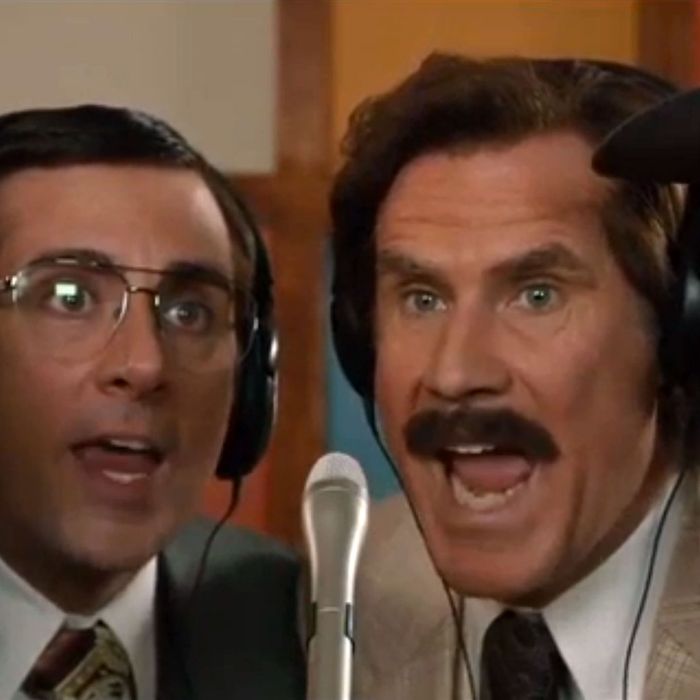 In February, Will Ferrell and Adam McKay announced they were releasing a new R-rated version of Anchorman 2: The Legend Continues, featuring 763 new jokes, in theaters for one week only. Some feared a Wake Up, Ron Burgundy situation — a movie that is fun in parts and fairly unwatchable in others. This 763-new-jokes version was included in the Anchorman 2 DVD, and I can say pretty confidently that those fears were unwarranted. If you liked the original, it's definitely worth watching; and if you didn't, it might be as well. Here are four thoughts after checking it out:
It's like watching the movie for the first time.
You know when you really like a movie and you wish you could not only see it again, but see it again for the first time? This alternate version was the closest I've ever felt to that happening. The plot is essentially identical, but it's not like these movies are about plot – they're about the jokes. And watching this new version, the jokes felt fresh. That should have been obvious, but it's still something to be surprised by the jokes of a movie you have already seen. Like the ship of Theseus paradox, the new version is the same movie and yet is also something totally new. Watching the two versions of the big fight scene's cameo-reveals, you can see how similar the experiences feel.
Theatrical:
New Version:
Adam McKay is a genius.
McKay, who co-wrote and directed the movie, is known for doing a lot of takes, feeding the actors new punch lines one after another after another. It's the reason why a version with 763 new jokes can even exist. So, watching it is like a glimpse into McKay's brain/joke engine. You can see his mind honing in on the joke, finding something that would be super funny but also an effective line of dialogue. In the original, after getting fired from Sea World, Ron says, "Guess what, Trevor? Every morning I get here a half hour early and I sexually assault a starfish." In the new one, he says, "Guess what, Trevor? Every morning I get here early and rub my private parts with a sea cucumber." They are so close, yet so different, but still undeniably McKay's sensibility. Take the scene in which Harrison Ford's character brings Ron and Veronica into his office. Because the two versions are structurally so similar, you can see the idea that each punch line was acutely trying to get at.
Theatrical:
New Version:
It's slightly dirtier. It's definitely longer. It's possibly better.
It's hard to tell exactly why the new version is R-rated and the old PG-13. Sure, at one point, Ron calls Freddie a "fucking idiot" instead of a "stupid asshole," but mostly it feels the same on that front. What it is is longer. This isn't because a ton of deleted scenes have been added in – aside from the musical number that I'll discuss next, there really aren't any – but rather because many of the scenes aren't edited down.
It is here, that some (like me) might find the new version better than the original. It is loose as hell. The original tries to streamline the improv sensibilities of McKay and Ferrell in order to make a relatively tight movie comprised of relatively tight scenes. The new version feels completely like a 10-to-1 SNL sketch, those that are aired at 12:50 a.m., right near the show's end, when the weirdest material always runs. Jokes are pushed further and further until the bone is picked completely clean. A good example is this scene in which Brick and Chani meet for the first time. The scene starts the same, but once Steve Carell and Kristen Wiig start riffing, you can feel it bloat. The result is a scene that's twice as long and, depending on your sensibility, twice as funny.
Theatrical:
New Version:
The musical number features one of the funniest bits I've seen all year.
Maybe the biggest-ticket item of the new version was a deleted musical number. And, honestly, it's just okay. It consists of two songs — or, well, one song with an interlude. The main song is called "Big World" and is a Hair-like song about how we are all in this together, though sang through the characters' racist lens. The interlude is "Gay for a Day," which is pretty self-explanatory. It's also not the best, but then Brick comes in for his verse and it is truly wonderful. Watch the interlude below and you'll kind of get a sense of what the 763-new-jokes version is like: full of brilliant flashes amid well-intentioned experiments.