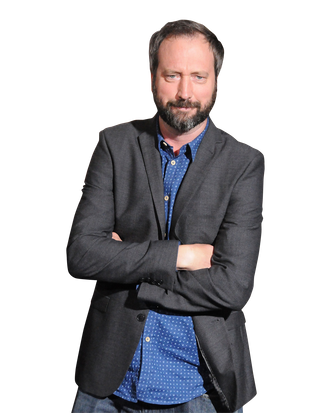 Tom Green.
Photo: Barry King/Getty
There are few better emblems of our unique pop-culture tableau than Tom Green. The Ottawa native's eponymous 1999 MTV show, highlighted by its goateed host's stunted on-air persona and willingness to suckle cow's teats, somehow led to the cover of Rolling Stone, hosting duties on Saturday Night Live, lyrical citation from Eminem, a studio-backed cinematic tour de something named Freddy Got Fingered, and, most sensational, a brief marriage to Drew Barrymore. More than a decade since that heady time, Green is two seasons deep into Tom Green Live!, an intimate, unrehearsed, uncensored hour-long talk show (guests have ranged from Sandra Bernhard to Dan Rather) that airs weeknights on AXS TV, the network formerly known as HD Net. And while that means a more reserved Green as host and interviewee, TGL! still features some of the 42-year-old entertainer's trademark unpredictability, such as having fans mail in used cassettes and touring seedy Hollywood in his Camaro.
With the second-season finale set for tonight at 9 p.m., Green spoke to us from his L.A. home about the surreal past 20 years of his life, which have led to his settling into a new kind of talk show that — as we can exclusively reveal here — has been renewed for its third season, beginning June 12.
Congrats on the renewal. Are you surprised that AXS has continued to support your show?
They've been nothing but supportive from the second we started working with them, so it's been really amazing. It's nice to have that, because it's not the typical television show. To be able to experiment and develop something like this is a great thing.
What do you see the show developing into from here?
We're essentially doing what we want to do, but I just think a lot of elements in a show like this take time to develop, including making inroads into the Hollywood creative community, where people who haven't done the show start to hear more about the show and want to do it. We can get the word out that this is a fun place to talk about projects or talk about life.
The show feels more like Tomorrow With Tom Snyder than typical modern late night. Was that the plan?
Yeah, it was completely intentional. I was a huge fan of Tom Snyder. I've always done interviews in one form or another, but I've never had the freedom and the confidence of the network to allow you to just sit with one person for a full hour without a lot of extra elements. That really enables us to get into a real conversation and talk more in-depth about a lot of different subjects. But certainly, the set is homage to Tom Snyder. It's the first time I've done a talk show without a desk. I'm able to have a better connection with the guests without the desk in between us, and it allows for a little more physicality.
Have you noticed that unique elements of Tom Green Live!, like taking live questions via Skype, have been emulated on shows such as Talking Dead?
I heard that on Twitter. I started taking calls on Skype on my internet show [Tom Green's House Tonight] seven or eight years ago now, and was absolutely the first show to do it, even online. It seems like an obvious thing to be doing, just because it's possible. I also loved how on Tom Snyder, they would take phone calls from viewers. I like the interactivity. I like the spontaneity of it. I like the fact that you realize you're seeing something real that's not scripted. So I'm sure you'll start to see other shows do that more often.
Do you care if you get recognition for that?
Well, I hope you mention it in your article. Then it will be official.
Are you worried about people assuming you're still just zany Tom Green?
I have a lot of fans of the zany Tom Green, too, and they come and expect one thing. But the thing is, over the years, my really hardcore fans know I do different stuff. I have an outrageous persona that I have brought to my old shows. I have the version of me where I'm interviewing someone, where I definitely am the straight man and I like to show a lot of respect to my guest and let them take the reins. I don't like to compete with my guests. I don't like to be funnier than my guests or get into a "Who's wackier?" sort of thing. I've loved watching a lot of historic talk show [hosts], like Jack Paar and Steve Allen, and really studied them and tried to understand their philosophy on television. I'm trying to pick through little pieces of that I can apply to this and use it.
Has launching content across so many different media been a conscious effort to better control your image?
Yeah, absolutely. The thing to keep in mind is that's how I started long before MTV and Twitter and Facebook. I studied at broadcasting school so I could learn how to shoot and edit videos, and tried to create my own television show so we could see through these wacky visions we had of funny bits we wanted to shoot. We developed over really ten years, and I really developed my own method making this kind of comedy, and I got used to that. When I went to MTV and made movies and came to Hollywood, all of a sudden there was a different reality. I think the reason I started the internet show was just to get back to that initial feeling I had when I was younger, where I was creating television for the love of it and artistic reasons. I was interested in seeing where it could go from a business standpoint, too, but the root of it was just, "Hey, isn't this cool that we can make a television show and not have to answer to anybody?"
Is there any single mainstream Tom Green moment that still strikes you as especially surreal?
Getting to guest-host [Late Show With] David Letterman [in 2003] was probably one of the most surreal things. Or hosting Saturday Night Live. Or being on The Tonight Show. When my show first took off on MTV, a lot of those things happened very fast, and it was very overwhelming. A few years later, when I was asked to guest-host for Letterman, that was probably more exciting, because some of the initial insanity of my show popping on MTV had died down, and to be able to do something like that was amazing. These pop into my head quite regularly, and I'm very grateful and happy that I had the good fortune of having these things happen to me.
Could Tom Green Live! lead back to that place?
Since around when I started that internet show, it was the beginning of a process of me trying to figure out what I'm gonna do as an adult and as a comedian. I think the thing where I really figured it all out was when I started doing stand-up again six years ago. I call it the straight-and-zany approach. When you have two people doing comedy, one of them's gotta be the straight man and one of them's gotta be zany, so when I was doing these interviews, it was all well and good, but I wasn't having an outlet for me and my comedy side. And so now that I have these two things working together and I'm able to perform stand-up and be closer to the outrageous character people remember, I get that out of my system, and my fans and audience can come see that, and I also get to do what I love to do on the other side, which is producing TV and doing interviews.
Will Tom Green Live! finally help people distinguish between Tom the person and Tom the performer?
When my first show was on MTV and it was this outrageous persona, I think people certainly didn't know what to think. But it was a performance. I'm sure people didn't know that it was a performance; they thought maybe I was just nuts, but that was all intentional. We were just messing with people. And that's exciting about what we're doing now. People don't necessarily know what it is I'm doing.