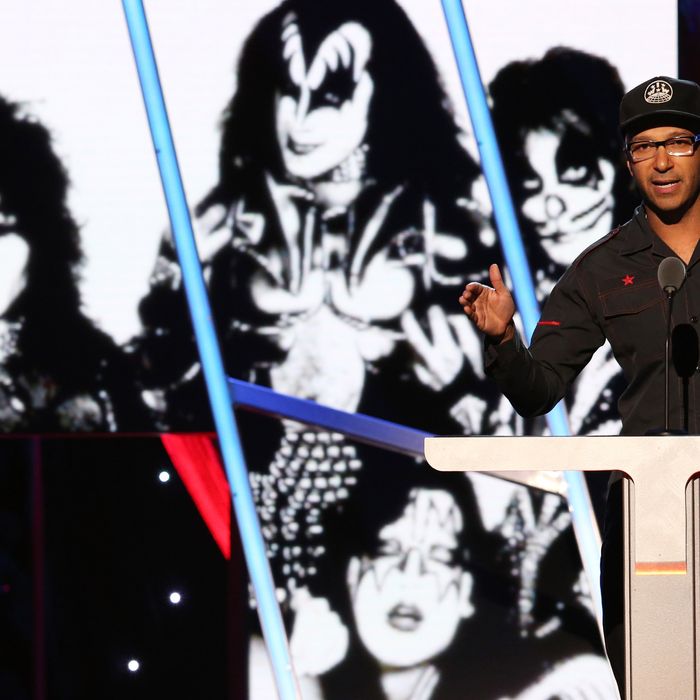 Musician Tom Morello speaks onstage at the 29th Annual Rock And Roll Hall Of Fame Induction Ceremony at Barclays Center of Brooklyn on April 10, 2014 in New York City.
Photo: Kevin Kane/WireImage
To call Rage Against the Machine guitarist Tom Morello a fan of the arena-rock band Kiss is like referring to the Titanic as a ship. Tom Morello is the biggest fan of Kiss ever, something he made quite clear last night during his wonderful speech about the legendary face-painting, sex-obsessed band at last night's Rock and Roll Hall of Fame induction ceremony at Barclays Center in Brooklyn. Commenting on the relentlessly dismissive coverage that Gene Simmons, Paul Stanley, et al., have received from critics over the years and the group's long-overdue induction into the Valhalla of rock, despite having written one of the genre's de facto anthems with "Rock and Roll All Nite," Morello said, "What Elvis and the Beatles were to previous generations, Kiss were to us. They propelled millions of young people to pick up instruments." After the ceremony, Vulture spoke with Morello about the speech and wearing his fandom on his sleeve — and read on to see the full transcript of his speech below.
You just gave the most awesome speech ever! How much went into planning that?
[Laughs heartily.] A lifetime of Kiss fandom went into making that. I meant it. I meant every word of it. Some guy just asked me, "Did you write that speech?" Some guy backstage goes, "You're very articulate!" What?! Why would I not write that speech and why would I not be articulate?! There's some underlying supposition I don't want to dig too deeply into, because I'm having a nice night. [Laughs.]
Well, how do you rock and roll all night, and party every day?
Well, the Hall of Fame ceremony was about 17 hours, so I think this is how you do it! In general, outside of tonight, I have two toddlers, so there's not as much rocking and rolling all night and partying every day as there used to be, but I have turned them on to Kiss, so there's a new toddler generation of Kiss fans that are coming up.
A toddler Kiss army!
That's right.
Do you have little Kiss shirts for them?
No, but they know some of the jams. That's a start. They love "Rock and Roll All Nite." It's a great toddler song. Toddlers of all ages! And my kids are rocking and rolling all night, and partying every day, that's for sure. That baton has been passed.
There are so many bands who are eligible who have not been inducted into the Hall. Who would you say is long overdue? That maybe they can do next year?
Iron Maiden. Stevie Ray Vaughan. Judas Priest. The Smiths. And I think Nine Inch Nails is … so that's my five. Jane's Addiction is a good one, too. If I can have six, I'd put in Jane's. Yeah, yeah, yeah. Stop it, forget I said any of those — N.W.A. N.W.A. is overdue. N.W.A. should be in the Rock and Roll Hall of Fame. You should hear the speech I'm going to give for them! If you thought this one was good, wait until you hear the N.W.A. speech! Eazy-E is my man! He was fantastic. But that's the thing, it's a small funnel. Even if they did 20 a year, they would not satisfy everybody, so if they take five or six, it's hard. But I thought from Rush last year to Kiss this year … [A man interrupts to tell him "that was the best induction speech I've ever seen."] Thank you, thank you. Well, I meant every word of it. [Man walks away.] I spent some time tinkering with the speech. I cut it down. There were some good bits I cut.
How much did you cut? How long was it originally?
The one I read tonight was 960 words, so it was 200, 250 more words that I had at one point, yeah. I don't know how much longer that made it, time-wise.
Maybe you can post the original online.
No, because I do it in the computer, and when it's cut, it's gone. All that's left is the one from tonight. I gave my copy to Gene [Simmons], with the hope that he would share it with the other guys.
And here's the full text of Morello's introduction of Kiss at the Rock and Roll Hall of Fame ceremony:
Good evening! I am Tom Morello. For four of the most recognizable faces on the planet and one of the most iconic, badass bands of all time, tonight is the night that Kiss enters the Rock and Roll Hall of Fame. Growing up, Kiss was my favorite band. And it was not always easy being a Kiss fan. Just as Kiss were being relentlessly persecuted by critics, their fans were relentlessly persecuted by the self-appointed arbiters of taste in middle schools and high schools across America. Arguments, and even fist fights, were not uncommon. I recall as a 15-year-old telling one bully, "You can kiss my Kiss-loving ass!" Because Kiss was never a critic's band. Kiss was a people's band!
And so, I waited in a long line on a bitter, cold Chicago morning to buy a ticket for my first concert — a Kiss concert. I was especially thrilled because imprinted on the ticket, were words that hinted that it was going to be a special event. The ticket said, "A partial view of Kiss." I was certain this meant the band might reveal some new secret corner of their artistic souls. In reality, it meant that my seat was behind a pole. Still, that concert was the most exciting, cathartic, loudest, most thrilling two hours of live music I've seen to this day.
And while there is often debate on who should and shouldn't be in the Rock and Roll Hall of Fame, I think the criteria are actually quite simple: impact, influence, and awesomeness. And Kiss have all three in spades.
Impact: Kiss has sold over 100 million albums worldwide. They have 28 Gold albums in the United States alone. That's more than any other American rock band in history. Their theatrics were indisputably groundbreaking, but it was Kiss's music that had an impact on me. All four guys wrote great songs. All four guys were great lead singers. That's correct. They practically invented the live album with KISS Alive! Then came Destroyer; Rock and Roll Over; Love Gun; Alive II; Dynasty — all exploding with killer riffs, anthemic choruses, and screaming solos that for 40 years went filling arenas and stadiums around the world.
Influence: Simply put, Kiss is the band that made me and millions of others love rock and roll. And apparently a few people in the room tonight! What Elvis and the Beatles were to previous generations, Kiss were to us. They propelled millions of young people to pick up instruments. Their influence is everywhere, from Metallica to Lady Gaga. Kiss has inspired thousands of artists of diverse genres, some of whom may be on a Hall of Fame trajectory themselves. They've been a formative influence on members of Tool, Pearl Jam, Alice in Chains, Slipknot, Garth Brooks, Pantera, Foo Fighters, Motley Crue, Lenny Kravitz, White Zombie, Soundgarden, Nine Inch Nails, and Rage Against the Machine, to name just a few.
Okay, okay — impact? Check. Influence? Check. And the final criteria? Awesomeness. There's a simple test for that. What if you have never seen or heard Kiss before? What if you had never heard a note of them? Never viewed a YouTube clip? Never seen a reality show featuring any of the members? And what if you wandered into a divey club in your hometown and saw Kiss in all their glory, thrashing the place to the ground? One guy belching fire and spraying blood past his gargantuan tongue? A drum riser bursting through the roof? A guitar player so incredible, his axe billowed smoke and shot rockets? A front man flying back and forth across the joint like a superhero Tarzan? All of them, in frightening, horror-movie, comic book, superstar, sexified Kabuki makeup. All of them, in black and silver warrior bondage gear and seven-inch platform heels, the place blowing up with explosions, screeching with fire … bare knuckled and bad ass, heavy duty, liberating rock and roll? What would you say if you saw that? You'd say, "That band's fucking awesome! That band deserves to be in the Rock and Roll Hall of Fame!" That's what you would say!
Eric Carr, Vinnie Vincent, Mark St. John, Bruce Kulick, Eric Singer, and Tommy Thayer are all important and extended and expanded Kiss's impressive legacy and they deserve a round of applause. But tonight, we honor the fearsome foursome. The four original and founding members of Kiss. The Demon, Gene Simmons. He's the God of Thunder; he's Dr. Love; he's Beatles-like bass on the bottom and a bat lizard Bela Lugosi on the top. The Starchild, Paul Stanley. The heartthrob ringmaster of Kiss's Psycho Circus. His vision, talent, and dedication over four decades that made Kiss the band it is today. The Spaceman, Ace Frehley. My first guitar hero. He designed the band's iconic logo and played unforgettable, timeless licks across their greatest records. And the Cat, Peter Criss. Jungle rhythms, jazz fills, and the writer and singer of the band's biggest hit, the world's first power ballad, "Beth."
But tonight, tonight, we also honor the fifth member of the band, without whom this night would never have happened — tonight we honor the Kiss Army! Generations of fiercely loyal fans who are celebrating this long overdue induction all over the planet tonight. Tonight proves beyond any shadow of a doubt that the high school bullies and the critics were mistaken. We Kiss fans were right, so let's celebrate.
I misspoke earlier when I said that tonight Kiss enters the Rock and Roll Hall of Fame. That's almost right. Because tonight, it's not the Rock and Roll Hall of Fame — tonight, it's the Rock and Roll All Nite and Party Every Day Hall of Fame! So without further ado — Gene Simmons, Paul Stanley, Ace Frehley, Peter Criss. You wanted the best? You got the best! The hottest band in the world: Kiss!