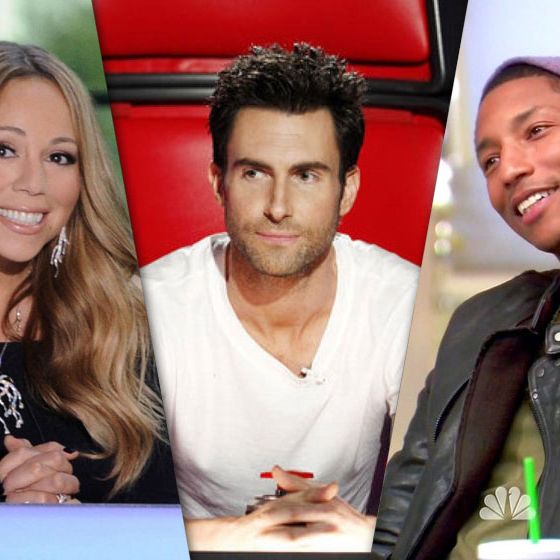 Big news for hat lovers everywhere: Pharrell is joining The Voice as a judge for season seven, replacing Cee Lo Green. Weird, right? We thought so, too; isn't the "judging a reality singing competition" usually a last-ditch move to revive a flagging career? Even though Pharrell's been on The Voice before, as an advisor in season four, the move is still a bit of a surprise. Why would somebody in the middle of the success wave Pharrell's been riding — "Get Lucky," "Happy," that amazing hat — bother with this kind of thing? Here's a quick look back at judges past and present, from most to least successful post-TV.
Adam Levine
Before: Levine was already quite the success before he made it to the inaugural season of The Voice. Maroon 5 had released three studio albums: Songs About Jane in 2002, It Won't Be Soon Before Long in 2007, and Hands All Over in 2010. Altogether, they sold 17 million albums worldwide, but Hands All Over didn't do so hot, and Levine has spoken publicly about how disappointed he was that their third album didn't sell well.
On The Voice: Every season since its April 2011 premiere.
After: Levine joined forces with fellow Voice judge Christina Aguilera for the crime against humanity known as "Moves Like Jagger," which peaked at No. 1 on the Billboard charts, sold 14.4 million digital copies, and was a monster hit in 2011. Maroon 5 released another album, Overexposed, and cranked out hits "Payphone" and "One More Night." People crowned Levine Sexiest Man Alive in 2013. Oh, and he got engaged to Victoria's Secret Angel Behati Prinsloo.*
Blake Shelton
Before: All but one of Shelton's pre-Voice albums broke the top ten on the Billboard Country charts and, in 2010, he was invited to join the Grand Ol' Opry. Even though he was killing it in country, Shelton, possibly realizing his best bet at winning over the pop-loving masses was through a televised charm offensive, jumped on the judging circuit, first on Nashville Star and then on Clash of the Choirs.
On The Voice: Every season since its April 2011 premiere
After: Shelton's "Doin What She Likes" just became his 11th consecutive No. 1 country hit, beating Brad Paisley's previous record of 10 in a row. Last March, he released Boys 'Round Here, which sold over 2.4 million copies by making the claim that guys below the Mason-Dixon don't listen to the Beatles. His newest album, Based on a True Story, should bring him his best sales to date. In other news, Shelton got hitched to country honey Miranda Lambert, and through their combined star power, both have become more interesting to the general populace.
Shakira
Before: Girl's sold over 70 million albums worldwide, though she's still a much bigger name in her native Colombia than she is here in the States. She'd already released four albums in Spanish before breaking out in the English-speaking scene with Laundry Service in 2002 and notching a hit single with 2006's "Hips Don't Lie."
On The Voice: Seasons four (2013) and six (2014)
After: Shakira's recent duet with Rihanna, "Can't Remember to Forget You," is her highest debuting track in the U.S. (Hard to say if that's owing to a Voice bump or the sheer power of Rihanna's popularity.) Her new album, self-titled, came out at the end of March.
Nicki Minaj
Before: Minaj's breakout album, 2010's Pink Friday, made it to No. 1 on Billboard and spawned superhit "Super Bass," which sold more than 4 million copies. Pink Friday: Roman Reloaded came out the following year; "Starships" was released on Valentine's Day and sold 7.2 million copies worldwide.
On Idol: Season 12 (2013)
After: Pink Friday: Roman Reloaded – The Re-Up came out in November 2012, but Minaj blamed its poor performance on retailers like Target and Walmart not selling enough copies. Neither Minaj nor fellow judge Mariah Carey did a whole lot for Idol's ratings, though Minaj claims to have "no complaints whatsoever" about her time there and always-reliable anonymous sources insist Minaj was "only going to do one season anyway." Minaj will appear in this month's The Other Woman alongside Cameron Diaz, Leslie Mann, and Kate Upton.
Usher
Before: Usher has sold 65 million albums worldwide, racking up almost 20 top ten "Hot 100" hits. The duration of Usher's popularity means it is totally possible you heard his songs at a middle school dance ("You Make Me Wanna…"), your senior prom, ("U Remind Me"), some fraternity/sorority formal ("Yeah!"), and your wedding ("DJ Got Us Fallin' In Love").
On The Voice: Seasons four (2013) and six (2014)
After: Usher says he's working on a new album, which he swears will be "everything you can imagine."
Mariah Carey
Before: Since the release of her 1990 self-titled debut, Carey has sold over 200 million albums, making her one of the best-selling artists of all time. Yet her career has not been without its missteps, such as the movie Glitter, a critical and commercial disaster, or the buying out of her $100 million contract with Virgin. Still, before briefly joining the Idol judging panel, Carey released four more studio albums, including E=MC2, which debuted at No. 1 and gave her the biggest opening week sales of her career. It seemed like she could do whatever she wanted at that point, but apparently what she wanted was to be on Idol. Go figure.
Joined American Idol: January 16, 2013, as Jennifer Lopez's replacement, for season 12
After: Mariah on her Idol experience: "Honestly, I hated it." Hey, maybe what she really meant to say is, "It was like going to work every day with Satan." In a shocking twist, she will not return to Idol. "All I Want for Christmas Is You" is still played during the holiday season, ad nauseum, and will be for all eternity.
Cee Lo Green
Before: As half of Gnarls Barkley, Cee Lo had the megahit "Crazy" in 2006. As a solo artist, Cee Lo had a smash with "Forget You" and a not-quite-as-megahit with "Bright Lights Bigger City," which earned a boost from getting the a cappella treatment in Pitch Perfect.*
On The Voice: Seasons one, two, three, and five
After: Unclear! Green says he wants to work on his own solo projects. We'll see how that goes.
Christina Aguilera
Before: Aguilera was a child singing prodigy. At age 12, she already had pipes so impressive that Jessica Simpson, who auditioned for the Mickey Mouse Club right after watching Aguilera crush it, totally choked and failed to make the cut. In 1999, Aguilera broke out with "Genie in a Bottle" and defied conventional "Grammy Best New Artist Winner Curse" wisdom, releasing a handful of follow-ups, most notably 2002's Stripped and Back to Basics, her 2006 double-disc retro delight. By 2007, she'd won four Grammys and sold 37.4 million albums worldwide. But things were taking a turn for the meh in 2010: her attempt at a post-maternity-leave comeback, Bionic, couldn't even move half a million copies. Then came the critical disaster Burlesque and, in 2011, the Super Bowl, at which Aguilera attempted, and failed, to recall the lyrics to the national anthem.
On The Voice: Seasons one, two, three, and five
After: "Moves Like Jagger" was her biggest hit in years; she also collaborated with Pitbull on "Feel This Moment," so, good for her! But she hasn't gotten that Voice bump that Levine is enjoying. Her 2012 album, Lotus, was her lowest-selling album ever — a release lame enough to prompt think pieces about why no one is buying Aguilera's music.
* This article previously stated that "Forget You" was a Gnarls Barkley song, as opposed to just a Cee Lo song, and that "Movies Like Jagger" peaked at No. 2, as opposed to No. 1. It also stated that Burlesque was a box office disaster, when it was simply a critical one.