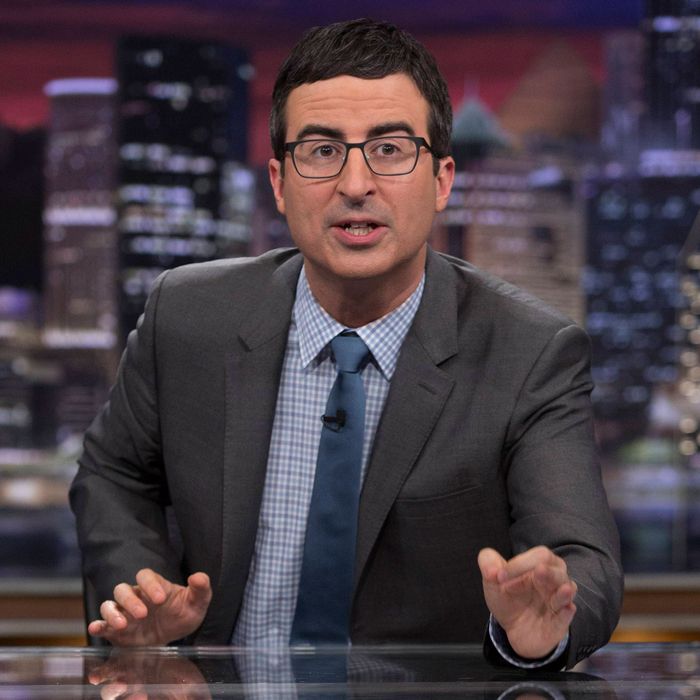 Photo: Eric Liebowitz/HBO
The Daily Show With John Oliver is … Whoops, sorry about that! Let's back up.
The comedian's new weekly HBO show, which premiered Sunday night, is actually titled Last Week Tonight With John Oliver. It might be a while before I can break myself of calling it that other thing, though. Oliver landed this gig after (brilliantly) guest-hosting Comedy Central's The Daily Show while regular frontman Jon Stewart was off directing a film, and even though there are differences between the series, they aren't so drastic that you sit through Oliver's HBO program thinking about all the ways in which they've reinvented this particular comedic wheel.
It's a mistake, though, to fixate on the idea that Oliver and his collaborators are obliged to devise a new and different format, considering that they work so well within this one, and considering that — like the Today and 60 Minutes formats — the Daily Show's is a primordial building block of news and entertainment TV. Stewart has been associated with it for so many years that some of my colleagues seem to believe he personally invented it. Let's not forget that, back during cable's Iron Age, Comedy Central aired a toothlessly snarky Craig Kilborn–fronted version that was itself a frathouse-friendly riff on Saturday Night Live's "Weekend Update" — and that the mock-news format has been tweaked and repackaged since the '70s because it's an extraordinarily useful way to send up journalistic sins and clichés without being sanctimonious.
Sunday's premiere had an unmistakable Daily Show vibe, but only at the start, when Oliver did a rundown of the week in old, racist, white-guy idiocy while sitting at a too-Stewarty news desk on a very blue set. For a few minutes, viewers might have legitimately worried that this would be a premium-cable Daily Show clone whose only notable differences were the host's British accent and un-bleeped profanity.
But things got better and more distinctive after that. We're only one week in, but Oliver and his writers already seem to be finding their own tone. It's an acidic English variant of Stewart's comic incredulity that avoids Stewart's only serious flaw: his tendency to come on as if he's Edward R. Murrow with double-takes, saving a cold and stupid world from tumbling into the abyss.
There were several very strong bits, but the best was Oliver's rant about the U.S. media's disinterest in the Indian elections. It was an example of the sort of piece I wish The Daily Show would do. Not to get all Frank Capra on you here, but it's an example of media criticism that could truly make a difference in people's lives. It didn't just point out stupid TV news-packaging decisions and research errors and oversimplifications (such as CNN's "One Billion Votes" graphic, which Oliver said was "wrong by the entire population of Brazil"). Nor was it content to smugly encourage viewers to congratulate themselves for agreeing with the host that U.S. TV news' priorities are out of whack. It made a case for why this particular story could be vastly more engrossing than the pointless 2016 election prognostications that U.S. broadcast and cable networks aired in its place.
"Don't tell me you're not interested in this, America," Oliver said, after sketching the presidential showdown between the handsome young Congressional vice-president Rahul Gandhi (of the Gandhi Gandhis) and BJP's prime ministerial candidate Narendra Modi, a grocer's son who once ran a tea stand near a bus terminal. "The last time you heard a rags-to-riches story about a tea-selling Indian kid," Oliver said, "you threw a fucking Oscar at it."
At this point, my main complaint about the show is that it's not an hour. I'd like to see Oliver and Co. (no Disney-cartoon title pun intended, but what the hell) go long, and maybe borrow from 60 Minutes and Frontline. There's Trojan Horse potential here. Oliver could use his Sunday-night perch for depth and reflection, and give viewers the context that journalism pundits are always begging TV news to provide. With jokes, too.