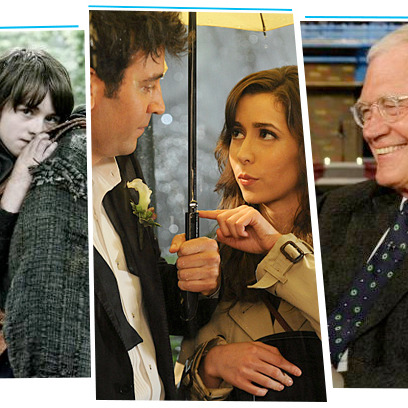 Every week, Vulture faces the big, important questions in entertainment and comes to some creative conclusions. This week, we complained about the How I Met Your Mother finale, reflected on Letterman's retirement, and anxiously awaited the season premiere of Game of Thrones. You may have read some of these stories below, but you certainly didn't read them all. We forgive you.
Q: What the heck were the How I Met Your Mother creators thinking with that finale?
A: We're asking the same thing. Margaret Lyons joined the rest of the internet in voicing her displeasure, arguing that the finale bailed on the entire show (although it shouldn't stop you from watching How I Met Your Dad, or following the cast in their upcoming projects). Meanwhile, TV revisionists can watch a video that 'fixes' the ending. Aww.
Q: Are we still allowed to love HIMYM?
A: Of course! A questionable ending doesn't mean HIMYM wasn't a great show. For a walk down memory lane, we gave some of the show's recurring bits the infographic treatment, looked back at why Lily and Marshall are one of the best sitcom couples ever, reflected on the show's terrific pilot, and chronicled every time Barney said 'wait for it' over the course of the show's nine seasons. We also talked to karate kid Billy Zabka about his time on the show and parsed the ending with Josh Radnor and How I Met Your Dad star Greta Gerwig.
Q: Who is going to take over Letterman's job?
A: Last we heard, Colbert is the frontrunner to take over the Late Show gig, but it's still early days. In the interest of speculation, we took the liberty of suggesting eight possible replacements (c'mon, Neil Patrick Harris!) Meanwhile, Matt Zoller Seitz wrote about Letterman's enduring impact while Josef Adalian explained the new rules of late night in the post-Letterman era. (Jimmy Fallon is winning.)
Q: What's the best Stephen King book of all time?
A: Gilbert Cruz ranked all 64 of the horror master's works. And since it's the 40th anniversary of Carrie, King's first novel, Cruz got Patton Oswalt to talk about a lifetime spent reading the horror master.
Q: Is the new season of Game of Thrones any good?
A: Sounds like it. Matt Zoller Seitz calls it "TV's most exhilarating nightmare." (He also has some opinions on the show's many missing limbs) In order to prepare yourself for the bloodbath, read Margaret Lyons's episode-by-episode guide to what has happened on GoT so far and see where 17 characters stand going into season four. Plus, check out which cast member looks least like his onscreen character (the Hound is so cute!) and try our updated GoT death generator for a chance to win awesome prizes.
Q: How is the GoT cast handling spoilers?
A: Jennifer Vineyard talked to a number of cast members and chronicled their evasive tactics. But when they weren't being coy, the cast had some interesting tidbits to share: Kristian Nairn talked about the many ways his character says 'Hodor,' while showrunner D.B. Weiss explained how the show will handle its aging child stars.
Q: Isn't Veep returning on Sunday too?
Yes! As you gear up for the third season, read Margaret Lyons on five underappreciated aspects of Veep, and then watch Abraham Riesman's supercut of Selina awkwardly meeting normal people.
Q: What else should we start watching?
Inside Amy Schumer just returned to Comedy Central for its second season, and it is awesome. You can watch the best sketches from the first season here, or just plunge into it blind. As Margaret Lyons and Lindsey Weber write: "come for the desire to overthrow the patriarchy, stay for the hilarity. And hand-crafted vibrators."
Q: Which 2014 network and cable shows are still facing cancellation?
Josef Adalian takes a look at the shows whose fates hang in the balance. While some fan favorites look safe (hooray, The Americans), others won't be so lucky.
Q: This weekend's big movie is Captain America: The Winter Soldier. What do I need to know?
First, check out David Edelstein's review of the movie. (He liked it.) Then, after seeing the movie, read Alex Suskind's explainer on the post-credits scenes and Kyle Buchanan's chat with the screenwriters on all matter of spoilers. Buchanan also talked to Anthony Mackie, who plays Falcon, about trying (and failing) to get more shirtless screentime.