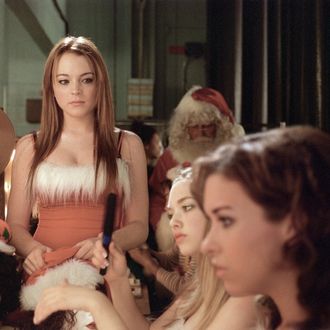 Photo: Paramount Pictures
Today marks the tenth anniversary of Mean Girls, and tragically, fetch still isn't in the OED. Yet all these years later, we still care deeply, probably too deeply, about the film's characters (the actor who played Damian just came out … in a letter to Damian!). A decade later, what do we think our old friends at North Shore High School might be doing with their lives? Grab a drink ticket and step back into that crepe-papered gym, because it's reunion time.
Cady Heron (Lindsay Lohan)
Last seen: Sitting with a group that mixes all the cliques — like Ferris Bueller, the Spring Fling Queen is now accepted by sportos, motorheads, geeks, sluts, bloods, wasteoids, dweebies, and dickheads alike.
What she's up to now: Using her math skills and learned kindness, Cady invented low-cost, high-nutrition bars she got donated to rural Africa, calling them Grool, since they are both great and cool; currently on the Ivy lecture circuit and BFFs with Samantha Power.
Regina George (Rachel McAdams)
Last seen: Positively channeling her aggression through lacrosse
What she's up to now: Unsuccessfully sued Stacey London for stealing "Shut up!" when the other person is silent; after realizing how adept she is at manipulating three-way calling, opened her own webcam spy-sex company.
Glen Coco (David Reale)
Last seen: Receiving multiple candy cane grams. You go, Glen Coco!
What he's up to now: An insurance claims adjuster with a large collection of short-sleeve button-down shirts, the highlight of his life remains that moment when he thought four people liked him.
Janis Ian (Lizzy Caplan)
Last seen: Making out with Kevin Gnapoor; working at a Body Shop knockoff
What she's up to now: Long after forming and then ditching the band Army of Skanks while at RISD, she became a renowned performance artist, whom New York Magazine art critic Jerry Saltz called "the American Marina Abramovic." She is obviously too cool to attend a reunion.
Gretchen Wieners (Lacey Chabert)
Last seen: Lunching with her new clique, the Cool Asians
What she's up to now: Checking in and out of rehab; getting caught in the middle of her insane parents' fights; starring in a boring Oprah-produced reality show; over-filling her face with injectables; releasing a list of her 36 celebrity sexual conquests.
Aaron Samuels (Jonathan Bennett)
Last seen: Heading to Northwestern, so he can still see Cady every weekend
What he's up to now: After Cady got into an experimental phase at Brown, they broke up. He is the face — and abs — of Bro Down Energy Supplement.
Trang Pak (Ky Pham)
Last seen: Fighting with Sun Jin Dinh over sex ed teacher Coach Carr
What she's up to now: Let's just say that, unlike Coach Carr, she can now spell chlamydia.
Mrs. George (Amy Poehler)
Last seen: Pressing her velour tracksuit — and her rock-hard implants — into various teenagers
What she's up to now: Divorced Mr. George, then seduced Aaron Samuels; invented her own line of human hair extensions; sends nightly emails to Andy Cohen trying to convince him to cast a Real Housewives of Evanston.
Ms. Norbury (Tina Fey)
Last seen: Being an inspiration and moral compass; teaching math; bartending at PJ Calamity's
What she's up to now: Remarried — to Mr. Duvall, obviously — she started a girls-only coding club at North Shore; when one of their apps sells to Facebook, she retires and never spends any time around teenagers again.
Karen Smith (Amanda Seyfried)
Last seen: Giving the school's morning weather announcements
What she's up to now: Retired from professional forecasting after her boobs predict floods in California right before a three-month drought, she now works as an NFL sideline reporter; rose to YouTube and GIF infamy when she watched an incoming football bonk her between the eyes; is now expecting her second child with the Houston Texans' Brian Cushing.
Damian (Daniel Franzese)
Last seen: Kissing Janis Ian to make sure he's truly gay. (He is.)
What he's up to now: Always interested in Cady's natural hair color, he owns a chichi salon in the Loop called Full of Secretsss.
Kevin Gnapoor (Rajiv Surendra)
Last seen: Rocking a leather-sleeve letterman Mathlete jacket, cozying up to Janis Ian
What he's up to now: Realizing his true life calling is not actually math but rapping, he plays Mindy's brother Rishi on The Mindy Project.