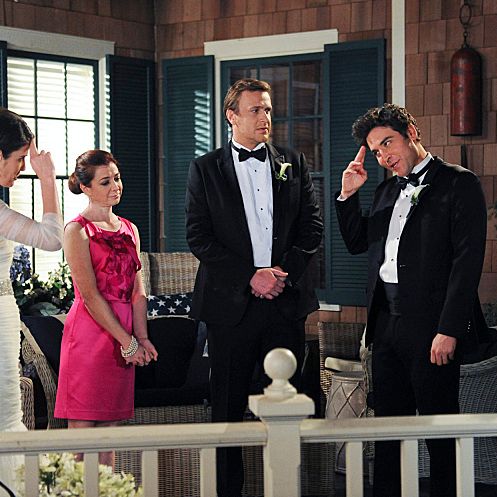 Over the course of How I Met Your Mother's run, Neil Patrick Harris hosted nearly 1,000 awards shows, Josh Radnor wrote and directed two indie movies, and Jason Segel made a Muppet movie. The cast hasn't exactly been sealed off in a HIMYM bubble. But now that the show has ended — and oh, what an ending it was — the stars are lining up new projects. What does the future hold for the former MacLaren's regulars?
Josh Radnor: Radnor told Marc Maron last week that he's writing a movie that's "a love triangle set in Poland." Radnor already has 2010's Happythankyoumoreplease and 2012's Liberal Arts under his belt, so expect to see this movie at Sundance in, oh, 2016.
Cobie Smulders: She's Maria Hill in the Avengers franchise, so she's in Captain America: The Winter Soldier and it looks like she'll be in next summer's The Avengers: Age of Ultron, too. And maybe she'll pop up at other avenging moments.
Jason Segel: He's in the upcoming Sex Tape, opposite Cameron Diaz, where he plays half of a couple whose sex tape winds up making the rounds. What married couple hasn't found themselves in just such a pickle? Segel's also currently filming the David Foster Wallace biopic The End of the Tour, where he plays DFW and Jesse Eisenberg plays writer David Lipsky, whose book Although Of Course You End Up Becoming Yourself: A Road Trip With David Foster Wallace is the basis of the film. Segel was tragically ousted from the Muppets franchise, but here's hoping he writes another puppet musical of some kind. There are not enough of those in this world.
Alyson Hannigan: Hannigan is pretty much staying put: She's already signed on for a CBS multi-camera sitcom. She'll play opposite comedian Tom Papa in More Time With Family, which is based on Papa's stand-up. (Hannigan plays his wife.) Matt Damon and Ben Affleck are executive producers for the show, so that's something.
Neil Patrick Harris: He's currently on Broadway as Hedwig in Hedwig and the Angry Inch, and he has a supporting role in Gone Girl as Desi, Amy's wealthy, weird ex-boyfriend. Harris won't be hosting this year's Tonys — that'll be Hugh Jackman — but maybe there's another Emmys gig in his future.