Last night, while everyone was watching the season premieres of Game of Thrones, Veep, and Silicon Valley (or some combination of the three), CBS aired the Academy of Country Music Awards. Not the CMAs or the CMTs: the ACMs — the one where the trophy looks like this. That's Taylor Swift holding the trophy in that picture, and while she was in attendance last night, she took home no awards. (Unless you count the one nabbed by the video for "Highway Don't Care," her duet with Tim McGraw, which we do not.) Still, Swift shout-outs are obligatory.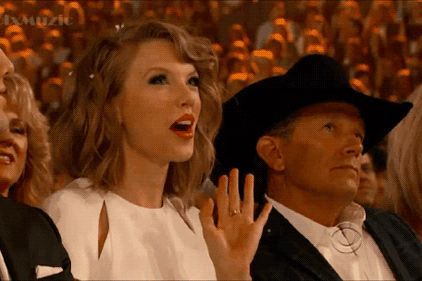 And they smartly let Blake Shelton co-host. He took a shot directly at Britney Spears in the show's first five minutes, and because he's such a good guy, no one will care.
Stevie Nicks performed a duet with Lady Antebellum, mixing "Golden" and Nicks's "Rihannon."
And because all Voice judges are required to sing duets with each other as often as possible, here's one with Shakira and Blake Shelton. It's about keeping yourself healthy. (Is it better than their Voice performance of "Need You Now"?)
The night's big winners were Miranda Lambert (Female Vocalist of the Year, Vocal Event of the Year), Jason Aldean (Male Vocalist of the Year), George Strait (Entertainer of the Year), the Band Perry (Group of the Year), and Kacey Musgraves's Same Trailer Different Park, which rightfully took home Album of the Year.