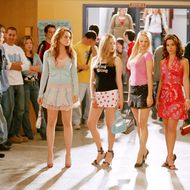 At the beginning of (and throughout) every month, Netflix Streaming adds new movies and TV shows to its library. Here is a quick list of several that you might be interested in. Some of these were added halfway through or near the end of March, but we're going to include them in this roundup anyway, since you may have missed them. Some of these may also have previously been on Netflix, only to have been removed and then added back. Feel free to note anything we've left out in the comments below.
Mean Girls
Just in time for its tenth anniversary, the Tina Fey–penned high school comedy arrives to be perpetually looped by millennials and educate those who missed the boat the first time around. Mean Girls made stars out of Rachel McAdams and Lizzy Caplan and remains one of the last hurrahs for pre-socialite Lindsay Lohan. A decade later, it has morphed into a cultural touchstone. Mean Girls is as fetch as they come.
Short Poppies: Season 1 (available April 3)
Netflix picked up exclusive rights to this mockumentary comedy from Flight of the Conchords' Rhys Darby. The show follows a filmmaker as he interviews the eccentric characters of a small, New Zealand town. Rhys plays both the documentarian and the subjects, Summer Heights High style.
The Grandmaster
There are two versions of The Grandmaster out in the world: Wong Kar Wai's 130-minute cut and Harvey Weinstein's Americans-can't-possibly-stand-22-more-minutes-of-this-stylish-martial-arts-biopic, 108-minute cut. Netflix hosts the latter. If tracking down Wong Kar Wai's meatier portrait of Ip Man proves difficult, know that the condensed Netflix edition remains spectacular. The director combines his sensitivity for human drama with radiant, slow-motion fight scenes. Action with purpose — a rarity on this side of the pond.
Close Encounters of the Third Kind
After instilling Hollywood with a blockbuster mind-set upon the monumental success of Jaws, Steven Spielberg directed this decidedly low-key spectacle. One wonders if Darren Aronofsky revisited the film before shooting Noah; Richard Dreyfuss's Roy finds himself drawn to Devil's Tower in Wyoming by the silent suggestion of an extraterrestrial presence. Glowing lights and mashed potato sculptures are enough to sell him on abandoning his family. He must join pint-size aliens on their skyscraper-size spaceship.
Rocky
Sylvester Stallone's Oscar-winning underdog tale arrives to Netflix with four sequels in tow (all but 2006's Rocky Balboa). Relive the classic fights the training montages (specifically Rocky IV's :chopping wood in Russia" sequence) and the culturally significant music cues (from Bill Conti's "Gonna Fly Now" theme to Frank Stallone's "Take It Back" to "Eye of the Tiger," inseparable from Rocky III).
Going Ape!
Tony Danza is set to inherit five million dollars from his circus ringleader father if he can fulfill one stipulation: caring for three pet orangutans. A shaggy Danny DeVito, easily mistaken for one of the apes, co-stars. One of those bizarre, early '80s gems that probably made sense on paper.
Adventure Time (Season two)
If a fourth grader doodled across the pages of a Dungeons & Dragons quest book while rocking out to a Cat Power album, the result may look something like Pendleton Ward's Cartoon Network series. Adults shying away because of the "kid show" veneer should know that by season two, it's clear that Finn (the Human), Jake (the Dog), and the rest of the characters exist in a postapocalyptic world ravaged by atomic war. Not exactly Dora the Explorer.
New Seasons of TV:
Bob's Burgers (Season 3)
The Bible: The Epic Mini Series (available April 13)
House, M.D.: The Complete Series
The Inbetweeners (Season 3)
Legit (Season 1, Available April 10)
Mad Men (Season 6)
Royal Pains (Seasons 1 – 5)
Turbo FAST  (New episodes, Available April 4)
Other movies available:

A League of Their Own
Ali
Jan Svankmajer's Alice
Amistad
Angel Heart
Ass Backwards
Barton Fink
The Benchwarmers (available April 24)
Braveheart
Chinatown
Click
Coneheads
Crouching Tiger, Hidden Dragon
Death Wish
Death Wish 2
Death Wish 4: The Crackdown
The Dirties (available April 11)
The Diving Bell and the Butterfly
Dragonslayer
The Eagle (available April 16)
The English Patient
The Family (available April 16)
Freedomland (available April 29)
Frankenstein's Army
The Heart of the Game
Heaven Knows Mr. Allison
Insidious Chapter 2
Interior. Leather Bar
Inventing the Abbotts
G.I. Joe: Retaliation (available April 12)
The Graduate
Jumanji
The King of Fighters
The Lady in Number 6
Lars and the Real Girl
The Last Days on Mars (available April 3)
Legend of Hell House
Les Miserables (1935)
Let the Fire Burn
Man Hunt
The Muppets Take Manhattan
Mr. Nobody
My Bloody Valentine
The Naked Gun 2 1/2: The Smell of Fear
No Holds Barred
The Odd Couple
Peeples (available April 11)
Point Blank
Rabbit-Proof Fence
The River's Edge
The Robe
Robinson Crusoe on Mars
Rocky II
Rocky III
Rocky IV
Rocky V
Roger Dodger
The Running Man
Scary Movie 3
Scoop (available April 16)
Sense and Sensibility (1995 Emma Thompson version)
Short Term 12
Spanglish
Stuart Saves the Family
Survival of the Dead
The Terminator
There's No Business Like Show Business
The Thomas Crown Affair (1999 version)
The Turning Point
Titanic
White Reindeer
The Yards