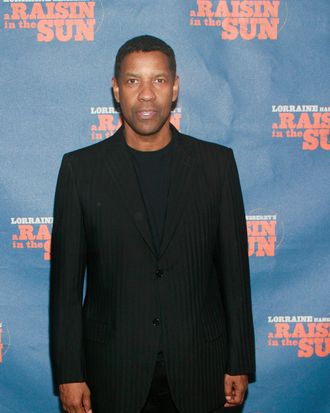 Denzel Washington.
Photo: Sylvain Gaboury/?Patrick McMullan
There's a great moment in the middle of Broadway's A Raisin in the Sun where Denzel Washington gets up on a table and dances. His character, Walter Lee Younger, has already knocked back a few when he walks in on his sister in their shared Chicago apartment as she's celebrating her African roots with a Nigerian tribal dance. In his deliriously drunk stupor, he goes all in. "I am much warrior!" he proclaims. "Flaming spear! The lion is waking!" The moment, as our reviewer already noted, is priceless.
"There wasn't a whole lot of direction for that scene," Washington told Vulture at the after-party at Tribeca Rooftop. His director Kenny Leon conceded that he gave Denzel minimal instructions: "I just told him, 'Okay, I want fun at the top, and then just a little seriousness at the end. I want to see the king in Walter Lee.'"
Washington's no stranger to playing drunk (see Flight), although he wouldn't necessarily call it playing drunk. Grinning, he explained, "You don't play drunk — you try to act sober. People don't act drunk, people are drunk, and they try to act sober." That means trying to keep your balance, which is harder than it looks when you're a sober actor playing a drunk man trying to appear sober.
Luckily, Washington got a handy tip on how to do just that from an unexpected source: Ian McKellen. (Or Patrick Stewart! Washington couldn't quite remember which is which, so take your pick.) After a recent performance of No Man's Land starring both of those venerated British thespians, Washington picked McKellen's brain (or Stewart's) about drunk acting. "I was asking him about it, and he said, 'Well, I just curl up my feet, and I kind of roll back on my heels a little bit, and then you're always trying to get back on your toes.' You know?" Washington said, before insisting we give it a try. "You see what I'm saying?" he said. "Now, I don't do that the whole time I'm out there, but it's a starting place." Looking down at his feet, he laughed. "Now people will be looking at my toes!" Especially come Toe-ny time.