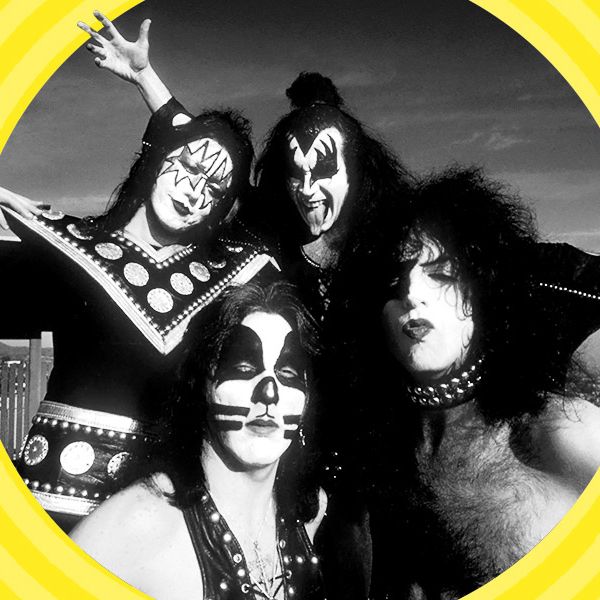 Photo: Michael Ochs Archives/Getty Images
It was No Respect Week here at Vulture, which meant we celebrated things that never seem to get any love: schlock rock, Adam Sandler cry-fests, romance novels, over-the-top action sequences, and, yes, a novelty song by a comedian whose catchphrase was "No respect." Something else that doesn't get appreciated enough? We leave you with the music of the American rock group Kiss.
Let's put Kiss in perspective. The biggest obstacle to a proper understanding of the band's music has always been the makeup and merchandise. "They cannot be serious," the thinking goes. "Bob Dylan wouldn't wear makeup or do commercials." (He did both.) But along with Aerosmith and Van Halen, Kiss is a member of the Holy Trinity of Radio-Ready American Hard-Rock Bands, each of which is also a foundational act of the Sunset Strip hair-metal scene that went crazy-go-nuts in the '80s. Led by Paul Stanley and Gene Simmons, the group came around when rock music was ponderous, navel-gazing, drab, and — worst of all — respectable; "real music" at that time came from singer-songwriters like James Taylor and Jackson Browne or boogie-musos like the Allman and Doobie Brothers. But Stanley and Simmons, along with Peter Criss on drums and Ace Frehley on lead guitar, were fans of glam rock and power-pop, genres that were considered to be kid stuff, and the quartet hot-rodded hard rock with concision and a healthy dose of sleaze. Kiss also drove baby boomers absolutely batshit — a higher compliment cannot be paid.
Not without some controversy, Kiss is now in the Rock and Roll Hall of Fame (watch the induction ceremony tonight on HBO), and the group's longevity is a testament to their many bombastic hits. The ten lesser-known cuts below also sound great blasting out of a Camaro going 120 or camped out in the stadium parking lot, and they also shouldn't scare off the uninitiated, even those who have previously turned up their noses at the mention of Kiss.
"Kissin' Time"
Kiss (1974)
To this day, Kiss regrets that Neil Bogart, the head honcho of their label Casablanca, compelled them to record this cover of a song by '60s teen idol Bobby Rydell after their debut album didn't go gangbusters immediately. But prior to "I Was Made for Lovin' You," this was Kiss's most danceable recording, and one in the cutely crass tradition of rock-and-roll travelogues (think Huey Lewis and the News' "Heart of Rock and Roll" or Chuck Berry's "Sweet Little Sixteen"). Gene, Paul, and Peter each sing a verse, while Ace, never a confident vocalist, takes a solo instead. Nothing to be ashamed of here!
"Two Timer"
Dressed to Kill (1975)
One of the meanest riffs of the band's career, one of Simmons' most nimble vocals, one of the band's most confident, laid back grooves — all in service of a lyrical rarity in the Kiss catalog. Whereas Simmons would typically boast in song of a given groupie's desperate need for his humiliating attentions ad nauseam, this tune finds a young lady getting the best of our poor little Demon.
"Take Me"
Rock and Roll Over (1976)
"Sitting in the back / her head down in mah lap / the moonlight shinin' down on huh face." Look, if songs about cheap, dirty sex with someone you just met are off the table, then let's turn out the lights and call the whole rock and roll thing off. Of all the deep album cuts from the band's '70s heyday, this is the one that sounds the most like a hit.
"Larger Than Life"
Alive II (1977)
The qualities any hard rock band wants in a drummer are not ones associated with cats: One wants dependability, not capriciousness; strength, not skittishness. Indeed, Peter Criss's time behind the kit with Kiss was marked by the power and determination common to a tabby batting a ball of yarn. To hear what classic Kiss sounds like when a proper rock-and-roll drummer a la John Bonham is laying it down, we must turn to this cut, one of five studio tracks from Alive II. It is likely Anton Fig, later of the World's Most Dangerous Band, playing on what's clearly best of Simmons's several odes to his allegedly large penis.
"Mr. Blackwell"
Music From 'The Elder' (1981)
Instead of responding to critics of "fuck me, suck me" songs the way they had previously — i.e. "go jump in the lake" — Kiss recorded the 1981 fantasy concept album Music From 'The Elder' to establish their bona fides as "artistes" and to please those self-same critics (never mind that those pencil-necked geeks didn't like concept albums in the first place). Although the album's plot closely approximates that of the Matrix 18 years ahead of time, Music from 'The Elder' is misbegotten in every respect. It didn't get more delightfully incongruous than "Mr. Blackwell," a song Simmons wrote with Lou Reed evidently concerning the legendarily bitchy fashion pundit. While his connection to the fantasy landscape of The Elder is unexplained, Blackwell surely never thought much of what Kiss wore and probably said so, thus earning this grunting rebuke, the oddest recording the band ever made.
"Unholy"
Revenge (1992)
By his own admission, Simmons phoned in his post-makeup Kiss activity in the 1980s — acting in lousy movies like 1984's Runaway (in which his villainous character garrotes Kirstie Alley) and managing Liza Minnelli, among others — leaving Stanley, a principal architect of hair-metal, with the bag: As terrific as "Lick It Up," "Heaven's on Fire," and "Tears Are Falling" might be, "Crazy Nights" and "Let's Put the X in Sex" seem to be playing catch-up with Bon Jovi and Cinderella. But Simmons woke up in 1992, and this, the band's nastiest, heaviest cut since the 1982 album Creatures of the Night, updates his lecherous demon/lord of the wasteland persona ("I am the Incubus / I lay the egg in you / the worm that burrows through your brain"). It keeps pace with a metal scene that had yielded Pantera and Slayer but would soon be threatened by — say it all together now, class — Nirvana and grunge. Revenge is reputed to represent the band trying too hard for '90s grit, but it's one of their best albums: For old guys trying to be Alice in Chains, proceed directly to 1997's Carnival of Souls.
"Coming Home"
Kiss Unplugged (1996)
Scratch the surface, and it doesn't seem absurd when Paul Stanley claims, as he did when speaking to Vulture, that he was a fan of power-pop acts like Big Star, the Nazz, and the Raspberries. In the early '70s, the "Don't Bore Us, Get to the Chorus" Beatles of the early '60s was out of fashion at the time relative to the "artiste" template of Sgt. Pepper, and Kiss's affinity for pop-song economy stood out among the likes of hard rock blowhards like Uriah Heep or Argent. But this song in particular, recorded poorly for 1974's Hotter Than Hell and sounding infinitely stronger and cleaner at Kiss's 1995 rendition of the Unplugged franchise with longtime guitarist Bruce Kulick and drummer Eric Singer, demonstrates strong harmony singing and Brit pop–bred songcraft, as well as heart — qualities not often associated with grease-painted ghouls.
"I Pledge Allegiance to the State of Rock and Roll"
Psycho Circus (1998)
In 1996, the original quartet reunited, reapplied the makeup and embarked upon a tour that cleaned up at the box office. But after 15 years of lead guitarists and drummers upon whom the pair could depend, Stanley and Simmons tried to make one more go of it with Frehley and Criss via a full-fledged album in 1998. The only quarter satisfied with Psycho Circus were the Kiss Army dead-enders who had never forgiven Stanley and Simmons for cutting loose Frehley and Criss and continuing with musicians who, yes-men they might have been, could play more than competently. Stanley's mighty late-career anthem pulls out one last great Frehley solo for Kiss and a pile-driving groove from Criss (if it is indeed Criss; one assumes his performance was pro-tooled all to hell). By 2003, Criss and Frehley were gone for good; to this day, many partisans fill YouTube comment sections and message boards with invective toward Stanley and Simmons for soldiering on with guitarist Tommy Thayer and Eric Singer. These guys may be wearing other men's character designs, but they can get the job done night after night, something which is not at all clear with respect to their predecessors.
"Do You Remember Rock and Roll Radio?"
We're a Happy Family: A Tribute to the Ramones (2003)
There are two New York bands from the 1970s that loom large around the world as brands as much as bands. Kiss is like the New York Yankees: deluxe, rapacious, capitalistic to the core, and viscerally despised by all but the most dogged partisans. The Ramones correspond to the Mets: underdogs who succeed through pluck and heart. But New York's greatest hard rock band and New York's greatest punk rock band were both manned by outer-borough strivers, each inhabiting a persona that represented who they were already, and both were unquestionably and irretrievably committed to the joy of rock-and-roll music. Joey Ramone loved Kiss; Stanley told Vulture that he comforted Johnny Ramone in his final days. Here we have Kiss playing the one Ramones song that could have been written for them. If you love both bands, go get some tissues before pressing play.
"Modern Day Delilah"
Sonic Boom (2009)
Simmons has his copycat reality program, Kiss Kaskets, and one boondoggle after another for the past 40 years. Frehley and Criss's activity has waxed and waned through an obscuring chemical fog (and breast cancer, in the latter's case). Of the original quartet, only Stanley's focus has never wavered. Long after Simmons concluded there was no point in releasing new music when someone can expend the same effort in possessing it as they can in reading this sentence, clearly Stanley makes rock-and-roll records as tough and as tight as this latter-day tune for the simple reasons that he wants to and that he's good at it.
BONUS TRACK
"People Let Me Get This Off My Chest"
Roundabout 2005, some enterprising soul scoured the internet for soundboard recordings, excerpts from various live albums, bootlegs, and various other isolated tracks for one purpose and one purpose only: to present the cream of 40 years of Paul Stanley's "rawk and rawl" preacher-man onstage banter. It's all here, from "somebuddy backstage was tellin' me yew lahk tuh drink vawdkuh and ah-rahnj juice!" to a post-9/11 rant against Al Qaeda, and from countless double — or rather, single — entendres to ridiculous references specific to everywhere from San Antonio to Stockholm.