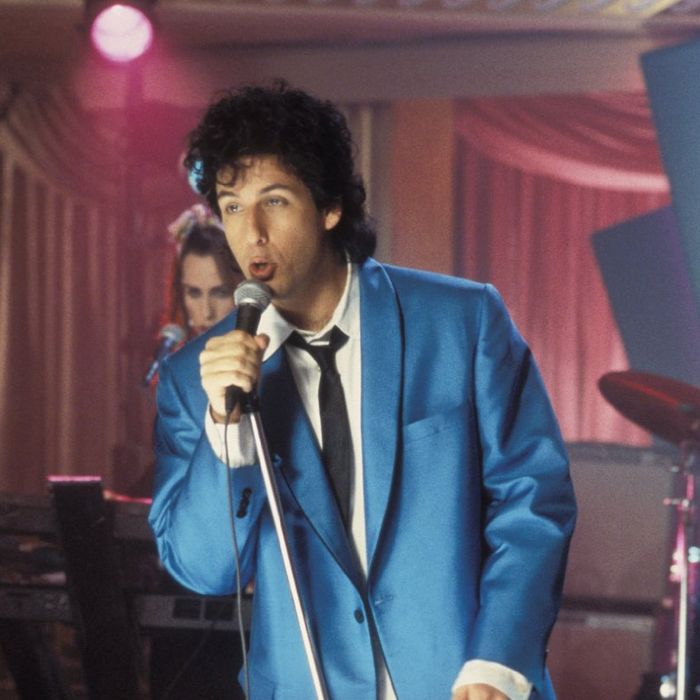 I learned about 1980s pop culture by watching The Wedding Singer. This is likely depressing news for those of you who grew up with a soft spot for side ponytails, neon tank-tops, and David Lee Roth assless chaps. However, I was born in 1985 and was too young to be drawn in by the voodoo of New Wave and synth-heavy pop-rock.
That makes it impossible for me not to see this particular era through the prism of a late '90s Adam Sandler–Drew Barrymore romantic comedy — a truth Vulture's Bilge Ebiri hinted at last February in "The 25 Best Rom-Coms Since When Harry Met Sally." "What's scary is there are people out there who probably think that all those '80s songs originated with [The Wedding Singer]," wrote Ebiri. "There's now nostalgia for a film that itself was all about nostalgia for the '80s."
I am not naïve enough to fit into the former category, but I am more than qualified to be a part of the latter. Whenever I hear songs like "Pass the Dutchie" or "Do You Really Want to Hurt Me?" I immediately think of Sandler's goofy-looking mullet. I feel no shame in this. The Wedding Singer is a great movie, thanks in large part to the chemistry between its co-leads.
This weekend, Sandler and Barrymore will team up once again in Blended, their third film together. Though their last movie, 50 First Dates, continued to establish the duo's goofball rapport, it was The Wedding Singer that started it all (and inspired Warner Bros. to stamp "SANDLER / BARRYMORE" on the front of the film's poster). Let's take a brief look back at the most memorable moments of this 1980s-loving flick.
1. George does Boy George
George, the keyboardist in Robbie Hart's (Sandler) band, absolutely loves Boy George — which is why the Culture Club singer ends up getting referenced more in the movie than any other '80s pop star. Seriously, though, how are these wedding guests confused by a Boy George look-alike? "Do You Really Want to Hurt Me?" sold almost two million copies.
2. Steve Buscemi's Best Man Speech
The following text has been adapted from Buscemi's monologue in The Wedding Singer:
"I've always been the screwed-up one, right, dad? 'Why can't you be more like your brother? Harold would never beat up his landlord!' But, little news flash, Harold ain't so perfect. Remember that time in Puerto Rico when we picked up those two … well, I guess they were prostitutes, but I don't remember paying!"

[Nucky Thompson walks in the room, takes Buscemi's whiskey out of his hand, slaps him in the face]
3. Grandma Rosie knows hip-hop
After filling the hip grandma quota in the 1970s flick 54, actress Ellen Albertini Dow turned her attention to a new decade by spitting a verse from the Sugarhill Gang's "Rappers Delight." Credit should also go to Dow for doing the "overtly sexual old woman" schtick years before Betty White.
4. "Hey, Linda, you're a bitch!"
Kids who curse are just delightful.
5. Adam Sandler goes on a "Holiday"
This is one of Sandler's best onscreen outbursts. Here he threatens to choke a man with his microphone wire, freaks out a couple of newlyweds, fat-shames a wedding guest, tells a group of people they'll never find love, and to top it off, belts out a cover of "Love Stinks." (Keep an eye out for a young Brian Posehn, who plays one of the schlubs at Table No. 9.)
6. Jon Lovitz performs "Ladies' Night," acts like a creep
Surprisingly, Jon Lovitz has a pretty good voice.
7. Adam Sandler sings "Somebody Kill Me Please"
The soundtrack to The Wedding Singer was one of my first CD purchases, and this was the song I played the most. Not because it was the best track on the album, mind you, but because it included the F word, which, to a 12-year-old boy, was the greatest thing in the world to say and hear.
8. "No, Jules, it doesn't play records, it plays CDs. It's a CD player."
9. Glenn Guglia's Miami Vice obsession
Glenn Guglia, Julia's fiancé, loves Miami Vice so much that he wears white suits around the house and plans his wedding around new episodes. He also has the tendency to blast the theme music to Miami Vice in his Delorean. (Glenn, a Wall Street trader, somehow makes it the entire movie without directly referencing cocaine.)
10. Adam Sandler sings "Grow Old With You"
It wouldn't be a 1980s-set romantic comedy without the male lead running to stop the love of his life from getting married to a Don Johnson–worshipping jerkface. Surprise: Sander succeeds — and, with the help of Billy Idol, does it by performing a catchy song he wrote on the ride to the airport.
11. This man asking Adam Sandler if he likes Flock of Seagulls.