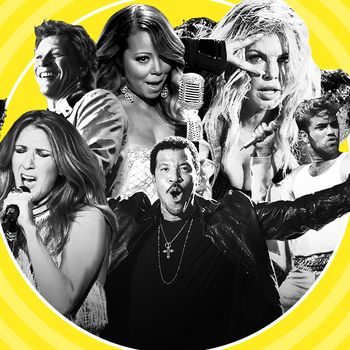 This is one listener's schlock canon, a list of great schlock songs that covers a lot of territory. There are Civil War anthems, parlor songs, and jazz standards. There's rock and soul and hip-hop; there's Bing Crosby and the Bee Gees and Beyoncé. Chronologically, the list reaches as far back as 1851; the most recent song was released in December 2013. If you find a song boring, fast forward to the 3:00 mark — you'll probably hear a saxophone solo, or a gospel choir, or somebody singing about the rain. (Read Jody Rosen's essay, "In Defense of Schlock Music: Why Journey, Billy Joel, and Lionel Richie are Better Than You Think.")
1. Judy Garland, "Over the Rainbow" (1961)
Judy Garland creaks and croaks through a ravaged but indomitable Carnegie Hall performance of the greatest pop song ever, 22 years after she introduced it in The Wizard of Oz. Tears start to trickle with the first wavering "rain-bow-oh" — and then the floodgates swing open.
2. Prince & the Revolution, "Purple Rain" (1984)
The ne plus ultra of power ballads combines cresting soul-man vocals and Hendrixian guitar soloing, delivered with the effortless virtuosity — and mystical mumbo-jumbo — that is pure Prince.
3. Journey, "Don't Stop Believin'" (1981)
Hold onto that feeling.
4. George Jones, "He Stopped Loving Her Today" (1980)
Country's greatest singer serves up country's greatest weeper, wringing every ounce of tragedy from a tale of love that perishes only when the pining lover kicks the bucket.
5. Ray Charles, "America the Beautiful" (1972)
Ray Charles takes the prettiest, wisest American national anthem to church — the Southern Baptist kind and the High Pop Schlock kind.
6. Lionel Richie and Diana Ross, "Endless Love" (1981)
The melodic rapture, like the romantic and sexual rapture it thematizes, is untrammeled, boundless, endless.
7. The Bee Gees, "How Deep Is Your Love?" (1977)
When those harmony vocals rise over the tinkling soft-rock keyboards — it's like the sun coming up. Outrageously beautiful sound, gloriously dippy lyrics ("And you come to me on a summer breeze/Keep me warm in your love and then softly leave") — schlock heaven, in other words.
8. Joni Mitchell, "Both Sides, Now" (2000)
The closest Anglo-American pop has ever come to French chanson. Joni Mitchell composed this miraculously pretty bit of philosophie as a precocious 23-year-old; when she reprised the song three decades later, in a rumbling, ruminative, Sinatraesque performance backed by a full string orchestra, its melancholy self-knowledge ("I really don't know life at all") sounded hard-earned.
9. Paul Robeson, "Old Folks at Home" (1930)
Stephen Foster's immortal "Old Folks at Home" (1851), the holy grail of Dixieland nostalgia schlock, boomed out by the great baritone singer, who brings gravity and dignity to the song's racially problematic text: "Oh, darkies, how my heart grows weary/Far from the old folks at home."
10. Frank Sinatra, "Only the Lonely" (1958)
For pure, unfiltered Sinatra schlock, it's hard to beat his self-mythologizing lion-in-winter anthems of the mid- and late-1960s: "My Way," "It Was a Very Good Year," "September of My Years." But "Only the Lonely" is Sinatra at his late-'50s peak: a desolate saloon song, burnished to a gleaming shade of noir and lifted skywards by the strings of schlock's Schubert, Nelson Riddle.
11. Elvis Presley, "Are You Lonesome Tonight?" (1960)
"I wonder if — [long pause] — you're lonesome tonight?" asks Elvis in history's greatest spoken-word interlude. Sex schlock starts here.
12. Whitney Houston, "I Have Nothing" (1993)
Not as baldly schlocky, perhaps, as "The Greatest Love of All" — but this 1993 hit is Houston's best ballad, which is saying something.
13. Dolly Parton, "I Will Always Love You" (1974)
"Bittersweet memories/That's all I am taking with me."
14. Mario Lanza, "Danny Boy" (1952)
Italian-American tenor turns the English ballad beloved by Irish expats into extravagant all-American schlock.
15. Abba, "The Winner Takes It All" (1980)
Even Fleetwood Mac never came up with an intra-band breakup anthem as wrenching, or as melodious, as "The Winner Takes It All," a song co-written by Björn Ulvaeus and sung with an audibly trembling lip by his ex-wife Agnetha Fältskog, a few months after the couple's divorce.
16. George Gaskin, "After the Ball" (1893)
This monster hit of the 1890s, written Charles K. Harris, epitomizes the period's love of schlock tearjerkers, delivered by tremulous singers in ¾ time. The story is an absurdly maudlin melodrama about a man doomed to a loveless life when he mistakes his sweetheart's brother for her side-piece.
17. Backstreet Boys, "I Want It That Way" (1999)
Nobody knows what way the Backstreet Boys want it, or what "it" is. Doesn't matter: When the chorus erupts, all bets are off.
18. Gloria Gaynor, "I Will Survive" (1978)
An indomitable disco classic whose driving beat, melancholy tune, and message of resiliency have made it both a gay liberation anthem and breakup song that serves all comers.
19. Al Jolson, "My Mammy" (1927)
Blackface minstrelsy, Jewish schmaltz, well-nigh erotic love of mom — they all collide in Al Jolson's endlessly weird, boundlessly schlocky signature number.
20. Stevie Wonder, "All in Love Is Fair" (1973)
When the mood strikes — as in this searching ballad from the great Innervisions album — Stevie Wonder can out-schlock 'em all.
21. Phil Collins, "Against All Odds (Take a Look at Me Now)" (1984)
Phil Collins haters must reckon with the glory that is "Against All Odds."
22. Michael Jackson, "Man in the Mirror" (1988)
A song about dark-night-of-the-soul introspection, which, in Jackson's hands, magically becomes a testament to King of Pop megalomania. But can you blame him? Regal and gaudy — like Versailles, or the Neverland Ranch.
23. The Four Tops, "Reach Out I'll Be There" (1966)
A three-minute-long opera, blasted out by Levi Stubbs, Motown's master of gravelly sturm und drang.
24. Don Henley, "The Boys of Summer" (1984)
"Nobody on the road/Nobody on the beach," sings Don Henley, and you can hear the desolation — in his voice, and in the almost-gothic cast of the echoey echt-'80s production.
25. Black Eyed Peas, "I Gotta Feeling" (2009)
The pumped-up bottle-service beat screams PARTAY!, but listen to the plaintive, doomy turn of the tune: At dark cloud is descending on the VIP lounge. Tasteless, morbid, and — yes — beautiful, it's the greatest creation by will.i.am, the Picasso of 21st-century dance-pop schlock. Bonus schlock points, needless to say, for "Mazel tov!"
26. Boyz II Men, "End of the Road" (1992)
If you're not sold, fast forward the video to the 3:06 mark, when Michael McCary, the Boyz's bass singer and chief spoken-word groveler, addresses the camera as surf crashes in the background: "Right now, I'm just in so much pain, baby, because you just won't come back to me. Will you?" Hurts so good.
27. Bruce Springsteen, "Thunder Road" (1975)
The screen door slams … and the schlock is unleashed. Transcendent hokum, from the first harmonica wheeze to the last saxophone blast.
28. Jackie Wilson, "Night" (1960)
Wilson's hero was the midcentury popera star Mario Lanza, and you can hear it in the ferocious swoop of "Night." The magnum opus of pop's proudest schlock divo.
29. Chicago, "If You Leave Me Now" (1976)
Harmonically, it's Beatles-esque. Spiritually, though, it's pure Peter Cetera: a love song that wields its prettiness like a shiv, and goes for the jugular.
30. The Righteous Brothers, "You've Lost That Lovin' Feeling" (1964)
"You never close your eyes anymore when I kiss your lips," sings Bill Medley in one of pop's most harrowing hits — a song that knows the only thing more painful than the breakup is the pre-breakup, when you know love is slipping away …
31. James Brown, "It's a Man's, Man's, Man's World" (1966)
Male chauvinism meets soap-opera tragedy in this titanic 1966 hit, propelled into the schlock stratosphere by lurching string orchestrations and Brown's hair-raising vocal.
32. 2Pac, "Dear Mama" (1995)
Sensitive-gangsta schlock is a rap staple, and Tupac Shakur was its pioneer. This 1995 hit is a doozy: a tribute to mom that pours out gratitude ("A poor single mother on welfare, tell me how ya did it"), self-lacerates ("I reminisce on the stress I caused/It was hell/Huggin' on my mama from a jail cell"), and lays bare the pain of a fatherless childhood ("No love from my daddy 'cause the coward wasn't there").
33. Marty Robbins, "Beautiful Dreamer" (1984)
A tender rendition of Stephen Foster's indelible and mysterious 1864 ballad, with its twinkling pastoral imagery — starlight and dewdrops, mermaids and "streamlet vapors"—and a titular dreamer who may either be sleeping or dead.
34. Lionel Richie, "Hello" (1984)
Adult Contemporary ballad as existential drama. "Hello? Is it me you're looking for?" Richie sings, and it sounds like he's crooning into the void.
35. Bing Crosby, "White Christmas" (1942)
Irving Berlin's biggest hit, made indelible by Bing Crosby, is a Jewish immigrant's Currier and Ives fantasy of the American Christmas. Or rather, it's a Jewish immigrant's fantasy of the long lost American Christmas, of yuletide snowfall and sleigh rides "just like the ones I used to know" — an idyll, the song makes clear, now hopelessly out of reach.
36. Eminem, "Lose Yourself" (2002)
Rap's "Eye of the Tiger."
37. Def Leppard, "Love Bites" (1987)
The crème de la crème of '80s hair-metal ballads, by the greatest power-pop band ever to masquerade as metal.
38. Roberta Flack, "The First Time Ever I Saw Your Face" (1972)
Soul balladeering at its gentlest. And schmaltziest: In this song, a first kiss not only moves the earth, it moves it "like the trembling heart of a captive bird."
39. Kathy Mattea, "Somebody's Darling" (1991)
The most beautiful ballad of the Civil War era is also its most powerful anti-war song: a gut-punch vision of a martyred innocent and the loved ones he leaves behind. Kathy Mattea's 1991 recording of the 1865 song is lovely and demure, letting the elegiac tune and wrenching words do their work.
40. Oasis, "Live Forever" (1994)
"I just want to fly," snarls Liam Gallagher — and on the one song that's as good as Oasis always claimed to be, he does.
41. Christina Aguilera, "Beautiful" (2002)
If self-esteem is the modern American religion, this is its "Amazing Grace."
42. Aretha Franklin, "Sweet Bitter Love" (1985)
Who knew that Aretha's Franklin's greatest ballad was buried on her mid-'80s album Who's Zoomin' Who? Heroic.
43. Roy Orbison, "It's Over" (1964)
The grandest aria by the rock era's bel canto heartbreak specialist comes at you like a taunt, with a lyric written in the second person. "Your baby doesn't love you anymore," Orbison begins, and it only gets worse.
44. Chris Brown, "Forever" (2008)
Chris Brown is a loathsome fellow, sure. But the bridesmaids and groomsmen in that viral wedding video were onto something: "Forever" is sublime schlock, with a melody that would retain its bite even if you excised the auto-tune and the synth-boosted beats, and a lyric about dancing the night away full of cosmic gobbledygook: "It's you and me/Moving at the speed of light into eternity."
45. Jimmy Durante, "September Song" (1963)
Crusty septuagenarian Jimmy Durante bundles up against the autumn chill, talk-singing Kurt Weill-Maxwell Anderson's deathless standard about, well, dying.
46. Arcade Fire, "Wake Up" (2005)
You thought indie rockers were too cool for schlock?
47. Billy Joel, "Until the Night" (1978)
Pop-ballad grandeur, in a chiming Brill Building mode. Overlooked schlock masterpiece by a man who knows his schlock.
48. Aerosmith, "I Don't Want to Miss a Thing" (1998)
The theme song from Armageddon sure sounds the part: a schlock-pop asteroid, on a collision course with your ears.
49. Jay Z featuring Alicia Keys, "Empire State of Mind" (2009)
"I'm the new Sinatra," Jay Z boasts — and he backs it up with a song that merges the schlocky self-lionization of "My Way" with the schlocky big-city swagger of "Theme from New York, New York."
50. The Shangri-Las, "Leader of the Pack" (1964)
Teenage gossip, a meet-cute in the candy store, class politics, a motorcycle crash, love, death — all in under three minutes.
51. Tammy Wynette, "Stand by Your Man" (1968)
The sexual politics seemed retrograde even in 1968, but there's no mistaking a singer as forceful as Wynette for a doormat. It's a song about a strong woman and a weak man; she doesn't just stand by him, she bears him through life, like a backpack.
52. Beyoncé, "XO" (2013)
Instant classic. The grand, sparkly production screams 2013; the theme — how love bears out to the edge of doom and all that — is timeless.
53. Peter Cetera, "The Glory of Love" (1986)
"Like a knight in shining armor/From a long time ago/Just in time I will save the day/Take you to my castle far away." So sings Peter Cetera, and he does it without bursting into laughter. He takes his courtliness seriously, in other words, as you would, if you had a voice like his and tune like this.
54. Sarah Vaughan, "I'll Be Seeing You" (1960)
Sarah Vaughan's silken rendition of Sammy Fain and Irving Kahal's 1938 standard brings out its essence: the melancholy throb that caught the mood of the war years.
55. Guns 'n' Roses, "November Rain" (1991)
Weather alert: Hurricane Schlock is sweeping up the coast. Heavy rain expected, rococo guitar solo guaranteed.
56. Kanye West, "Blood on the Leaves" (2013)
Monstrous self-pity, baby-mama drama, a sacrilegious sample of Nina Simone's "Strange Fruit," loads of auto-tune, a thunderous martial beat — stirred together, spiked with bile, and refashioned into garishly gorgeous collage art. Audacious is too mild a word.
57. Johnnie Ray and the Four Lads, "Cry" (1951)
The Nabob of Sob, the Prince of Wails, Mr. Emotion — Johnny Ray's nicknames told the story, and this 1951 hit proves the sobriquets were well earned. Whether you deem Ray the last crooner or the first rocker may depend on where you sit. But everyone can agree he was an ace schlocker.
58. Gladys Knight and the Pips, "You're the Best Thing That Ever Happened to Me" (1974)
"If anyone should ever write my life story/For whatever reason there might be/You'll be there between each line of pain and glory …"
59. Queen, "We Are the Champions" (1977)
Freddy Mercury was schlock's champion trickster. Call "We Are the Champions" camp if you want — but can it be camp if the audience (and the lead guitarist) aren't in on the joke?
60. LL Cool J, "I Need Love" (1987)
A knight-errant in a Kangol hat: "I'll lay down my jacket so you can walk over a puddle/I'll give you a rose, pull out your chair before we eat."
61. Céline Dion, "It's All Coming Back to Me Now" (1996)
Grandiose ode to romantic and sexual muscle-memory, from the most muscular singer of her era.
62. Guy Lombardo and His Royal Canadians, "Red Sails in the Sunset" (1935)
Sugar-coated 1930s schlock ballad with a bitter taste at its center: the likelihood that the "fisher girl" pining for her sailor's safe return will never again see those red sails.
63. R. Kelly, "I Believe I Can Fly" (1996)
The biggest hit of R. Kelly's career proved that he could thrive outside the fleshpots. He drags a gospel choir into the proceedings, but "I Believe I Can Fly" is secular: an inspirational ballad big and vague enough to serve all seekers of succor.
64. Puff Daddy, Faith Evans, and 112, "I'll Be Missing You" (1997)
Puffy's tribute to his late friend (and cash cow) The Notorious B.I.G.was as touching as it was crass. Which is to say: what schlock.
65. Johnny Cash, "Hurt" (2002)
Johnny Cash started singing songs about death as a young man, but his cover of Nine Inch Nails' "Hurt" was the real deal — an old man's valediction, ghoulishly accentuated by Rick Rubin's stark gothic-schlock production.
66. Pat Benatar, "We Belong" (1984)
'80s radio-pop schlock at its most delectable.
67. Neil Diamond, "Girl, You'll Be a Woman Soon" (1967)
Dubiously moral hymn to barely legal romance. Gorgeous and apalling.
68. Elton John, "Tiny Dancer" (1971)
Elton John and Bernie Taupin toss every '70s rock-dude-on-tour cliché into this wildly sexist, irrefutably catchy song about a groupie (a.k.a. "Blue jean baby, L.A. lady, seamstress for the band"). What a chorus.
69. The Isley Brothers, "Between the Sheets" (1983)
Surely the most-sampled of all baby-making jams, and you can hear why: The sound is as plush as the 5,000-thread-count sheets that the lyric invokes. Lovely, sleazy, utilitarian.
70. Rihanna featuring Jay Z, "Umbrella" (2007)
Songwriter-producers The-Dream and Tricky Stewart struck hidden-in-plain-sight metaphorical gold with their image of love-as-umbrella. The clobbering beat and Rihanna's brassy vocal did the rest.
71. Extreme, "More Than Words" (1990)
Translation: Stop talking and get in bed. But Gary Cherone and Nuno Bettencourt camouflage the coarse mansplaining with an exquisite tune and delicious hair-metal-goes-Simon-and-Garfunkel harmony singing.
72. Donna Summer, "MacArthur Park" (1978)
The great diva takes Jimmy Webb's priceless schlock poesy — "Someone left the cake out in the rain" — to disco heaven.
73. Brad Paisley, "Waitin' on a Woman" (2005)
Miraculous Music Row schlock songcraft: A sexist stereotype — how women always take so long to get dressed for a night out, etc. — is transformed into a poetic conceit about conjugal devotion and fulfillment. The song ends on a park bench somewhere inside the pearly gates.
74. Katy Perry, "Roar" (2013)
Inspiration on 'roids.
75. Minnie Ripperton, "Lovin' You" (1975)
Song as orgasm, or orgasm as song — complete with birds chirruping outside the bedroom window.
76. The O'Jays, "Love Train" (1972)
Soul utopianism, slathered in Philly soul strings.
77. Barbra Streisand, "The Way We Were" (1973)
"Misty water-colored mem'ries …"
78. Foreigner, "I Want to Know What Love Is" (1984)
The mystery — What is love? — has flummoxed philosophers for millennia. But Foreigner found a solution: hustle a gospel choir into the studio to push that third chorus up towards the rose window.
79. U2 & Mary J. Blige, "One" (2005)
U2's greatest song slides effortlessly from marital angst to metaphysics, and Mary J. Blige's gospel-flavored vocal catches all the agony and ecstasy.
80. George Michael, "Careless Whisper" (1984)
That saxophone.
81. Kenny Rogers, "Lady" (1980)
Lionel Richie chivalry, to the nth degree: "Lady, I'm your knight in shining armor, and I love you."  Nashville softie Kenny Rogers took it to No. 1 on the Pop, Adult Contemporary, and Country charts.
82. Bonnie Tyler, "Total Eclipse of the Heart" (1983)
Of course.
83. Louis Armstrong, "What a Wonderful World" (1967)
Amazingly, inveterate jokester Louis Armstrong plays this schmaltz totally straight. Trees of green, skies of blue, rainbows, babies — he gets through the whole litany without a single audible eye-roll. Gruesome and touching.
84. Barry White,  "Can't Get Enough of Your Love, Babe" (1974)
Barry White's spoken-word preludes are schlock monuments in and of themselves. The singing, the strings, the disco thump — all that's merely icing on the cake.
85. Kris Kristofferson, "For the Good Times" (1970)
The saddest sex in the history of American song.
86. Dionne Warwick, "I Just Don't Know What to Do With Myself" (1966)
Nobody navigates the harmonic obstacle course of a Burt Bacharach tune like Dionne Warwick, and she never did it better than here, in Bacharach and Hal David's most storm-tossed song of lost love.
87. Lefty Frizzell, "Mom and Dad's Waltz" (1951)
Filial devotion, pledged with cornpone earnestness by one of country's greatest singers. Sob.
88. Nat King Cole, "Nature Boy" (1948)
One of pop's oddest hits: a spooky fairy tale, written by proto-hippie eden ahbez, set to the tune of an old Yiddish showtune. Moral: "The greatest thing you'll ever learn/Is just to love and be loved in return."
89. Toto, "Africa" (1982)
"Sure as Kilimanjaro rises like Olympus above the Serengeti" doesn't quite roll trippingly off the tongue, and I'm not sure what Africa has to do with that chick on the 12:30 flight in the first verse. But these L.A. studio ninjas make their complicated chords and clumsy poetry go down easy, and the whole thing builds to an undeniable torchy schlock chorus: "It's gonna take a lot to drag me away from you/There's nothing that a hundred men or more could ever do."
90. Tom Waits, "Somewhere" (1978) (1957)
Waits uncorks his maudlin skid-row bum growl, dripping extra schmaltz on top of Leonard Bernstein and Stephen Sondheim's resplendent West Side Story ballad.
91. Meat Loaf, "I'd Do Anything for Love (But I Won't Do That)" (1993)
A power ballad as florid and hefty as the man delivering it. Get out of the way, or get crushed.
92. Yeah Yeah Yeahs, "Maps" (2003)
The New York garage-rock revival of the early '00s was all about tight black leather and unimpeachable cool. Or was it? The movement's greatest song is this big heart-shaped power ballad, with an indelible refrain that's half plea and half threat: "Wait! They don't love you like I love you."
93. Take That, "Back for Good" (1995)
The greatest Bee Gees pastiche ever cooked up by man, beast, or British boy band.
94. Vera Lynn, "We'll Meet Again" (1939)
Huge World War II–era hit, whose refrain ("I know we'll meet again, some sunny day") carries a mournful undercurrent — it's more a prayer than a promise.
95. Usher, "Moving Mountains" (2008)
The metaphors are grandiose and geological, and so's the sound. A superlative 21st-century torch song, movingly sung by Usher amid production that shudders and booms.
96. Mariah Carey, "Vision of Love" (1990)
Hide the stemware. In her debut single, Mariah Carey scales the heights of the C7 "whistle note," hurtles octaves, and lets fly ten thousand melismatic "runs." She had a vision of love, sure — but Whitney Houston's pop-soul crown was what she really had in her sights.
97. Madonna, "Like a Prayer" (1989)
Catholic guilt, spiritual ecstasy, the mysteries of life and faith, and … fellatio — yep, it's Madonna-schlock.
98. The Beatles, "The Long and Winding Road" (1970)
Paul McCartney's wistful meditation on Life's Journey was superlative schlock in the first place. By the time Phil Spector got finished glopping strings on top, it was a Mantovanni-worthy schlockstravaganza.
99. Frank Ocean, "Bad Religion" (2012)
A classic schlock theme — the torment of unrequited love — with a contemporary twist: The love in question is between two men. Frank Ocean's self-outing made the headlines, but the way his falsetto flutters over the strings — that's what makes it schlock for the ages.
100. Harry Nilsson, "Without You"  (1971)
For sheer gale-force tragicomedy, it's hard to beat the 2:10 mark of Harry Nilsson's 1971 chart-topper. Strap on a seatbelt and press play.
101. Eric Clapton, "Wonderful Tonight" (1977)
Ol' Slowhand's prettiest song, inspired by his ex-wife Patti Boyd, is one only a longtime drug addict and alcoholic could have written: a tale of perfect evening with a "beautiful lady" that ends with Clapton, nursing a screaming headache, getting tucked in by his mommy — I mean, wife. The schlock of no sex.
102. Taylor Swift, "Love Story" (2008)
Taylor Swift rewrites Romeo and Juliet. Lo and behold, it ends with a white wedding instead of a double suicide.
103. Harry Anthony, "A Bird in a Gilded Cage" (1904)
A wildly sentimental (and sanctimonious) Tin Pan Alley hit, which rains scorn on both parties in a May-December romance. Gorgeous, cheesy, and quite mean-spirited.
104. Little Anthony and the Imperials, "Tears on My Pillow" (1958)
"Little" Anthony Gourdine was 17 — not that little, in the scheme of things — when "Tears on My Pillow" exploded. But his voice was high and androgynous, and the drama was pure puppy-love-gone-sour.
105. Band Aid, "Do They Know It's Christmas?" (1984)
Can't fault the good intentions behind this famous charity single, a fund-raiser for Ethiopian famine relief. Can't gainsay the tune either, which has a nobility about it, a very English prettiness and pomp that you might as well call imperial. Speaking of Empire: the lyric's clueless cultural chauvinism — pity the poor Africans, who won't have snow this Christmastime! — tips the song into the realm of unintentional schlock comedy.
106. USA for Africa, "We Are the World" (1985)
Lionel Richie and Michael Jackson's sequel to "Do They Know It's Christmas?" was, well, American, answering the Brits' wintry synth-pop with triumphalist pop-soul while taking the "sub" right out of the messianic self-regarding pop star subtext: "It's a choice we're making/We're saving our own lives."
107. Survivor, "Eye of the Tiger" (1982)
Greatest jock jam ever.
108. Skeeter Davis, "The End of the World" (1962)
Breakup as apocalypse. Released just weeks after the Cuban missile crisis.
109. James Taylor, "Shower the People" (1976)
The unrivaled leader of '70s singer-songwriter simps, and one pop's masters of schlock melancholy. "Shower the People" is Taylor's shapeliest melody (no small distinction); it's also gently pedantic, a hippie-dippy happiness how-to: "Father and mother, sister and brother/If it feels nice, don't think twice/Just shower the people you love with love/Show them the way that you feel."

110. Bing Crosby, "Where the Blue of the Night (Meets the Gold of the Day)" (1931)
Crosby's 1930s theme song was Victorian schlock revivalism, a breathless ode to love in the gloaming. Beautifully sung.
111. Bette Midler, "The Rose" (1979)
Part philosophical tract, part gardening manual — and all schmaltz.
112. Radiohead, "Fake Plastic Trees" (1995)
As usual, Thom Yorke's poetry is hard to parse. ("She lives with a broken man/A cracked polystyrene man/Who just crumbles and burns." Say what?) But the whirlwind vocal and guitars render all reservations moot, and come minute No. 3, the words — "I can't help the feeling/I could blow through the ceiling" — match up with the gargantuan sound.
113. Bob Seger, "Against the Wind" (1980)
The schlockiest anthem by the schlockiest stalwart of Heartland rock-schlock.
114. Sade, "Kiss of Life" (1992)
The cocktail jazz chords chime, the bass throbs, the sax moans, and Sade purrs oaths of love eternal. For brunch, or a booty call, hard to beat.
115. Conway Twitty, "You've Never Been This Far Before" (1973)
The Barry White of country ushers you into his boudoir, and lays it on thick: "I don't know what I'm saying/As my trembling fingers touch forbidden places." Eww — and wow.
116. Led Zeppelin, "Thank You" (1969)
When mountains crumble to the sea, little drops of rain will still be whispering of the pain — and Robert Plant will still be quavering jive to his "kind woman."
117. Irene Cara, "Flashdance …What a Feeling" (1983)
Even better than "Fame."
118. The Highwaymen, "Highwayman" (1985)
The strong, silent, wayfaring American male never dies. He gets reincarnated — as a highwayman, a sailor, a Hoover Dam construction worker, and an astronaut. Distribute those dramatis personae among a quartet of country legends (Willie Nelson, Waylon Jennings, Kris Kristfferson, Johnny Cash), and presto: schlock perfection.
119. Björk, "Bachelorette" (1997)
Widescreen melodrama, with crashing drums and heaving strings bolstering Bjork's torrid confessions: "I'm a fountain of blood/In the shape of a girl." Icelandic art-schlock doesn't get much better.
120. Pink Floyd, "Mother" (1979)
Classic-rock concept album meets the Victorian parlor meets colossal self-pity. Catchy, too.
121. The Commodores, "Three Times a Lady" (1978)
In Lionel Richie's world, it's courtliness unto death: "Now that we've come to the end of our rainbow/There's something I must say out loud/You're once/Twice/Three times a lady/And I love you."
122. Jennifer Holliday, "And I'm Telling You I'm Not Going" (1982)
The centerpiece ballad of the Broadway show Dreamgirls inflated the soul ballad to gigantic proportions, and Jennifer Holliday had the lungs for the job.
123. Sammy Davis Jr., "I've Gotta Be Me" (1968)
A year before Rat Pack major domo Frank Sinatra's "My Way," Sammy Davis released his own swaggeringly self-mythologizing American Dream anthem: "That far-away prize, a world of success/Is waiting for me if I heed the call /I won't settle down, won't settle for less/As long as there's a chance that I can have it all."
124. The Pretenders, "I'll Stand by You" (1994)
Chrissie Hynde answers Ben E. King.
125. Solomon Burke, "Music to Make Love By" (1975)
"It's so hard to make love to a picture, baby. It's even more hard to try to make love to a dream." What to do? Answer: Play this record. "It's music to make love by, baby."
126. Alan Jackson, "Drive (For Daddy Gene)" (2002)
Country great Alan Jackson is a classically unflashy balladeer, holding his upper lip stiff and letting the songs roll out like an easygoing conversation. But he wields a velvet hammer. This song about three generations of fathers and children sneaks up on you; by verse three, there are tears in your beer.
127. Lynyrd Skynyrd, "Free Bird" (1974)
Really heats up around the 47th minute.
128. Justin Timberlake, "Cry Me a River"
Wagnerian breakup ballad, courtesy of Timberlake and Timbaland, with an uncredited assist from Britney Spears, who inspired the song by cuckolding the singer. "Now it's your turn to cry," Justin exults, but the mournful, transfixing music tells the truth: This revenge is more bitter than sweet.
129. John McCormack, "Mother Machree" (1911)
The mother song meets the Old Erin ballad in this famous Progressive Era heartstring-yanker.
130. R.E.M., "Everybody Hurts" (1992)
Michael Stipe feels your pain.
131. Grover Washington, Jr. ft. Bill Withers, "Just the Two of Us" (1981)
Rosé on ice? Check. Lights dimmed? Check. Scented candles ablaze? Check. Only thing left to do: Cue up the right record …
132. Dusty Springfield, "The Windmills of Your Mind" (1969)
The English version of the French hit "Les Moulins de Mon Cœur" has a very Gallic lyric — lots of metaphysical musing — and soulful, solemn vocal that is pure Dusty Springfield.
133. Harold Melvin & the Bluenotes, "If You Don't Know Me by Now" (1972)
A three-hankie soul ballad, searingly sung by the great Teddy Pendergrass.
134. Future, "Turn on the Lights" (2012)
A rapper who knows a secret as old as pop itself: Start sobbing on the first bar, and don't let up.
135. Crosby, Stills, Nash, and Young, "Our House" (1970)
Four hairy men, two cats in the yard, one roaring hearth fire. Top-drawer hippie-schlock.
136. Lady Gaga, "The Edge of Glory" (2011)
Lady Gaga's wind-whipped 2011 single is meta-schlock: a knowing tribute to '80s radio-pop schlock (Pat Benatar, Quarterflash), with Springsteenian overtones that are made explicit by Clarence Clemons, who shows up to blow his sax. Schlock extra credit: The song is a tribute to Gaga's late grandfather.
137. Johnny Mathis, "The Twelfth of Never" (1957)
"You ask how long I'll love you?/I'll tell you true/Until the Twelfth of Never/I'll still be loving you."
138. Spandau Ballet, "True" (1983)
The lush peak of '80s blue-eyed Brit-soul, and a charmingly incoherent treatise on the Truth, full of a poetaster's philosophy: "Always slipping from my hands/Sand's a time of its own/Take your seaside arms and write the next line/Oh, I want the truth to be known."
139. The Who, "Love, Reign O'er Me" (1973)
Love's reign, and love's rain, celebrated with thunderclap bombast by rock's masters of the huge gesture.
140. Blake Shelton, "Mine Would Be You" (2013)
Exemplary contemporary country power ballad, with a surging chorus and a lyric that breaks new schlock ground: Shelton pines for the "hands down best-ever make-up sex" that he had with his long lost ex.
141. Shirley Bassey, "If You Go Away" (1967)
Anglicized reworking of Jacques Brel's French schlock benchmark "Ne Me Quitte Pas," delivered with a brass-knuckle wallop by schlock specialist Shirley Bassey.
142. Benny Mardones, "Into the Night" (1980)
Schlock tastelessness reached new levels with this soft rock paean to the pleasures of … statutory rape. Schlock tunefulness put the song in the Billboard top 20 on two separate occasions, in 1980 and 1989. The video? OMFG.
143. Fannie Brice, "My Man" (1921)
The Ur-torch ballad doesn't skimp on the brutal details, the romantic masochism that would come to define the genre: "Two or three girls has he/That he likes as well as me/But I love him!/I don't know why I should/He isn't good/He isn't true/He beats me too/What can I do?"
144. Pearl Jam, "Jeremy" (1991)
High school melodrama, grunge-style: A kid punches his classmates, chomps "the recess lady's breast," and eventually shoots himself. Why? "Daddy didn't give affection/And the boy was something that Mommy wouldn't wear." Grim stuff, and drama king Eddie Vedder has the growl to make it stick.
145. Tim McGraw, "If You're Reading This" (2007)
Tim McGraw packs a whole lot of schlock into "If You're Reading This": It's an epistolary (!) High Nashville power-ballad lament for America's War on Terror dead, narrated in the voice of a fallen soldier. Listen closely to the top of the chorus ("Lay me down") for a '70s schlock-rock callback: a melody lifted straight out of Kansas's "Dust in the Wind."
146. Peaches & Herb, "Reunited" (1978)
Romantic rapprochement: very sexy.
147. Train, "Drops of Jupiter (Tell Me)" (2001)
Classic-rock shlock isn't dead. Its mantle is in good hands: A San Francisco band who set lyrics like "Tell me, did you fall for a shooting star?/One without a permanent scar?" to music grand enough to make the question seem reasonable.
148. Russ Columbo, "Prisoner of Love" (1931)
Love is a life-sentence with no possibility of parole, Russ Columbo tells us — and the great crooner makes that fate sound like exquisite torment.
149. fun. ft. Janelle Monáe, "We Are Young" (2011)
Emo meets Broadway meets 1950s malt-shop melodrama in fun.'s booming 2011 smash.
150. Van Morrison, "Have I Told You Lately" (1989)
"You fill my heart with gladness/Take away all my sadness." Insipid sentiments, to be sure, even if they're true. Luckily, the great Irish soul singer can sell just about any lyric. If your wedding band doesn't play this one, send 'em packing.