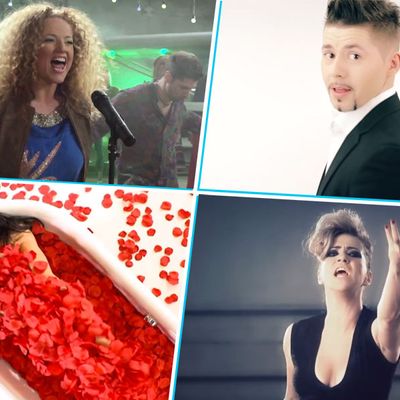 It's Eurovision season. That very European, very patriotic song contest that is very confusing to Americans is actually very fun to watch. This year's semifinals air today and May 8, with the finale on May 10. If you can find a reliable stream (just Google around or ask a friend), I can attest that watching the performances and surrounding coverage is a truly memorable experience, despite the multi-language barrier. Even if you don't think you'll get a chance to watch, it's worth browsing the 2012 lineup. Here's the rundown:
The Big Ballads
Many countries go big with their Eurovision nominees, and who could blame them? Tug at those judges' heartstrings with emotive ballads and you might just take home the title. Worth noting: Last year's winner, Denmark's "Only Teardrops," was a relatively moving song featuring those Blue Man Group drums. Looking for more teardrops?
Hungary: András Kállay-Saunders, "Running"
This song is about child abuse, in case the teddy bear wasn't a giveaway. It picks up a bit midway, but I don't think you can call this a dance track. It's just … European.
Norway: Carl Espen, "Silent Storm"
If this guy sounds a little off, that's probably because of his interesting road to Eurovision. According to his bio, Carl Espen "served in the Norwegian military, including a stint in Kosovo, and has worked as a carpenter and moonlighted as a doorman at a rock bar." He's your everyday guy who also has a wonderful voice. The song is nice, too.
Sweden: Sanna Nielsen, "Undo"
Pop-obsessed Sweden with a decidedly downtempo (although very catchy!) track? Guess all the Sia and Max Martin ones went straight to Katy Perry this year.
United Kingdom: Molly Smitten-Downes, "Children of the Universe"
If there was an award for "Most Pandering Tune," it would clearly go to the United Kingdom — which submitted "Children of the Universe," an uplifting ode to world unity.
Austria: Conchita Wurst, "Rise like a Phoenix"
I know, I know. This is great. Conchita Wurst is the drag persona of Thomas Neuwirth, who created Conchita for Austria's talent show Starmania. As you might imagine, his appearance in this year's Eurovision sparked outrage from Belarus and Russia — where petitions appeared asking that his performance be edited out. 
The Dance Tracks
It wouldn't be Europe without dance music. Let's all reminisce about our semesters abroad.
Greece: Freaky Fortune featuring Riskykidd, "Rise Up"
Last year, Greece submitted a very traditional song called "Alcohol Is Free." This year, they're going a very different route. Fun fact: Freaky Fortune once covered Katy Perry's "Part of Me" for a Perez Hilton cover contest.
Ireland: Can-linn featuring Kasey Smith, "Heartbeat"
A diva-voiced track with an Irish jig twist? Sure! It represents Ireland appropriately, and that's what Eurovision judges love.
Israel: Mei Finegold, "Same Heart"
Singer Mei Finegold finished third on Israel's version of American Idol: Kokhav Nolad 7. She goes pretty glam ("Single Ladies" leotard!) in "Same Heart," which is also nicely bilingual.
Denmark: Basim, "Cliché Love Song"
In case you were worried that Bruno Mars's influence wasn't hitting Europe, take a listen to Denmark's (reigning Eurovision champs!) entry. (Speaking of American influence, check out Malta's "Coming Home" and think about whom they remind you of.)
Ukraine: Maria Yaremchuk, "Tick-Tock"
Claps! Whistles! Ukraine's entry is catchy as heck, and compared to the rest of the EDM tracks, it stands on its own nicely.
The Oh-So-European
One of the fun things about Eurovision is that you can very plainly see what music people are listening to outside of the of the U.S. There are plenty of reasons we don't get the big European hits (label mechanics, language barriers, etc.), but that doesn't make these songs any less enjoyable. And in this year's Eurovision picks, there are quite a few songs that might make you wanna hop a jet to Croatia:
Romania: Paula Seling & Ovi, "Miracle"
Here's another song that ends up very far from where it began. A duet, yes, but one that becomes a banger complete with smoke and lights. I'm also very partial to Romania, who was very much robbed in their 2013 entry: "It's My Life" by Cezar.
Armenia: Aram Mp3,"Not Alone"
The song starts out small, but erupts into a dubstep beat around 1:54, and it's worth fast-forwarding to that moment to catch it. No, I'm not sure why he goes by "Aram Mp3," but his Wikipedia bio claims that it does refer to the file format.
Slovenia: Tinkara Kovach, "Spet/Round and Round"
"Spet/Round and Round" begins with a flute. What more could you want?
Switzerland: Sebalter, "Hunter of Stars"
"He's wet and he's dirty. I'm gonna be your candidate. Tonight I'm gonna eat you up." Just a selection of the baffling lyrics of Sebalter's "Hunter of Stars" — a song not as catchy as its whistling indicates it should be.
The This Is Pretty Weird, But, Hey, It's Europe!

Belarus: Teo, "Cheesecake"
Fun fact: Teo had to edit the "Google Maps" out of "Cheesecake" to avoid getting sued.
Georgia: The Shin, "Three Minutes to Earth"
This is pretty much a representation of what everyone who hasn't seen Eurovision imagines Eurovision is like. But! It's about aliens, so that rules.

Poland: Donatan and Cleo, "Slavic Girls"
A little subversive number for Poland, with "Slavic Girls" seemingly meant to comment on the socio-political situation in Eastern Europe. The Polish are often seen as hanger-ons, who travel to other parts of Europe to live off benefits — a pretty xenophobic stereotype.

Iceland: Pollapönk, "No prejudice"
If you're thinking this reminds you of the Wiggles, it's because this is Iceland's version of the Wiggles. I guess when their 2013 strategy backfired (they were totally robbed last year!), they decided to go in a completely different direction.
Latvia: Aarzemnieki, "Cake to Bake"
There is really nothing to say about this one. Just watch it.

So Who's Gonna Win?
This is tough! There are plenty of European bookmakers taking bets for and against the various Eurovision candidates, and OddsChecker.com has Armenia, Sweden, Denmark, Ukraine, Norway, and the U.K. leading the pack. But if you're asking me (someone with a clearly American bias), I'll be rooting for Ukraine, Sweden, Norway, and Austria.