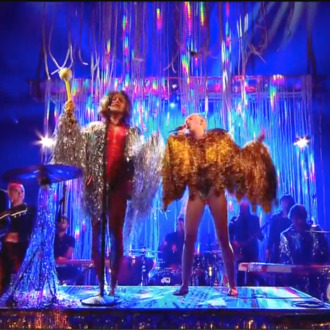 Since they're based on chart performance, you really don't need to worry about the actual awards given at the Billboard Music Awards, but to recap: Justin Timberlake beat Beyoncé (but neither was there); Miley Cyrus got Top Streaming Artist; "Blurred Lines" took most of the song stuff; and Jennifer Lopez was given the first Icon Award (that's Billboard's version of the lifetime achievement award, a.k.a. the "You're old and we're gonna force you to show up" prize). Otherwise, it was pop music's finest talent show, with a bunch of performances, a resurrected (via holgram) Michael Jackson, and multiple TelePrompTer screw-ups. It was a great night! If you forgot to DVR, here's what you might've missed.
Iggy did back-to-back features on "Fancy" (with Charli XCX) and "Problems" (with Ariana Grande) and didn't even change outfits. C'mon. Step it up.
Lorde premiered "Tennis Courts," in her usual goth attire. She rules.
Robin Thicke debuted his new single, "Get Her Back," which is a topical ode to estranged wife Paula Patton. Excerpt: "I'll wait forever for you to love me again." That seems like a lot of waiting!
Kendall Jenner, who has clearly never heard of 5SOS, introduced them as One Direction and then yelled: "Guys, I'm the worst reader." (FYI: Kendall Jenner and her sister Kylie recently finished writing a YA novel called "Rebels: City of Indra: The Story of Lex and Livia.")
There was the aforementioned Michael Jackson hologram. Oof.
And Miley did a cover of "Lucy in the Sky With Diamonds" with Wayne Coyne of the Flaming Lips "live" from Manchester. Trippy (and relatively uncontroversial, given the parties involved).