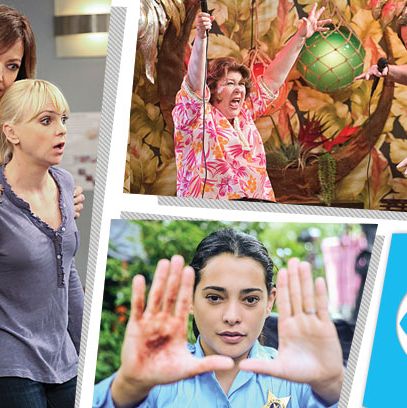 The last few days have seen a flurry of new show pickups by the networks, as well as some cancellations, as we move ever closer to the start of upfront week, that very special time of the year when TV reinvents itself. Starting Monday, all the big broadcasters (plus a few cable outlets) will unveil fresh lineups and marketing pitches in the hopes of luring more viewers, and thus, more advertising revenue. Before it all kicks off, Vulture has spent this week breaking down how the Big Four are doing right now: the suddenly spunky NBC, the woebegone ABC, the fading Fox. And now, finally, it's time for CBS, which for the first time in a long time won't have all that much new to brag about when it meets with advertisers next week.
Where It Stands
CBS did not have a good season. At all. Sure, it remains TV's most-watched network by a mile (and the only one still averaging more than 10 million viewers each week). But the Eye network has shed nearly a million viewers since September, and among adults under 50, it's down about 15 percent — a bigger decline than any other broadcaster's (even after factoring out the big bump it got last year from airing the Super Bowl). After finishing No. 1 in the key young-adult demo last season (and in second place the rest of this decade), CBS presently finds itself in third place, ahead only of ABC. The network's Monday comedy lineup hasn't fallen off a cliff since How I Met Your Mother exited in March, but overall, it's dramatically weaker than it's been in years, with newcomer Mom still finding its audience and 2 Broke Girls not the breakout success it seemed two years ago. Finally, and perhaps most tellingly, not a single one of the Eye's new shows this season emerged as a big standalone hit, while an unusually large number (for CBS) were bombs: Hostages, We Are Men, Bad Teacher. CBS may be the network other networks want to be when they grow up, but this season? It's one Eye execs can't wait to put behind them.
Despite CBS's very real problems, don't expect to see a lot of stories declaring the network "troubled" or "struggling" because, in fact, it is neither of those things — at least not yet. Much the way squirrels put away tons of nuts in preparation for a long winter, CBS has done so many things right over the past decade or so that it can probably weather a year (or even two) like the one it just had. As noted, it's still got the biggest audience of any outlet, attracting roughly 2 million more weekly viewers on average than the next-closest network (NBC). It boasts four of the five most-viewed dramas on network TV, and eight of the top ten comedies; among adults under 50, more than one-third of Nielsen's top 30 shows air on CBS. And while it didn't launch any big new hits in the regular season — The Millers has shown no sign it would be a success if it didn't air right after The Big Bang Theory — CBS did dominate the summer with newcomer Under the Dome. That show ended weaker than it started, but savvy dealmaking on CBS's part made it a profit center even before it aired, showing once again that the supposedly stodgy Eye is actively preparing for the day when the current TV business model permanently changes.
Buzziest Prospects
Nothing's ever a sure thing in TV development, but it's hard to imagine CBS passing on How I Met Your Dad, the HIMYM-inspired comedy from the latter show's creators. (Even if for some reason the network hated the pilot, passing on it would likely result in the show immediately landing at another network, so: CBS will say yes.) CBS also has spinoffs of NCIS and CSI in the works, and the Hollywood trades have been reporting one or both seem likely to get ordered. Deadline, meanwhile, reported earlier this week that the Matthew Perry–led reboot of The Odd Couple is "likely" to go forward despite having "issues" (perhaps the issue is that there are maybe five people in the world clamoring for yet another remake of Neil Simon's classic?)
Biggest Headache
As noted, CBS's Monday comedy block has seen better days. Newcomer Mom has been renewed, and while it's actually drawn good notices from critics, audiences haven't flocked to it yet. A reboot of Mike & Molly didn't bring any big ratings gains, disappointing since Melissa McCarthy is so huge in film right now. But there's been a glimmer of hope in recent weeks: Spring tryout Friends With Better Lives has actually been a bit of a surprise, holding on to (an admittedly weakened) 2 Broke Girls lead-in, and showing decent build once DVR replays have been tallied. If CBS brings it back, and slots How I Met Your Dad in the old HIMYM 8 p.m. slot, the network might have a workable Monday lineup without much tinkering. Unanswered questions: Does CBS shift Mom to Thursdays to give it a better shot? Does it bring back The Crazy Ones and give it a shot on Mondays? And does Melissa McCarthy beg producer Warner Bros. to let her out of her deal after M&M passes the 100-episode, ready-for-syndication milestone next year?
Bottom Line
The CBS lineup (and indeed, the network itself) is so well-built that it can survive a season, or even two, like the one just past. But this year has proven that the Eye is not immune to the massive changes sweeping through the TV business: CBS shows can flop just as hard as everybody else's, and even a juggernaut such as The Big Bang Theory can't mask the weaknesses of the shows around it. CBS has been masterful at going beyond Madison Avenue to find ways of making its shows profitable, whether it's through international sales, Amazon deals, or getting cable operators to pay through the nose for its content. But all those revenue streams will dry up without fresh blood. CBS needs new hits — and soon.