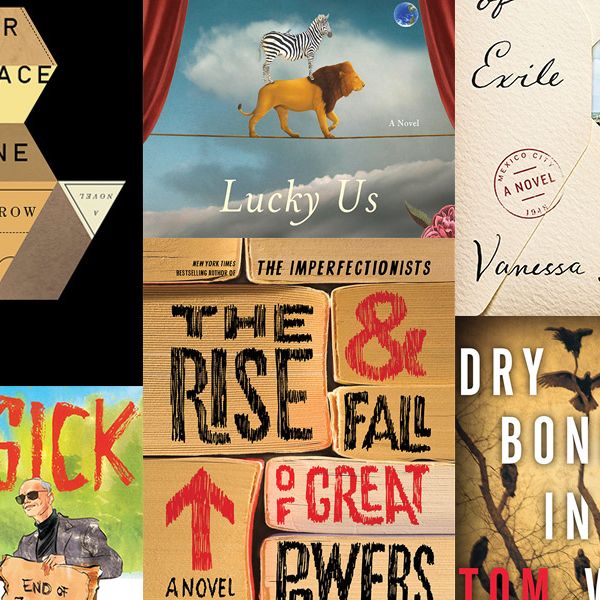 The Genre Bender Masquerading As Celebrity Memoir:
Carsick: John Waters Hitchhikes Across America
By John Waters; Farrar, Straus & Giroux, June 3
The master craftsman of camp prefaces his oddball cross-country travelogue with two twisted novellas imagining best- and worst-case scenarios.
Rural Drug Rings and Fracking Via Literary Thriller:
Dry Bones in the Valley
By Tom Bouman; Norton, July 7
Grit-lit meets wry suspense, along with a keen rendering of place and politics, in this former book editor's debut mystery.
The Dystopian Racial-Reassignment-Surgery Thriller You Never Knew You Wanted:
Your Face in Mine
By Jess Row; Riverhead, August 14
The essayist and short-story writer's first novel takes the Soul Man premise to risky extremes, political and artistic—you squirm and think along the way.
The Sprawling, Ambitious Debut:
The Invention of Exile
By Vanessa Manko; Penguin, August 14
With starry blurbs, grand-historical sweep, and depictions of family strife, Manko's debut about a Russian immigrant exiled as an anarchist is the summer's surest candidate for lit-hit crossover.
The Sprawling, Ambitious Second Novel:
The Rise and Fall of Great Powers
By Tom Rachman; Dial, June 10
Reporter-novelist Rachman one-ups his own international best seller, The Imperfectionists, with this long and winding quest story about a Welsh bookstore owner digging up her strange and far-flung roots.
Wartime America Under the Kaleidoscope:
Lucky Us
By Amy Bloom; Random House, July 29
Still more sprawling and ambitious: Bloom's latest is a '40s road trip with the works—jazz and starlets, riches and poverty, indelible characters and indelible writing.
*This article appears in the May 19, 2014 issue of New York Magazine.