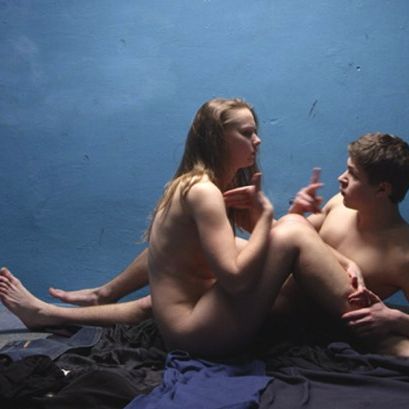 The influence of last year's Palme d'Or winner, Blue Is the Warmest Color, is still deeply felt at this year's Cannes Film Festival. For one, you won't be at any Cannes party for long before the DJ drops "I Follow Rivers," the Lykke Li tune that became Blue's de facto theme song. (I even spied jury president Jane Campion twirling madly to the song at the Foxcatcher party earlier this week.) But I immediately recalled Blue's notorious sex scenes the other day when I opened my Cannes press box and, hidden amid the normal screening schedules and anodyne press kits, I pulled out a glossy film pamphlet filled with images of a young, naked couple enthusiastically 69'ing.
Had some kind soul slipped porn into my press box? Quite the opposite: This was a press pamphlet for The Tribe, which just took the top prize in the Cannes sidebar Critics' Week. A Ukrainian production directed by Myroslav Slaboshpytskiy (whose name has surely had journalists hailing the copy-paste macro on their laptop), The Tribe has a logline that may be even more enticing than those images of pretty people pleasuring each other: It's set at a school for the deaf, and without the benefit of dialogue or even subtitles, The Tribe follows our teen protagonist as he gets wrapped up in an all-deaf crime-and-prostitution ring run by some of the school's bullies.

It's completely fascinating to watch. Since Slaboshpytskiy neglected to provide subtitles, you're scanning every single interaction for clues, putting previous scenes into better context once you get your bearings. Before long, each character's style of signing is as unique as an accent. One teen bully signs so furiously that we know our hero is destined to clash with him (indeed, he punctuates every signed sentence with a shove), while one of the girls prostituting herself has a weary way of signing that, once she's alone with our lead, relies less on signing at all. When he doesn't quite get the hint through her hands, she takes his and places them on her body.

And then, as in Blue, the sex scenes play out at epic length before an unsparing camera. The language of love needs no subtitles, and though I'm not sure I learned a great deal from these scenes … hey, they got me into a theater at 8:30 in the morning, didn't they? Mostly, they left me with an appreciation (purely cinematic, I assure you) for the art of the 69, a sex position that got a workout in Blue and is reprised in what could almost be an homage in The Tribe's lengthiest sex scene. It may be the unofficial sex position of the Cannes Film Festival, and it's truly a fitting one: What better demonstration of the French notion of égalité could there be?