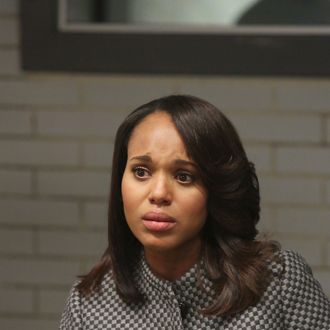 ABC announced its renewals, pickups, and cancellations last night, and the sad news is that Trophy Wife will not see a second season. [Weeps softly.] That show was so good! Also axed was the vile Mixology.
On the renewal side of things, ABC asked for more Scandal (duh), Grey's Anatomy, Once Upon a Time, Castle, Revenge, Marvel's Agents of S.H.I.E.L.D., Resurrection, The Goldbergs, The Middle, and Modern Family.
Which brings us to the new shows! ABC has ordered a bunch of new shows, including another drama produced by Shonda Rhimes. The 2014–15 freshman class for ABC will include:
How to Get Away with Murder, a Shonda Rhimes–produced legal thriller that stars Viola Davis as brilliant law-school professor. She and four of her students become entangled in a murder, of course.
American Crime, from 12 Years a Slave's John Ridley. The show is about the ripple effects and racial tensions that stem from a surprising violent crime in Modesto.
The Whispers, an alien-invasion drama produced by Steven Spielberg. The show, formerly known as The Visitors, stars Lily Rabe and Milo Ventimiglia.
Marvel's Agent Carter, a companion of sorts to Marvel's Agents of S.H.I.E.L.D. Hayley Atwell continues her Captain America role as Peggy Carter; it's 1946, and she's coping with the death of her first love, sexual discrimination in the workplace, and all the secret missions she has to go on.
Forever, about a medical examiner who has been alive for 200 years. (Expect a Castle-style relationship between him and his new partner.)
Galavant, a musical fairy-tale show with original songs by Alan Menken and Glenn Slater.
Black-ish, a single-camera comedy starring Anthony Anderson and Tracee Ellis Ross as a suburban couple who worry that their children are losing sight of their black cultural identity.
Manhattan Love Story, a single-camera comedy that "exposes the differences between men and women through the unfiltered thoughts, and often contradictory actions, of a new couple who have just begun dating."
This is the bulk of ABC's schedule, but the network still has not announced the fate of Last Man Standing, Nashville, Suburgatory, or Super Fun Night. Place your bets!