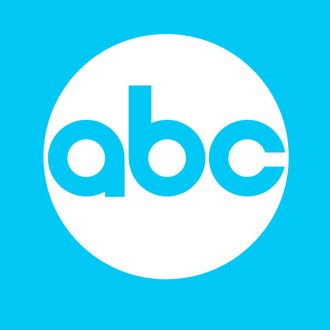 This afternoon, ABC made its annual plea to the advertising industry, and Vulture was on hand to see the dog-and-pony show. Jimmy Kimmel! Sizzle reels! Other stuff! Here are ten things that occurred to us while we were sitting through the fourth-place network's presentation.
People are going to be talking about Galavant. Lee described it as "Literally Spamalot meets Princess Bride," though we'd throw in a little Shrek, Men in Tights, and Enchanted, too. And a little "wait … really?" The show's a musical comedy, with songs by Alan Menken and big dance-heavy production numbers, and it's all set in a fairytale world — it's ambitious and different, for sure. Some of ABC's shows this year failed because of their profound genericness (Killer Women, which one were you again?), and that will definitely not be a problem for Galavant.
Hey, racial diversity! ABC's new comedies include Black-ish, about a black family in suburbia; Cristela, about a Mexican-American law student who sometimes butts heads with her more traditional relatives; Fresh Off the Boat, which is based on chef Eddie Huang's memoir of the same name; and Selfie, which has John Cho as its male (and not for nothing, its romantic) lead.
Jimmy Kimmel is not looking forward to A.D. Every year at ABC's up fronts, Jimmy Kimmel delivers a pretty decent stand-up set that ridicules upfronts in general, his own network, the concept of advertising, and generally saves its best digs for NBC and CBS. This year, since NBC was in first place, that network bore the brunt of Kimmel's ridicule, including the best line of the set. "Mark Burnett is producing an elaborate new miniseries for NBC called A.D., which he described as Game of Thrones meets The Borgias meets the Bible. I read the pitch for the show, it sounds more to me like total meets cluster meets fuck."
Gratuitous use of Star Wars. ABC's upfront sizzle reel is a space usually reserved to show off, you know, the network's TV shows, and specifically, its hits. But running right next to Nashville (!) and Scandal's Harrison (!!) were clips from Star Wars, Maleficent, The Avengers, and Frozen. Said Anne Sweeney, "It's so nice to incorporate a Star Wars something into our upfront remarks." Nicer than whatever she could have said about Revenge or Last Man Standing, I guess.
Some of the new and creative ways Paul Lee described ABC talent. Shonda Rhimes, he says, is the "the Charles Dickens of the 21st century if Charles Dickens was black and a woman." Doctor Who's Karen Gillan is a "British newcomer." And Ioan Gruffudd is "the strongest male lead we've seen in a very long time." Tell that to Ringer.
Ryan Phillippe is totally guilty (and as scowly as ever). Secrets and Lies follows him as a dad accused of murdering his neighbor's son after he discovers the body. ABC said we'd find out if he did it by the end of its ten-episode run — next season, in theory, will follow a new case — but, um, how dumb will the whole thing be if he didn't? Heed The Killing, new show!
That might be curtains for Orange Is the New Black's Officer Bennett. Matt McGorry is on How to Get Away With Murder. But what about the baby???
Jimmy Kimmel nailing ABC's glut of shows about superheroes and fairytales. "We may be a terrible network, but we're a great birthday party for a six-year-old." In addition to Agents of S.H.I.E.L.D. and Once Upon a Time, the network is adding Galavant and Agent Carter for mid-season.
Romcomapalooza! NBC ordered two for fall, and so did ABC! Selfie, a very loose modern-day retelling of My Fair Lady starring Karen Gillan and John Cho, looks like the better of two. The other is Manhattan Love Story, which the network says will "expose the differences between men and women through the unfiltered thoughts, and often contradictory actions, of a new couple who have just begun dating." Translation: In a scene from the trailer we hear the guy think Nice rack, and then the girl thinks, Does he really think I can't see him staring at my breasts?
Apologizing for Rayna James? All of ABC's dramas revolve around kick-ass ladies: Hayley Atwell as Captain America's one-time love and superspy Agent Carter, Viola Davis as a powerful lawyer in How to Get Away With Murder, Juliette Lewis as a detective in Secrets and Lies, Lily Rabe as a detective in The Whispers, and Alana de la Garza as a detective in Forever. But will their personal lives be in order?