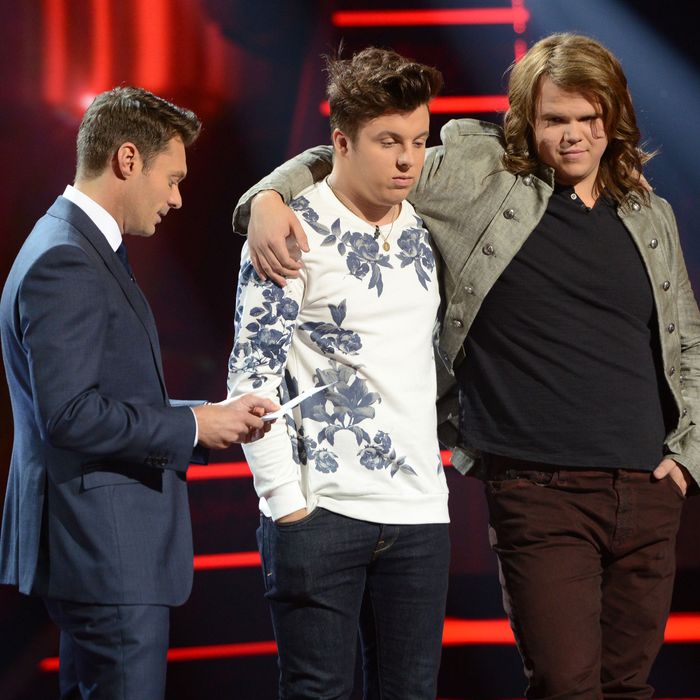 Photo: Michael Becker/FOX
The night when they air all the hometown-visit footage tends to be one of the better episodes in any season, as it's when American Idol accidentally shows some human moments. Our top three kids are just kids, after all, and they were regular kids just a few short months ago. An experience like this can fundamentally rearrange your entire life, and you often don't know how much has changed until you get back to where you came from and you see the way people are looking at you. Suddenly people get nervous in your presence. Or yell shit at you to impress their friends. Or yell shit at you to impress you. It's weird what sudden fame can do, and it's nice to see the occasional raw moments that display the new ground these kids are suddenly walking. Our top three is for sure the scrappiest, least ready for primetime top three this show's ever seen, so I'm curious to see what happens here. (My prediction is that of the three, Caleb is the most likely to let it all go to his head.)
Right away, Idol shows us how little it cares for the well-being of the innocent; Ryan comes out with his new puppy Georgia, because you know how small animals love being shouted at by large groups of humans. He says, "This is a big night, and she really wanted to be here," but her little puppy face reveals that Ryan is a liar. He hands her awkwardly to a production assistant, introduces the judges and the top three, and we're off.
I'm just going to put this out there: Alex is wearing an old-lady sweatshirt. Like, if he had on the matching bottoms, you'd see him in wrist and ankle weights, walking laps in a mall before it opened. You want him to go out on the lanai with Blanche and Dorothy in this sweatshirt. You expect to see him getting a valu-pak of Renuzits at a Costco. It is stunning, representing as it does the logical endpoint of "twee."
We go directly into a mash-up of the group dinner and the "Randy Rundown." "In last night's show, it all came down to Alex, Caleb, and Jena," says Randy. This is difficult to dispute. As usual, Jena is a sport, breaking down the key moments of last night's show: "Caleb, you're breaking mike stands, and Alex, you're … hitting a drum and singing at the same time. It's CREE-zee-uh!" There is a future as a youth correspondent laid out before her if the Idol thing goes south.
Our Ford Non-Music Video features snippets of the top three's potential debut singles (played through the Ford Fusion's SYNC system, which you control with your own voice!). Alex's would be called "I Love This Feeling," Jena's "We Are One," and Caleb's "As Long As You Love Me." It is fair to say that the songwriters in the 19 Entertainment coop did not exhaust themselves developing fresh material.
So Jena flies back to Farmington Hills, Michigan, to yell with her giant family and the gang at her Greek restaurant. There is so much yelling. There is one quiet moment, where she sits at the basement keyboard "where it all started," but the producers perpetrate like there's cheering and "Jena"-chanting outside her window. At the big outdoor concert, she does an original song, which is kind of a bummer, because her original music is definitely silent-basement music, not conducive to rocking a large outdoor crowd. Still, the whole thing is emotionally potent, if only for the sobbing grandparents.
Ryan says "This is my favorite part of the show, watching people get emotional." It is? You seemed equally happy trotting around stage doing that selfie horse shit last night, Ryan. Your inherent Seacrestiness diminishes your credibility.
And then there's Danny Gokey and Elliott Yamin! Danny Gokey does an enormous amount of talking about his new baby and his new wife and his new album and his new charity, and he's extremely specific and detailed about all of it, to the point where you wonder whether Elliott's going to get to say anything at all, which he barely does. Elliott's my favorite Idol of all time, which is why I will forgive him for wearing sunglasses indoors.
We go directly into a performance by Scotty McCreery, who is apparently trying to be one of these good-time Luke Bryan spring break guys now; the opening lyrics for his new single "Feelin' It" are (and I am not making this up): "Pop-tops poppin', flip-flops floppin', drop-tops droppin' down." Now, listen: everybody has to grow up sometime, and I suppose this is how young country stars do it. But this is how precious young Scotty is: It is implausible that he would drink beer. And the way he carries himself, you can tell he's uncomfortable with the very suggestion. All things being relative, Scotty indicating that he would fill a single red Solo cup with draft beer is his "Miley Cyrus rimming a backup dancer at the VMAs" moment. It's so weird that I am absolutely feelin' it. Ironic song of the summer, hands down.
And then Alex Preston goes home to Mont Vernon, New Hampshire. This home visit is the most genuine and intimate of the bunch, if only because Alex is not a man who "WHOOOO"s. There's a long scene with him and his high-school band that's right out of a mumblecore film. Lot of crying, lot of signs, lot of mild rocking.
I've never addressed Caleb's predilection for Civil War infantry coats, but he wears a lot of that shit. We follow him back to Asheville, North Carolina, where he visits the Biltmore Estate for some reason, drops in on a morning Rock School class, and does a concert at a local venue where a girl yells my favorite line of the night right into the camera: "WE HAVE THREE MUTUAL FACEBOOK FRIENDS!" It's all very charming, even if there are no crying grannies. There is an awful lot of Caleb's little brother Houston, who may be a Lori Beth Denberg character from All That. Houston and Caleb banter with the judges back in the studio, and Ryan says, "Watch out, Houston: Jennifer likes young boys," to which Jen responds: "I'm not the only one, Ryan" and then immediately walks it back: "I DON'T MEAN YOU LIKE BOYS! I'M SORRY!" So, in case you're wondering, this is why the Michael Sam thing matters: Because in 2014, a person on a huge television show can reliably get a laugh suggesting that Ryan Seacrest is gay because he uses moisturizer or whatever. Ugh.
Okay, so, anyway, Alex is voted off. It really could only have gone this way, but I'm still a little sad for the guy. Here's hoping he gets the high-school band back together and rides a nice wave of Idol fame into a respectable, Ed Sheeran–esque career.
So now what? It's hard to say. Caleb has been the clear frontrunner for weeks now, but often an anti-frontrunner sentiment can coalesce and send the underdog over the top. Will Jena become our new Kris Allen? Let's tune in next week and find out! And then let's maybe not ever tune in again!