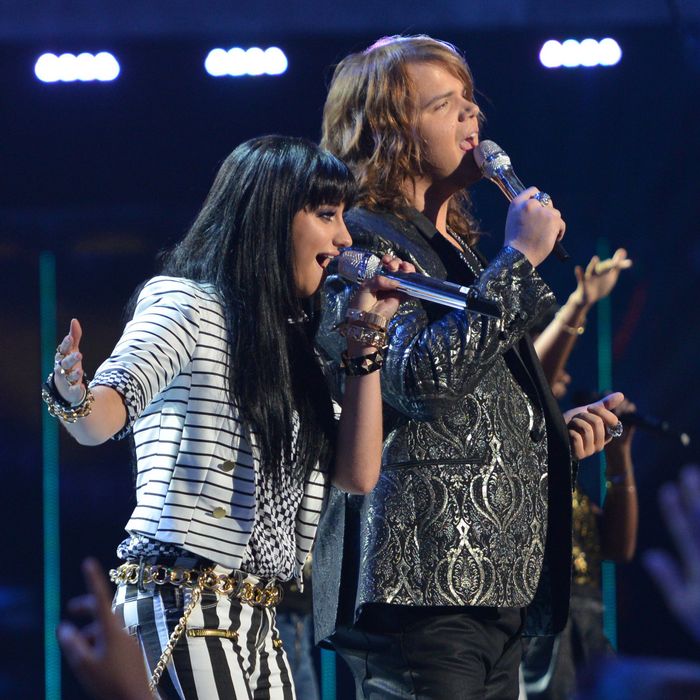 Photo: Michael Becker / FOX
L.A. Live is a big, brand-new, immaculate, post-Giuliani Times Square down by Staples Center. It's full of chain restaurants, video billboards, and dueling piano bars to keep Los Angeles occupied and marketed to before and after Laker games. It's a giant monument to commerce, and nobody ever goes there unless they absolutely have to. In short, it's the perfect place to hold the American Idol finals, and I'm there. Live!
We walk in as the audience warm-up guy is getting the crowd all amped up. He asks who's ready to have fun, who's Team Caleb and who's Team Jena, and then he poses a question that is still rattling around in my brain: "Who's gonna take some SELFIES TONIIIIIGHT?" The crowd goes hog wild.
I am, of course, always ready to take some selfies, but I'm not quite sure whose team I'm on at this juncture. Caleb has definitely proven himself to be a capable singer and a roughly-the-same-size-as-life personality, but Jena has steadily improved over the course of the season, like the sleeper Harry declared her to be way back in Hollywood Week (which seems like a hundred years ago). Plus, I think Jena stands to benefit from a win more than Caleb does; while he could easily be recruited into any number of bands, the development of Jena's whole thing will require the guiding hand of a massive multinational corporation. I am therefore declaring myself tentatively Team Jena. But the warm-up guy doesn't need to know that. It's our little secret.
The crowd at the Nokia Theater is 7,000 strong, and I am beyond delighted to tell you that top-13 near-miss Emanuel Zidor is sitting in my row with a woman who may or may not be Erika Van Pelt. I feel like Ms. Van Pelt is the alpha in a post-Idol mean-girl clique and I want to sit at their lunch table so badly, I can't even tell you. The crowd leaps to its feet as the judges make their entrance, and we sit down all at once, just after Jennifer has taken her seat. Above all, we are polite.
Let's get into this thing.
Round One: Simon Fuller's Choice
Jena Irene: "Dog Days Are Over" by Florence and the Machine
There was a scene in Studio 60 that was so horrific, I still can't get it out of my mind: Sarah Paulsen, talking about Matthew Perry's head-writer character, tells a reporter: "He always knew how to write exactly in my strike zone." Oh, it gives me bad-dialogue chills even to type, and no comedy person would ever take herself seriously enough to say something like it, but I must tell you that this song is exactly in Jena's strike zone. Leave it to the zillionaire to make the perfect, most commercial choice. A peppier, more youthful take on Flo's brand of pantsuit pop would be just the thing for our girl. She does it pretty well, too: lots of movement, lots of energy, lots of big notes. Also, there are six extra people onstage beating giant drums. Extra people beating giant drums onstage are huge in 2014. Blame Imagine Dragons. Keith stumbles through his praise, Harry big-ups her rhythmic walking.
Caleb Johnson: "Dream On" by Aerosmith
Another perfect choice, but one that raises the question: Where would we put a Caleb Johnson? His voice is perfectly suited to classic-rock radio, but that format's playlists are more or less set in stone until the end of time. Of course, he is flawless. He even nails the tricky crescendo, which proved fatal for Danny Gokey just a few seasons ago. And here's how impoverished the Idol audience is when it comes to stagecraft: Caleb executes a 360-degree twirl, and the audience goes nuts. (Rewatching at home, I see that when he hits the big note, they cut to Jennifer REACTING to him hitting the big note, which is just bullshit.) The crowd gives him a standing ovation, the judges unanimously praise him. Round one to Caleb.
Oh, also, I am legitimately concerned about Keith Urban through this whole thing. I don't know if he's exhausted from all the globetrotting, or if Nicole has just been at Cannes too long, or what — dude is out to lunch.
Round Two: The Idols' Favorite Performances
Jena: "I Can't Help Falling in Love With You" by Elvis Presley
It's great that Jena has grown so much over the course of the competition, but the one downside is that the last two performance shows have required her to repeat her best work, and her best work has been from the last couple of weeks. If you started watching a month ago, (a) you didn't miss much, (b) I'm jealous of you, and (c) you are forgiven for thinking Jena only knows Elvis and Radiohead. Anyway, she doesn't change much here, so it's drained of the element of revelation that made this performance so special a couple of weeks ago. But it gets the crowd semi on its feet. Harry says that other artists have done similar things with this song (which I think is an acknowledgement of Ingrid Michaelson) but that her passion makes her stand out, and Keith mentions that she has inspired other artists to do similar things (which I think is an acknowledgement of someone off The Voice doing pretty much the same take on the same song).
Caleb: "Maybe I'm Amazed" by Paul McCartney and Wings
Caleb starts this one leaning seductively on a piano, like Michelle Pfeiffer in The Fabulous Baker Boys. And though he is in fine voice, there's not enough time to give this song the slow build it needs, so he rushes it to its melismatic final minute. Here again, I'm left wishing the Idols had fewer songs to do; wouldn't you like to see how they manage to keep things fresh through a whole four-minute song? Anyway, the judges say it lacked emotion. Harry brings back Simon Cowell's thing of awarding individual rounds to individual finalists, correctly proclaiming that Caleb won round one and Jena won round two.
Round Three: The Winners' Singles
Jena: "We Are One"
This is always such a weird way to end a final performance show; with exactly one exception ("Home"), these songs are always wet noodles, and if they ever manage to chart, they are gone without a trace the very next week. But judging on the curve, this is a decent song for Jena; it's got a little bit of energy, it's right in her strike zone (please help me stop), and its pre-chorus has the "HEY" that is required for airplay in 2014. And in the middle, she ad-libs a passionate "THANK YOU SO MUCH AMERICA," which is pretty heartwarming. It's fine, but it's an anticlimax for Jena's impressive season.
Caleb: "As Long As You Love Me"
Caleb's winner's single is a perfect illustration of the Caleb Johnson Conundrum: It's a fun number that he sings the living hell out of, but who is it for? Where would it fit in today's world? What radio format would play it? What would a Caleb Johnson victory mean for the Idol franchise, or for Caleb himself? Vocally, he's at a 10 from start to finish; there are no levels here. But he does get pyro at the end, which seems unfair. Harry says that this season is "a puncher versus a boxer," and I love the idea of a person calling him or herself "a puncher." It's like what an aggressive 4-year-old would tell you he wants to be when he grows up. Harry also, like the other two judges, says something to the effect of "America has a tough choice tonight," as though anyone were choosing tonight.
If you were choosing tonight, you would probably choose Caleb. If you've been watching this whole season and witnessing the evolution of a young talent, you'll likely go Jena. It could go either way.
And then the show is over, but the audience warm-up guy tells us we can stay for the pre-taping of Jennifer's performance for the finale. It's enticing, but then I think about the hair restyling and costume change and multiple takes that will surely be involved, and politely slip out the back.
I do take a selfie out front, though. I'm not a monster.