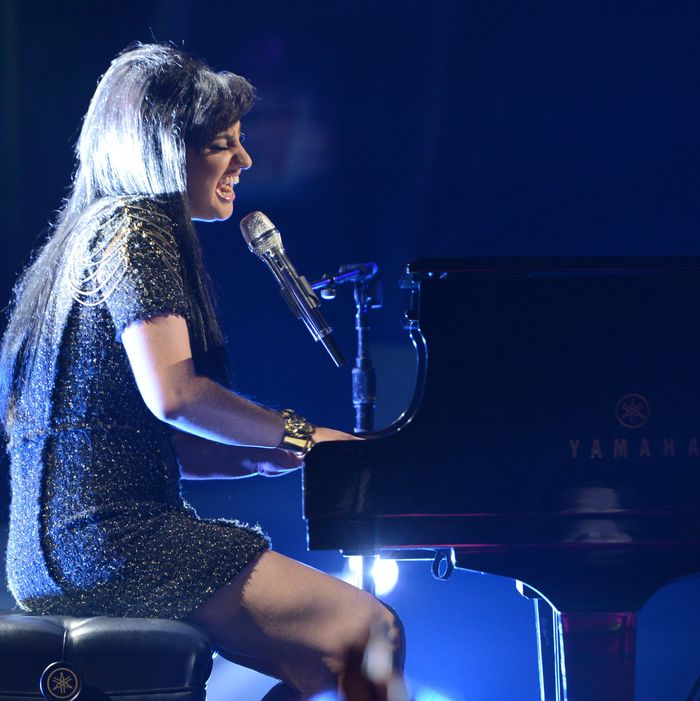 Photo: Michael Becker / FOX
It's the 500th episode! What an accomplishment! But it gets me thinking: If you laid this show out by its individual elements, how do you think it would break down? I figure there are 227 episodes' worth of Ryan and various judges saying how important everything is. 193 episodes of montages, recaps, and Ford Music Videos, 42 of gay-panic jokes, 18 of judges' intros, 11 of Randy Jackson saying dawg or yee-uh. That leaves us 9 episodes of actual Idol action over the last 13 years.
What I'm saying is that this show has completely worn me down. I'm exhausted after season 13. I'm a nub. I'm Reek on Game of Thrones. I am limping across the finish line and all I did was watch and try to find new words for tedious. What if we all took next year off and, like, backpacked around Europe or something?
Anyway. Caleb, Jena, and Alex are fresh off their hometown visits, which we see in montage form. As usual, it's a lot of hugging and Dairy Queen signs saying "WE LUV [INSERT NAME]" and the top three saying "HOME!" over and over. But we'll go deeper on that tomorrow night, because we only have two hours to hear three people sing.
Oh, but we do have time for this grim, tiresome #IdolSelfie segment — scored LIVE by the Chainsmokers! — in which the judges take selfies with the audience and the Chainsmokers, and the Chainsmokers take selfies with the audience and Ryan, and the viewing audience stands in front of their TVs and takes selfies, and if you dreamed of spending your evening watching people wander around a stage with opaque plastic bricks in front of their faces, your special dream has come true. Of course, in their performance, the Chainsmokers don't go near any instruments, not even their laptops. This is a live performance in exactly the same way "#Selfie" is a song.
We're told Caleb had no voice during the rehearsal, due to sinusitis and bronchitis and a small vocal-chord hemorrhage, but the on-set Idol doctor in black scrubs says he's going to be just fine. I trust an on-set Idol doctor, don't you? The scrubs are an especially nice touch. Just in case he has to perform surgery on Caleb's neck right there on the craft services table.
There will be three rounds: Randy's choice, judges' choice, and hometown choice, wherein the hometowners ask the Idols to repeat a favorite performance. This is going to be a long one.
Randy's Picks
Caleb Johnson: "Never Tear Us Apart" by INXS
Randy chose this 27-year-old song for Caleb because he was looking for something current for him to sing. Caleb begins the song in a Westeros-style throne, and indeed his voice is struggling. But he's still got swagger for days, which is why he's probably going to win this thing. And though this song doesn't sound like what anyone would buy in 2014, it's exactly the kind of thing 19 Entertainment would make him put on an album. Keith and Jen like it, Harry warns him not to hurt his voice.
Alex Preston: "Pompeii" by Bastille
I caught a few minutes of the Glee season finale last night, just in time to catch the whole cast singing this song — about taking one last look at the world before you're buried alive in hot ash — with wide, hopeful smiles. Nobody is listening to lyrics anymore, is what I'm saying. Alex is no exception; he might as well be reading the items off a Chinese restaurant menu. He does drum a little, and take a few steps forward, and approach the audience sort of timidly, so I guess that's artistic growth. He still has a face like he's smelling bad air, but we'll take this a step at a time. Harry says he could see the wheels turning, and he is not wrong. Keith and Jen buy the whole performance.
Jena Irene: "Titanium" by David Guetta featuring Sia
This is actually a totally wrong choice for her. You need a bit of chilly Euro cool to pull this song off; Jena's heart-on-sleeve midwestern-ness just doesn't work. Plus she starts the song on a tiny platform way up in the air, and when she finally descends, she can't get out of her safety harness. Finally Jennifer gives a real critique, saying that she didn't cut loose and have fun the way she usually does. Word. It probably won't matter, though.
Judges' Picks
Caleb Johnson: "Demons" by Imagine Dragons
It's a classic-rock take on the song, which works better than you'd think it would. Keith points out  the "Steve Perry thing" in Caleb's voice. Harry asks what kind of album he'd want to make, and he says: "Originals." Good genre!
Alex Preston: "Stay" by Rihanna featuring Mykki Ekko
The judges chose this one for him to see how he'd rearrange it, and he rearranges it by doing a quiet, acoustic version, which is a thing I could have told them and saved us all a lot of time and effort. Alex's swoop of hair is reaching La Roux proportions. Harry asks him what kind of live act he would be, Alex says "jams" and "fun" and "live band." What about "stage," Alex? Will there be "seats?" "Hot dog?" "Door?"
Jena Irene: "Heart Attack" by Demi Lovato
The judges act like they cracked some kind of secret code by choosing this one for her, but it's exactly what she'd be forced to release if she wins this thing, which she might, because so might anyone, really. Harry asks her what a Jena show would be like, and she says she wants long instrumental breaks so she can rage with the crowd. These guys have a real handle on what musicianship is all about.
Right around now, Keith shows us a framed picture of his wife Nicole Kidman, from some red-carpet thing she's at right now. Ryan asks, "Who is she wearing?" "Unfortunately, not me," he answers, and then everyone freaks out and titters for a full minute and Ryan says, "That's the best candid moment I've ever seen," and it probably is.
Hometown's Picks
Caleb Johnson: "Dazed and Confused"
The mayor of Caleb's hometown tries to maintain order long enough to assign him a song, but the whole crowd — including Caleb, who has a microphone — chants "The Mayor is HOT" instead. I mean, she is an attractive woman, but let's let her do her job, can we please? She decrees that "Dazed & Confused" shall be his song, definitely a smart political move. It's not too different from the last time he did this, but the last time he did this was pretty amazing. Jen does not so much dance along as perform a solo reenactment of the hot-tub scene from "Showgirls." It's all wonderful, especially if you choose to forget that he'll never be allowed to record anything nearly as sexy as this song when he wins.
Alex Preston: "Story Of My Life" by One Direction
This is a go-for-broke choice for our Alex. The 1D thing can either help him or stop him dead in his tracks; he'll either be put over the top by the mere suggestion of Today's Hottest Boy Band, or his relative un-dreaminess will sink him. There is no in-between, and whatever spin he puts on the song won't matter. It's very pleasant, and there's a really dull first-person-shooter video game going on behind him, and the judges praise it in faint ways.
Jena Irene: "Creep" by Radiohead
Jena's little brother is so peppy and effeminate, he's probably a YouTube star earning a high-six-figure income on his haul videos. And "Creep" is the obvious choice for her, not because it was her best, but because it was her most memorable. Unfortunately, because it was so memorable, I remember it, and I can tell that she doesn't change anything from the last time. The judges love it.
So, there it is! I'm giving Caleb the win, I think Alex has reached the end of the road, and I'm going to arrange a mass smartphone burning, like 1979's Disco Demolition Night, so that nobody will ever have to hear the word selfie again.