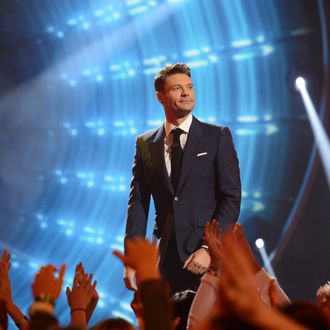 AMERICAN IDOL XIII: Ryan Seacrest on AMERICAN IDOL XIII airing Thursday, April 17 (9:00-9:30 PM ET / PT) on FOX. CR: Michael Becker / FOX. Copyright 2014 / FOX Broadcasting.
Photo: Michael Becker/FOX
As expected, Fox's veteran singing contest will officially be returning for a 14th season. Despite shrinking ratings, next year probably won't be Idol's swan song; as Fox chief Kevin Reilly told us in a recent interview, he is "not yet in that place where [next season] would be the last season." Still, if you've been meaning to audition for the past 13 years but keep putting it off, now seems as good a time as any.