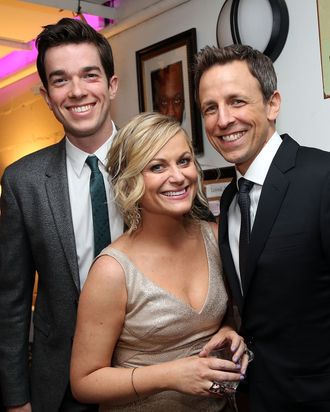 Amy Poehler and Seth Meyers, friends.
Photo: Monica Schipper/Getty Images
If you've been following Late Night, you know all about how Amy Poehler stole Seth Meyers's credit card and proceeded to wreak havoc on his bank account. Last night, at LOL with LLS, the first annual comedy night to benefit the Leukemia & Lymphoma society, "Credit Card-Gate" came to a head. "You don't want to be in a blood feud with Amy Poehler," Seth Meyers told Vulture before the event. "If I'm down a couple grand, this worked out great for me." And that is exactly what happened. Later in the evening, Poehler finally returned the card, but not before volunteering Meyers to donate $5,000 — in her name — to LLS. Read the full transcript of how it went down, below:
Amy Poehler: Very quickly, before I get offstage, a few weeks ago, Seth Meyers and I went to go to dinner and by mistake we traded credit cards and he talked about it on his show. And I had his credit card for a while and I had some fun with it. I took my family to San Francisco for the weekend.

Nick Kroll: Very generous of you.

Poehler: Tonight, I'd like to continue that generosity and donate $5,000, in my name, on Seth's credit card.

Kroll: Seth, are you okay with that? Is Seth okay with that, or no?

Poehler: Seth, are you okay with that? I'm sure you're cool with that, right?

Meyers: Well, I feel like you've constructed a situation where it would be impossible to say no, that I wasn't cool with that.

Poehler: Well, if you don't want to give your money on the credit card, then just tell all of these people.

Meyers: No, I think it's fine. I think it's good that we're doing this.

Poehler Great. Thank you, Seth, in my name, for donating the money.

Meyers: $5,000 in your name on my credit card. I'm happy to do it. But please, can I have my credit card back? [Amy returns card.]

Kroll: And can I say, Seth, it's so generous of Amy to do that.

Poehler: Sometimes you have to dig deep.