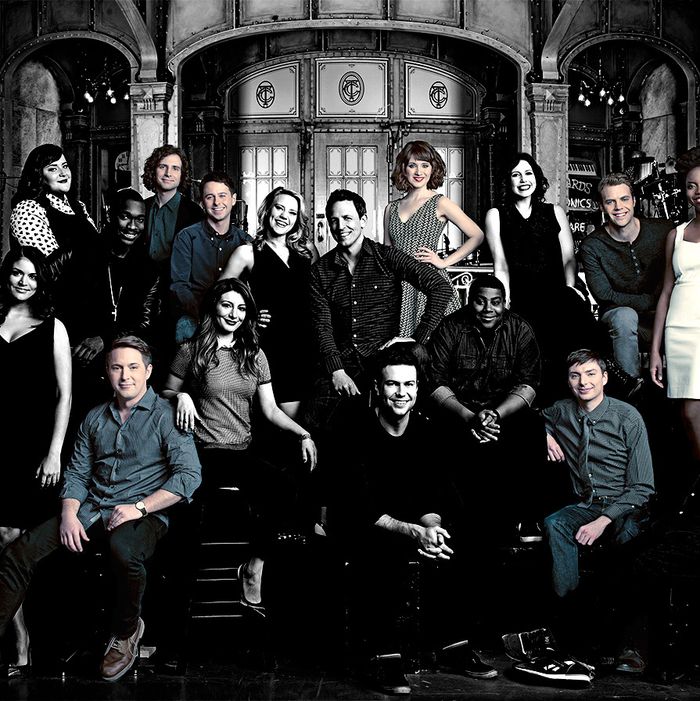 NUP_162881_0001.jpg
Photo: Maya Robinson and Photo by NBC
When it was all said and done, Saturday Night Live added an incredible eight new cast members this season. And though a rebuilding year was necessary, especially considering the people who have left over the last few seasons (Kristen Wiig, Bill Hader, Jason Sudeikis, Andy Samberg, and Fred Armisen), at times it became difficult to keep track of them all. Following our ranking of this season's best sketches, we've broken down the impact of all eight cast members (save Colin Jost, who became co-anchor of Weekend Update after Seth Meyers left but hasn't performed in any other sketches, probably because he's busy as the head writer). Who was the breakout performer, and who might be on the chopping block?
Methodology
I went through every single episode of the season and counted the appearances of each new cast member. An appearance is an appearance, whether it's in a video, live sketch, or Weekend Update. I then gave each appearance a score from 1 to 3:
1: Inessential Supporting Role. In many sketches (like ones set in a classroom, for example), SNL will fill the scene out with cast members. They might say a line or two, but ultimately are glorified extras. 
2: Essential Supporting Role. This can comprise a few things. Mostly it is the straight-man role, where an actor does nothing funny and mostly says lines to set up a character. It can also be a funny role in an ensemble sketch. For example, in those audition sketches where they go through a lot of impressions since no one cast member is a star, but they each get to do something funny, that is a 2.
3: Starring Role. In this case, the cast member is the star of the sketch. They are doing the character. They are the one in charge of the sketch's funniness. 
Graphs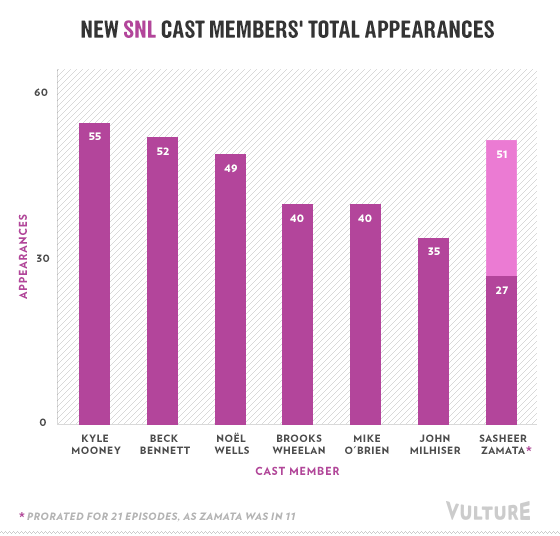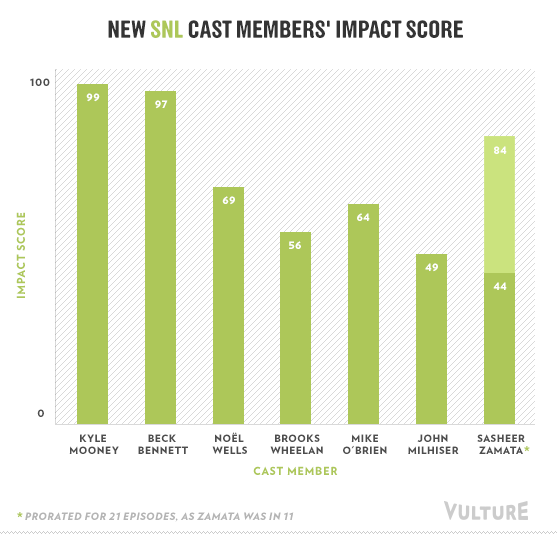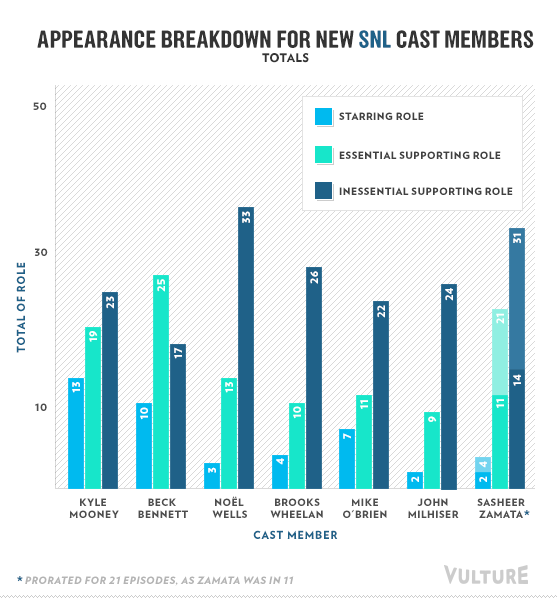 The Breakouts: Kyle Mooney is our new Andy Samberg; Beck Bennett our new Jason Sudeikis
When Andy Samberg and the Lonely Island guys left SNL, they created a pre-taped sketch void. As we saw this season, that void was filled in spades — there was a noticeable surge in video sketches. And the Good Neighbor guys, Kyle Mooney and Beck Bennett, were a big part of that, creating about a dozen shorts for the show. These quickly made them stand out to trained viewers and writers who know what to expect from them. As you can see in the first two graphs (and what was noticeable for whoever watched regularly), Mooney and Bennett were the breakouts, with impact scores about 30 points higher than anyone else. 
That said, their breakouts tracked in different ways. Bennett quickly became one of the show's go-to straight men. As you can see in the pie charts, nearly half of Bennett's appearances were 2s. And more often than not, he played the straight man in the video sketches he made as well. The "good-looking in a midwestern way" guy is a classic SNL archetype, most recently filled by Jason Sudeikis, and it came naturally for Bennett, who is, well, good looking in a midwestern way. His ability to fill that slot made it feel like Bennett was everywhere on the show and fully integrated into the cast. Maybe more than anything, however, Bennett had a real breakout character, the baby boss, which was our No. 1 ranked sketch of the season. (Though it might not everyone's cup of tea, it was undeniably huge.)
Mooney didn't have a breakout character (though his "terrible comedian" character, Bruce Chandling, did surprisingly appear twice), but he, as the numbers show, was the most involved. Unlike Bennett, his involvement was less integrated for the most part. A large part of his impact score comes from having the most 3 appearances. However, of his 13 3s, 11 came from the Good Neighbor sketches and two were his Weekend Update appearances. They are the kind of numbers you probably saw for Andy Samberg his first few seasons, had someone been keeping track. Mooney has been able to make some really great videos, some really weird videos, and some really great weird videos. When the audience gets used to him and them, they will make him a star. 
The show needed Sasheer Zamata, but did it need Sasheer Zamata?
If you prorate her numbers (she started late in the season), Zamata would've had the third-highest impact rating, which shouldn't come as any surprise. Zamata instantly showed why the show needed a female of color, appearing five times in her very first episode. Over the course of her 11 episodes, she continued to make the case, playing Kerry Washington, playing Michelle Obama, playing Solange. Zamata also got a decent amount of roles playing the straight woman. It's clear SNL needed Sasheer Zamata, but she is yet to show why they needed Sasheer Zamata. She has a ways to go to define herself. Still, as a fan of Zamata's from before her casting, I'm sure that will happen in future seasons.

Who had a better season: Noël Wells or Mike O' Brien?
When you look at impact score and appearance totals, it would seem that Wells had the better season. There was obviously less room for a breakout female cast member, as a result of how fantastic the show's women currently are and considering that none of them, especially Aidy Bryant and Kate McKinnon, had totally broken out until this year. What Wells got cast to do is impressions. She did ten impressions this year, which is by far the most of the newbies. She did Lena Dunham, Emma Stone, Kristen Stewart, Zooey Deschanel (all young actresses the show needs impersonated), and Nancy Grace, in a sketch she starred in. And, frankly, an ability to do impressions is what helps people to keep their jobs on SNL. Overall, Wells found room for herself, appearing nearly 50 times. Her problem is that 33 (or 67 percent) of her appearances were 1s. But, as Bryant showed this year, her impact will grow, especially if Nasim Pedrad leaves to do Mulaney full-time.
In the SNL oral history Live from New York, Chris Kattan tells a story about his first table read as a cast member and how no one really laughed at his sketch. That sketch made it on air and Lorne Michaels told him, "You know, you're like the new Mike Myers to me." He explained, "You're going to take care of yourself and do your own stuff." Mike O'Brien is your new Chris Kattan, America. Though O'Brien appeared in fewer sketches and had less of an overall impact than Wells, he had way more 3s. In fact, 18 percent of his appearances were 3s, which is more than every new cast member other than Bennet and Mooney (an amazing 24 percent of Mooney's appearances were 3s). Hell, it's a higher percentage than Aidy Bryant (16 percent). As a writer for four seasons before joining the cast, O'Brien knows what could get on and what could get him on. And if you look at his appearances, they were so Mike O'Brien. The bug reporter, the Chicago cop turned voice-over actor, and, most notably, the monster searching for his friend (which was our third-ranked sketch of the season): These were all super funny and very distinctly O'Brien. So, yes, Wells appeared more, but O'Brien appeared better.
Who had a rougher season: Brooks Wheelan or John Milhiser?
This is a hard one. At first glance, Milhiser struggled more to find his footing. He only appeared 35 times, and the vast majority of those appearances (69 percent) were 1s. Moreover, his impact score is almost the same as Zamata's, despite her appearing in ten fewer episodes. Add to that that his two 3s – "Centauri Vodka" and the pretty great "4th Grade Talent Show" – involved very little dialogue. But, as was the case with the latter, Milhiser was able to find the occasional role in which he was forced to dance, whether it was in "The Beygency," "Halftime Spectacular," or "French Dance." If Taran Killam were to leave in two or three seasons, Milhiser would find a nice niche as the show's go-to funny dancer. More than Killam, however, it appears Milhiser's bigger breakout hurdle is Mooney. Milhiser was able to play a little kid a few times, but when the little kid had a major speaking role, it went to Mooney, like with the finale's "Camp Wicawabe" sketch. That is the sort of redundancy SNL likes to avoid. Still, Milhiser at least was able to show some ability to do impressions, playing Billie Joe Armstrong and Jon Cryer twice.
Which is more than can be said for Wheelan. Wheelan did a few more impressions, but they were either not so great (his Jared Leto was just him in a wig) or they involved no speaking (Harry Styles, Slash). It points to a bigger concern that Wheelan, who came from being a pure stand-up comedian, can't do characters. So, yes, he has more 3s than Milhiser, but two of them were him as himself, adapting one of his stand-up routines. Wheelan is a likeable guy, but it's sometimes hard to imagine how he fits in. You'd think as the season went on these two would get more involved, but considering they appeared in three sketches each over the last three episodes, we'd have to admit we are worried.
Summary
SNL ended the season operating with one of its biggest casts ever (17). That's a lot of mouths to feed. Through that, three rookies – Kyle Mooney, Beck Bennett, and Mike O'Brien – were able to carve out clear roles and two – Sasheer Zamata and Noël Wells – showed much potential. Leaving two, Brooks Wheelan or John Milhiser, with uncertain futures. Overall, this was a rebuilding year for the show, which could've easily been dreadful. It turned out to be just the opposite. What the season lacked in breakthrough characters, it made up for in consistency and diversity in terms of sensibility. Because of this strong group of new cast members who joined an already wonderful cast, SNL feels more and more like a true ensemble than ever before. We're optimistic for the show moving forward. See you next year.