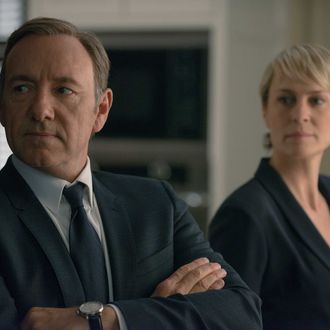 Photo: Nathaniel E. Bell/Netflix
It goes without saying, but we'll say it anyway: spoilers ahead. If you have not finished the second season of House of Cards, come back later. Room clear? Okay, then let's continue.
Well, look who made it to the Oval Office. Surprised? Well, if you had any doubt, then you, like literally everyone else in Washington D.C., severely underestimated Frank Underwood. (R.I.P. Zoe Barnes). And still, so many questions remain. Frank's chief of staff Doug Stamper is dead — or is he? And what happens to Rachel? Is Cashew based on anyone in real life? Whom does Meechum prefer, Claire or Frank?
Clearly, there is much to discuss, and now you don't have to do it in a vacuum: Series showrunner Beau Willimon has kindly agreed to answer your burning questions about the second season, so fire away in the comments below, and feel free to use the ones above because we're curious, too. We'll relay the best ones and post their answers here on Tuesday, May 13.