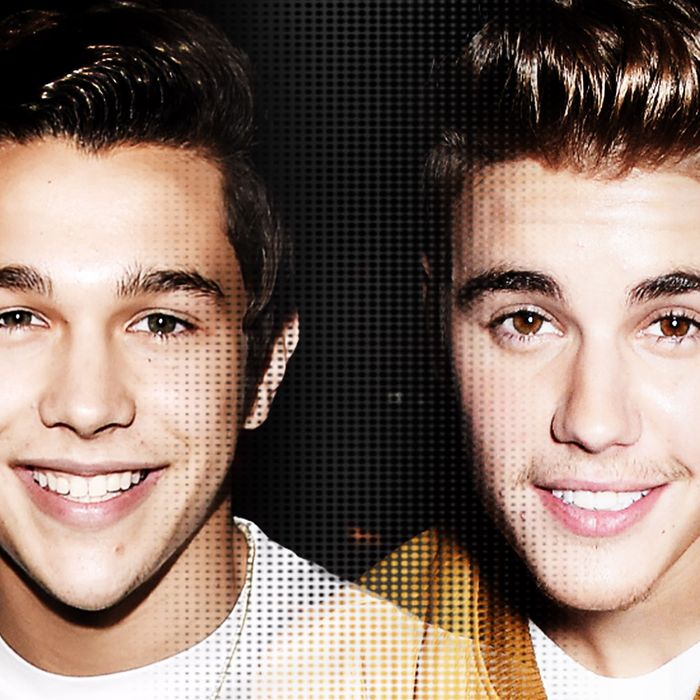 Austin Mahone — an 18-year-old YouTube personality with a garish recent hit, "Mmm Yeah," and a brand-new debut EP, Secrets — at first seems like a harmless Justin Bieber clone. He's got a thin voice, thick hair (under a flat-brim cap), and an easeful way with radio pop's prerequisites. (The San Antonio native teams nicely with Pitbull, who achieves peak frivolity guest-rapping on "Mmm Yeah.") Austin's also got an obvious, Bieber-shaped cutout to fill, as Justin tears down the last shreds of his once-wholesome image. But Mahone, who performed on the Today show Monday, is important for a reason quite apart from how ubiquitous he may or may not become. He's not actually a Bieber clone so much as a more advanced model — one fine-tuned for safety and propriety, as if to reassure parents fearful of web-bred pop stars going haywire.
To put it in Game of Thrones terms, Mahone is the Tommen Baratheon to Bieber's Joffrey: a wide-eyed younger sibling who may or may not be innocently stroking a cat named Ser Pounce. Indeed, Austin — who began marshaling the online fans he calls "Mahomies" at age 14, with a video of himself singing Bieber's "Mistletoe" — addresses tween-girl listeners with the same worshipful attentiveness Tommen shows Margaery Tyrell. When, in The Secret's "Till I Find You," he sings, "Every minute I'm without you, I lose, 'cause an angel touched my heart and took my cool," it's as if he's trying to express in words a feeling that can only be described by heart-shaped emojis.
But Mahone's not an amateur or a newbie. He opened for Taylor Swift last year, will headline a summer tour this year, and is signed to Cash Money Records, home of Lil Wayne and Drake. (He's also a "brand strategist" for Aquafina and "teen ambassador" for Lil Wayne's Trukfit clothing line.) Bieber released his first album, My World, at 16, and persuasively sold songs like "Favorite Girl" with his boyish, vulnerable little voice. As schlocky as young Bieber could be, he brought an intimacy into his songs that reflected how, ideally, artists and fans relate online. Mahone, on the other hand, sings like a one-man boy band, saucy, assured, and bland. That's not a coincidence: RedOne, who produced much of the EP, continually evokes prime-era 'N Sync and Backstreet Boys — the title track's spunky grind specifically echoes "Everybody (Backstreet's Back)." (RedOne worked with both groups in the late-'00s, in addition to creating smashes like Lady Gaga's "Bad Romance" and Nicki Minaj's "Starships.")
Which is all good fun, if you're nostalgic for prime-era 'N Sync and Backstreet Boys. But one wonders why a kid born in 1996, cresting a wave of enthusiasm from girls born around 2000, would take his cues from guys who can't get Justin Timberlake to call them back. That's a lot of ironic distance to lay on some screaming tweens. Although it beats Mahone's other retro affectation: his paternalistic lyrics. Some are so mundane as to seem innocuous (like "You are not alone/I'm your safety zone," from "Secrets"), while others trip the "seriously, guy?" alarm ("Can't I just fix you, girl/show you a different world?" from the bonus track "Shadow"). But none of them so much as hint as to their origin in 2014, as opposed to, say, 1964. And that's especially disappointing from a state-of-the-art young star with the power to stoke millions of fans through social media.
In fact, it's as if Austin Mahone's throwback sound and retrograde attitudes are meant to separate him from the very vortex that spawned his career: the social web. Nothing about this EP, other than it being a free download for anyone who buys a ticket to his tour, connects it to a sense of online community or a more accessible notion of the pop star. Sure, it's a relief that Mahone didn't devote eight songs to reflecting on the vagaries of fame, or a devise a concept album about the selfie. But promoting this music on his "socials" feels no more intuitive than your dad signing his name in his Facebook comments.
Although Bieber does provide a cautionary tale here, and not one related to his personal misadventures. His innovatively packaged last album, Journals — a collection of lush, highly personal, grown-man R&B tracks featuring next-gen hip-hoppers like Future and Chance the Rapper — compiled a series of "Music Mondays" singles he'd put out over ten weeks, plus five more new songs and a trailer for his second concert film, Believe. He announced the December 23, 2013 sale date on the last Music Monday, December 9 — and four days later, Beyoncé asserted her queenly dominion over music by surprise-releasing a wondrously received new self-titled album.
Journals could not have drowned out the tabloid noise even if it weren't itself drowned out by Beyoncé, and the Believe movie went on to flop because there's nothing left to reveal of Bieber the celebrity. But it's a shame Journals didn't reach more people, because it's a true inner-sanctum experience from an Usher-mentored, achy-breaky, utterly contemporary megastar. To the degree that Bieber's been bullied throughout his teenage years by all variety of commenters who resent pop music and effeminate young boys, you can hear that here. You can also hear a 20-year-old, described in Rolling Stone at the time of his debut as "65 inches of pure love panther," wantonly flexing his powers of seduction. It's all in the silken "PYD," where Bieber sounds as vulnerable as he ever has, while issuing patter about sex in the kitchen — and passing the second verse off to R. Kelly, whose personal exploits actually merit the kind of outrage directed at J.B.
Bieber's far from perfect, and for all we know, Austin Mahone may not be flawless, either. Love him or hate him, Justin's who we eventually get when we demand a love panther from 65 inches of teenage boy. Austin's more like a kitten poster commissioned by someone's aunt. The tweens who made his internet fame possible deserve more. We all do.