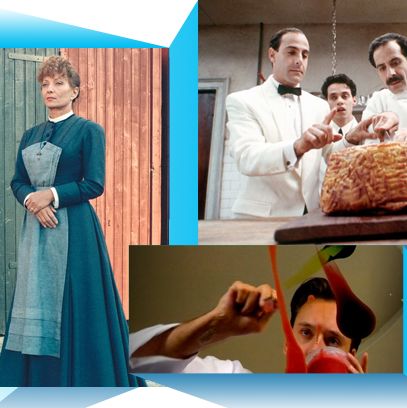 Photo: Metro-Goldwyn-Mayer; Rysher Entertainment; HBO
This weekend, as you search for a movie to watch, you can go to theaters and watch Chef or pick one of approximately 14 billion options available on streaming over a variety of services, be it Netflix, Hulu, Amazon, On Demand, or other sites. Every Friday, Vulture tries to make life easier by narrowing it down to a handful of heartily recommended options. This week, it's a full-course meal of movies — an Italian food comedy, an ode to French cuisine, and the portrait of a New York chef.
Big Night (Stream on Netflix, Amazon Prime, Rent on iTunes, Vudu, XBox, Target Ticket)
Apply the blueprints of a sports movie to a story about the inner workings of a restaurant and you have Big Night, the directorial debut of actors Campbell Scott and Stanley Tucci. Tucci and Tony Shalhoub star as two brothers from Abruzzo who fight to keep their restaurant doors open by wooing Italian-American singer Louis Prima with the meal of a lifetime. Big Night pairs broad comedy with theatrical sequences of rustic concocting. The centerpiece of the the main event is a timballo, the Devil's Tower of pasta dishes. Scott and Tucci obsess over preparation — rolling the dough, layering the pasta, adding cheese and eggs into an enormous dome pan — and the movie proves as mouthwatering as it is comical.
A Matter of Taste (Stream on Netflix, Rent on iTunes, Xbox)
After 9/11, chef Paul Liebrandt found his particular brand of art out of demand. Diners weren't willing to shell out hundreds of dollars for entrees prepared and plated like Jeff Koons sculptures. When Liebrandt began working at New York City's Papillon, he was whipping up bite-size delicacies drizzled with reductions and flourished with foam. By the end, he was flipping burgers at a bistro joint. A Matter of Taste chronicles the impassioned, eccentric, and wonderfully arrogant Liebrandt as he gets his groove back. He suffers stretches of failure and unemployment — mostly due to a self-imposed bar of excellence. When Liebrandt's time does come, all eyes — and mouths — are ready for his comeback. The documentary rises above straight food porn to pull back the curtain on the high-end restaurant scene, where Michelin stars are the difference between an artist and a wannabe.
Babette's Feast (Stream on Hulu, SnagFilms, Rent on iTunes, Amazon)
We take eating for granted. For most, meals are an act of consumption. But what about tasting? Gabriel Axel's masterpiece, based on a short story by Isak Dinesen, is a lesson in taking the time to indulge. Set in a puritanical village in 19th-century Denmark, the film focuses on Martine and Philippa, a pair of elderly sisters who maintain their father's pious reign over the town, and how they are transformed when their new cook spends lottery winnings on a the titular feast. Babette interrupts routine meals of slop and fish with extravagance, and it takes the entire meal for the villagers to realize they don't have to simply consume the meal, they can taste it too. God won't damn them for enjoying fine wine.
Saidoweizu (Rent on iTunes, Amazon, XBox)
We throw up our arms every time Hollywood decides to remake a foreign classic (sometimes it's warranted — looking at you, Oldboy), but American studios aren't the only ones cashing in on an established stories. Saidoweizu is a Japanese version of Sideways that Xeroxes nearly every beat of Alexander Payne's existential-wine-tour script. Instead of transplanting the bachelor party misadventures of Miles and Jack to Japan — as is the case with the upcoming remake of Unforgiven starring Ken Watanabe —  Saidoweizu sends two Japanese tourists barreling through Santa Barbara wine country. Saidoweizu never comes close to the sizzle of Payne's original (read a detailed breakdown of its missteps at the Dissolve), but it's a fascinating glimpse into the reverse-adaptation machine, where tenderness broadens into cheaper gags. The major difference between the two? The characters in Saidoweizu will drink Merlot.
Chocolat (Rent on iTunes, Vudu, Amazon, YouTube, XBox, Target Ticket)
Diner (Rent on iTunes, Vudu, Amazon, XBox, Target Ticket)
Eat Drink Man Woman (Rent on iTunes)
El Bulli: Cooking in Progress (Stream on Netflix, Rent on iTunes)
The Fruit Hunters (Stream on Netflix, Rent from iTunes, Vudu, Amazon, YouTube, Google Play, Xbox, Target Ticket)
I Am Love (Stream on Netflix, Amazon Prime, Rent on iTunes, Vudu, Amazon, Xbox)
Jiro Dreams of Sushi (Stream on Netflix, Amazon Prime, Rent on iTunes, Vudu, Amazon, YouTube, XBox, Target Ticket)
Julie & Julia (Rent on iTunes, Amazon)
Kings of Pastry (Stream on Netflix, Rent on iTunes, XBox)
Mostly Martha (Stream on Amazon Prime, Rent on Vudu, Amazon, Xbox)
My Dinner With Andre (Stream on Hulu, Rent on Amazon)
Ratatouille (Rent on iTunes, Amazon, YouTube, Google Play, XBox, Target Ticket)
Sideways (Rent on iTunes, Vudu, Amazon, Xbox)
Soul Food (Rent on iTunes, Vudu, Amazon, XBox, Target Ticket)
Waitress (Rent on iTunes, Vudu, Amazon, XBox)
Willy Wonka and the Chocolate Factory (Rent on Vudu, Amazon, Target Ticket)