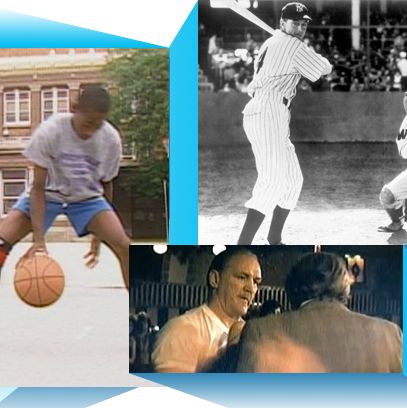 This weekend, as you search for a movie to watch, you can go see Million Dollar Arm, then pick one of approximately 14 billion options available on streaming over a variety of services, be it Netflix, Hulu, Amazon, On Demand, or other sites. Every Friday, Vulture tries to make life easier by narrowing it down to a handful of heartily recommended options. This week, a modern classic documentary, one of the rare bicycle dramas, and the life story of a boxer who fought a bear.
Hoop Dreams (Stream on Hulu, Netflix, rent from iTunes, Vudu, Amazon)
To this day, the Academy Awards' most egregious oversight was failing to even nominate Steve James's three-hour high-school basketball film for Best Documentary (Roger Ebert's investigation of why voters unanimously turned off Hoop Dreams after 20 minutes will make you weep). James follows teenagers Arthur Agee and William Gates as they weave through the grind of basketball practice, school life, family commitments, the pressures of looking ahead to college, and their swaying Chicago neighborhoods, microcosms of racial, political, and socioeconomic issues. Through off-the-cuff interviews and immersive vérité footage, Hoop Dreams captures an unrefined variation of the American Dream. A coach tells the boys they can become something. Maybe that's an NBA star, maybe that's someone with a steady job. But the promise gives them drive. They put it to rousing use on the squeaky floor of a basketball court.
The Pride of the Yankees (Rent from iTunes, Vudu, Amazon, Xbox)
If you do catch Million Dollar Arm this weekend,  prepare to get all choked up when the film siphons Lou Gehrig's famed "luckiest man on the face of the Earth" speech for its own emotional manipulation. There's no way to hold the tears back when Gary Cooper launches into Gehrig's farewell, a love letter to his ball-playing brethren. The Pride of the Yankees features recreated baseball games, but it's not a sports movie in the grand tradition of the genre. It's an ode to a national hero who impressed his family, friends, and tough-love mentors (Babe Ruth, Gehrig's own idol, plays himself in the film) before passing away at the age of 37. The Pride of the Yankees debuted in 1942, only a year after Gehrig died. His lingering spirit remains imprinted in every scene of the movie, even when Cooper's at 100 percent, carving out the first baseman's legendary career.
30 for 30: The Real Rocky (Stream on Netflix, rent from Amazon)
Binged Netflix's recently unlocked Rocky I–V, doubled back to the original because it's just that good, and now feeling a Italian Stallion–sized void in your heart? Try ESPN Films' documentary portrait on Chuck Wepner, a former New Jersey state heavyweight-boxing champion who inspired Sylvester Stallone's iconic fighter after going 15 rounds with Muhammad Ali. Dubbed the Bayonne Bleeder after a string of brutal losses, Wepner fought his way through the '70s, throwing himself to increasingly absurd situations to stay afloat. In '76, he fought Andre the Giant. Later that year, he fought Victor, the Wrestling Bear. That didn't go so well, as evidenced in this clip from the film:
The Flying Scotsman (Rent from iTunes, Google Play, Xbox)
Why aren't there more cycling dramas? It takes strength, stamina, and self-awareness — yes, even when you're 'roided-up Lance Armstrong — and millions of adults participate in the the sport each year. Cycling is also criminally easy to sell onscreen: 2006's The Flying Scotsman is the definition of hammy spots drama, but throw Elementary star Jonny Lee Miller on a bike and the screen swells with visceral energy. Miller stars as Scottish cyclist Graeme Obree, who finds solace from his bipolar disorder and suicidal tendencies whenever he hops on a two-wheeler. His extracurricular activity becomes a consuming obsession when Obree designs a sleeker bike he believes will set the world one-hour distance record. But not if the professional cycling mafiosos have anything to do with it; They think he looks like a total dolt riding his tricked-out bike, and lean on loopholes to eject him from the race. The Flying Scotsman chronicles a man versus the Man with all the velocity of a bike on the open road.
A League of Their Own (Stream from Netflix)
Bend It Like Beckham (Rent from iTunes, Vudu, Amazon, Xbox)
Chariots of Fire (Rent from iTunes, Vudu, Amazon, Google Play, Xbox, Target Ticket)
Cinderella Man (Rent from iTunes, Vudu, Amazon, Xbox)
Coach Carter (Rent from iTunes, Vudu, Amazon, Xbox, Target Ticket)
Cool Runnings (Rent from iTunes, Amazon, Xbox, Target Ticket)
Field of Dreams (Rent from iTunes, Vudu, Amazon, Target Ticket)
Friday Night Lights (Rent from Vudu, Xbox)
Glory Road (Rent from iTunes, Amazon, Xbox, Target Ticket)
Hoosiers (Stream on Hulu Plus, Rent from iTunes, Vudu, Amazon, YouTube, Xbox)
Invincible (Rent from iTunes, Amazon, Target Ticket)
The Mighty Ducks (Rent from iTunes, Amazon)
Miracle (Rent from iTunes, Amazon, Google Play, Xbox)
The Natural (Rent from iTunes, Vudu, Amazon, Xbox)
Remember the Titans (Rent from iTunes, Amazon, Xbox, Target Ticket)
Rocky (Stream on Netflix, Rent from iTunes, Vudu, Amazon, YouTube, Google Play, Xbox, Target Ticket)
The Rookie (Rent from iTunes, Amazon, Xbox)
Warrior (Rent from Vudu, Amazon, YouTube, Xbox)
We Are Marshall (Rent from iTunes, Vudu, Amazon, Google Play, Xbox, Target Ticket)