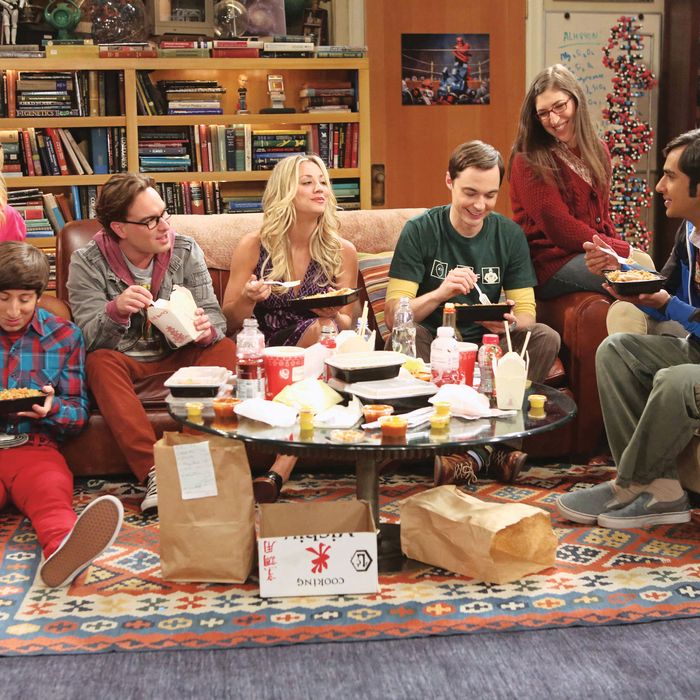 Photo: Michael Yarish/CBS
This piece was originally published on May 4, 2014, but it may be useful before tonight's Big Bang Theory season premiere.
TV shows are not supposed to be this popular, not in the age of DVRs, Netflix, and cord-cutting. Nevertheless, CBS's The Big Bang Theory—an old-fashioned multi-camera comedy about four nerdy men and three women who tolerate them—is not only television's No. 1 show but also the highest-rated sitcom since Friends signed off in 2004. Here's why.
Casting
"It's a cast of comedy pros," says Jaime Weinman, critic for Maclean's. "Johnny Galecki and Kaley Cuoco were sitcom vets. Jim Parsons became the breakout star. There's no weak link. In TV you can't just cast a star like in movies—you have to cast unknowns, and what [Big Bang co-creator] Chuck Lorre is good at is picking the right people for the right parts—and picking people the public will like."
*******************
Time Slot: Thursday, 8pm
Since The Cosby Show, viewers have been trained to tune in on Thursday nights, which is when Big Bang has aired since 2010 (it used to air on Mondays). "Thursdays always had the best shows," says Lisa Vebber, NBC's former head of scheduling, "because it's the most important night of the week for advertisers."
*******************
The CBS Factor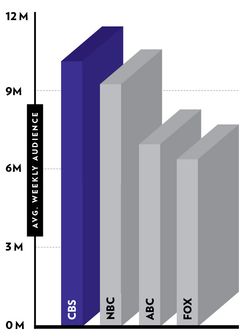 CBS is TV's No. 1 network. "They don't take huge risks, but viewers know what to expect," Vebber says. "Other networks reset in the summer, but CBS stays consistent." Since Big Bang moved to its current time slot in 2010, it's aired there nearly every week.
*******************
The Numbers

Among comedies, ABC's Modern Family is The Big Bang Theory's nearest rival. Its audience of 14.5 million viewers is nearly 10 million fewer than Big Bang's.
The demos: The Big Bang Theory is a true 8-to-80 hit: Factoring out sports, it dominates a wide variety of demographic groups. It's No. 1 with teens 12–17, adults 18–34, adults 18–49, and adults 25–54.
The number of people who watched at least six minutes of The Big Bang Theory this season: 84.2 million.
*******************
Catchphrase
"People enjoy catchphrases," like Sheldon's "Bazinga!", says Fred Fox Jr., a producer on Family Matters ("Did I do that?") and Happy Days ("Ayyyyyye"). "It let us try new things, because you can always get a 'Did I do that?' in there. Every time Urkel said it, the audience responded."
*******************
Multi-Camera Format

Big Bang is a multi-camera sitcom, shot with a studio audience, in a time of mostly single-camera shows. "It's supply and demand," says Weinman. "There's a high demand for multi-camera—it's intimate and creates the illusion that there's nothing between you and the characters—and right now the supply is low. Fans of Seinfeld and Friends, what do they have besides Big Bang?" CBS reruns of Big Bang reach more viewers than new episodes of single-cam shows Parks and Recreation, Community, and The Mindy Project combined.
*******************
Apartment Setting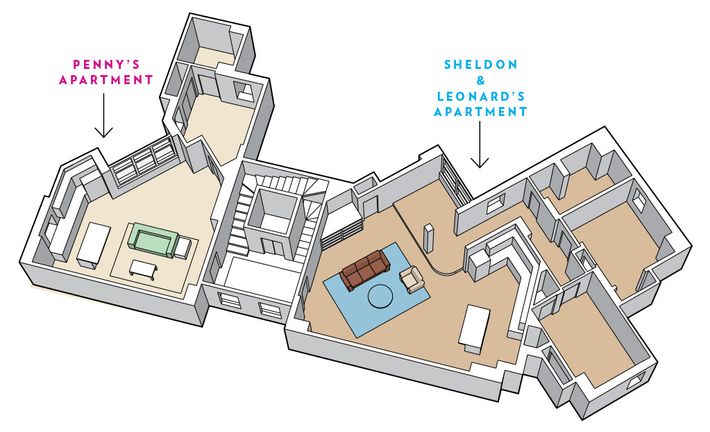 "Setting a show in an apartment building gives you that French farce feel, with people popping in all the time," says former Seinfeld producer and writer Peter Mehlman. "It eliminates any question in the audience's mind about what a character is doing there—these people can just be there all the time. It's especially great when you need somebody to come in at the exact wrong moment."
The couch is a gathering place for characters—it's where the crew eats, each person in their spot—that faces the fourth wall, creating a subtle connection with viewers. "The couch in Seinfeld was crucial," says Mehlman. "When Jerry and Elaine were talking about that deal where they could have sex and still be friends, they were on opposite ends of the couch. It gave a lot of electricity to it. Also, when a character finds out about something bad, you definitely want to put him on the couch, where it's almost like all the bones of his body are gone and he's just a lump."
*******************
Chuck Lorre
"Stories should be about these characters trying to make it through the day. The obstacles in [their] path—that's where the comedy comes from. You can start any story with the seven deadly sins. We all fall prey to those." – Big Bang co-creator Lorre, the man behind seven sitcoms (including Two and a Half Men and Mike & Molly) on his secret.
*******************
The Power of Syndication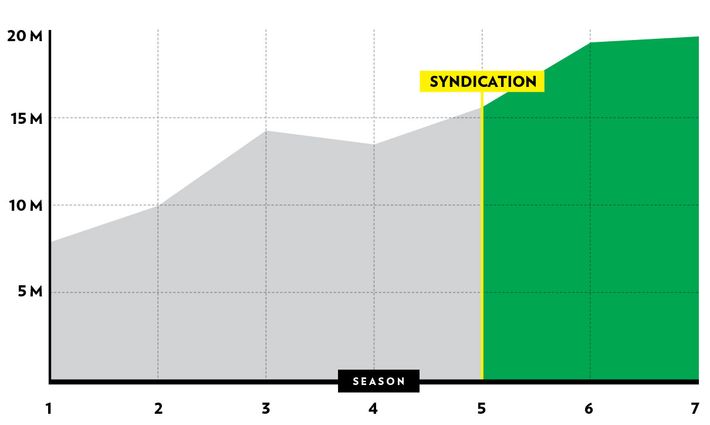 After TBS started airing episodes in syndication in 2011, Big Bang "just exploded even more," says Vebber. In the first 12 weeks of syndication, the show's broadcast ratings rose 21 percent. This is likely due to TBS's relentless promotion and generous scheduling—the cable network airs Big Bang in blocks five days a week.
*******************
Real Locations
Big Bang makes itself more relatable by using real chains. "I love that the Cheesecake Factory is part of the show," says Sheldon Bull, a writer for M*A*S*H, Newhart, and CBS's Mom. "It's a way to have people watch and go, 'That's part of my life, too.' "
*******************
Jokes
Big Bang keeps its humor accessible by "balancing its more obscure references with something to explain them so everyone can understand the point," says Weinman. "The jokes are never just about science; they're always about the characters' conflict or stubbornness. What the references do is make the show feel real."
Penny:  "Are we your X-Men?"
Sheldon: "No. The X-Men were named for the X in Charles Xavier. Since I am Sheldon Cooper, you will be my C-Men."
*******************
Pacing

The pace of Big Bang is not too fast but not too slow, either, somewhere between the dry humor of Curb Your Enthusiasm and the manic comedy of 30 Rock. We compared the rate of jokes per minute for each show's highest-rated episode.
*******************
Classic TV Relationships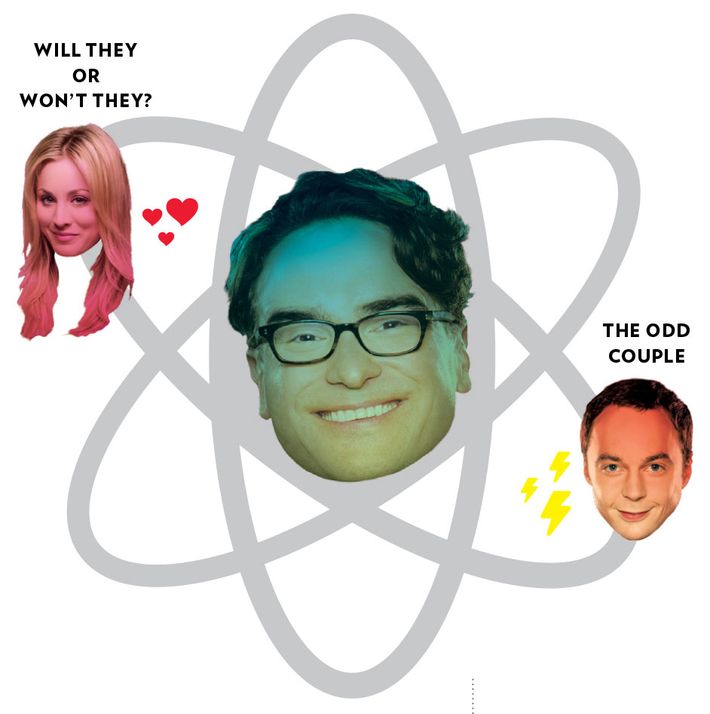 Like Friends, The Office, and countless others, Big Bang employs a will-they-or-won't-they relationship to increase its story options (or at least it did, until Leonard and Penny finally got together in season three). These relationships are a perpetual-motion machine for plot, because they give you "a suspenseful take on everyday life," says Phoef Sutton, producer and writer on Cheers, which had Sam and Diane. "In a comedy, getting together with somebody is the main thing in life that changes." Big Bang also has an odd-couple relationship—another sitcom standby—between mild-mannered Leonard and the egomaniacal Sheldon. "When you have two characters with opposite points of view, they can fight in a really endearing way," says Sutton.
*******************
The Anti-Hero

"There's a character in so many classic sitcoms that's just a big monster. He takes up a lot of room, and everybody has to deal with him," says Sutton. "Roseanne, Jackie Gleason, Sgt. Bilko"—and Big Bang's Sheldon. "Many times, the best characters are the worst people on the planet. Sheldon is constantly insulting the people that he loves and we just accept it gleefully, because he doesn't understand. He's an innocent," says Evan Smith, professor of television, radio, and film at Syracuse University. Many have speculated that Sheldon has Asperger's syndrome (including Parsons himself: "He couldn't display more facets of it," the actor has said), though the show's writers deny it: "Our feeling is that Sheldon's mother never got a diagnosis, so we don't have one," Big Bang co-creator Bill Prady has said. This gives the show freedom to poke fun at one character without fear of offending everyone on the autism spectrum (shows like Community and Silicon Valley have taken a similar tack, refusing to label their presumably on-the-spectrum characters). "Sheldon is like a modern-day Vulcan—trouble with emotions, an inability to read other people's emotions, often robotic. I'm impressed when the writers throw him a brief bit of humanity but have the wisdom to not overdo it," says Smith. "They give him a little flash where Sheldon is put in the caregiver role, the thing he's least equipped to do."
*This article appeared in the May 5, 2014 issue of New York Magazine.