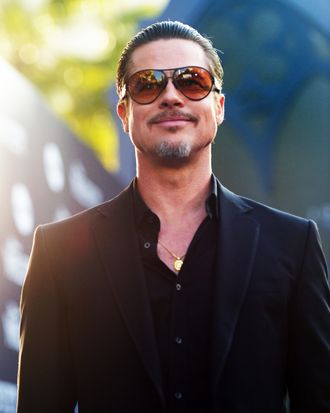 Actor Brad Pitt attends the World Premiere of Disney's "Maleficent", starring Angelina Jolie, at the El Capitan Theatre on May 28, 2014 in Hollywood, California.
Photo: Jason Kempin/Getty Images
Yesterday at the Hollywood Maleficent premiere, Brad Pitt was attacked while signing autographs. A man jumped over the barriers and punched Pitt's beautiful face. Pitt appeared to be unharmed, and continued to sign autographs. The assailent was later identified as Vitalii Sediuk, the 25-year-old Ukrainian "journalist" best known as that asshole who stuck his head underneath America Ferrera's dress at Cannes. He was booked for suspicion of misdemeanor battery and is the worst.