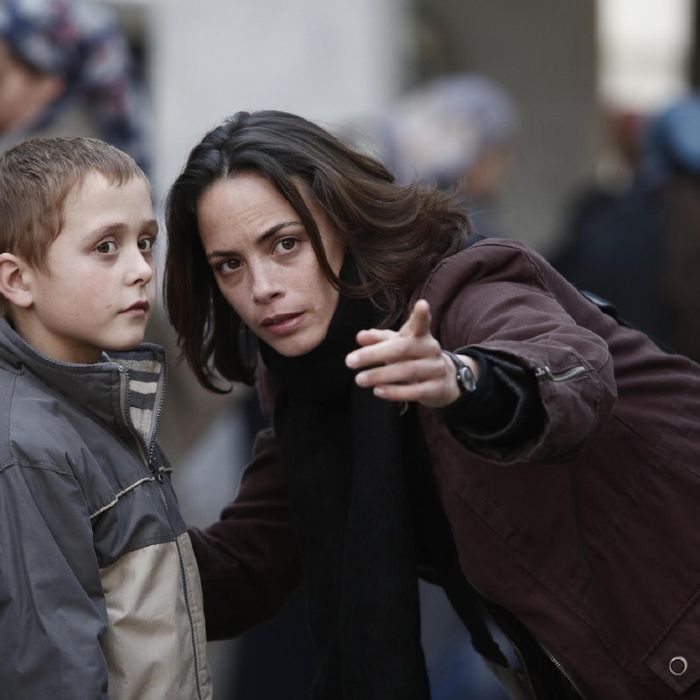 You hear a lot about boos at the Cannes Film Festival, but what they don't tell you about are the whistles. Those high-pitched proclamations are the first sign that the international press has turned on a misbegotten Cannes entry, and the first derisive whistle during today's big premiere, The Search, came well before the film had ended. In fact, those whistles may have been locked and loaded before the movie had even begun.
The Search is the first film directed by Oscar-winning helmer Michel Hazanavicius since his Best Picture win for The Artist, and it's about as far away from that high-spirited Hollywood confection as you can get. It does star The Artist's Berenice Bejo — Hazanavicius's real-life wife — but here she plays Carole, a human-rights worker trying to shed light on the Chechen conflict in 1999. She eventually encounters the orphaned Hadji (Abdul-Khalim Mamatsuiev), whose parents were executed by Russian soldiers in the film's very first scene. Carole isn't much for maternity, but she's still drawn to take in and care for the young boy, who has no idea that his surviving sister searches for him still.

The Search is one of the fest's longest films, at two hours and 29 minutes, and it has a whole lot of plotlines to juggle: In addition to Carole, Hadji, and his sister, we get to know a Red Cross worker played by Annette Bening, and the film launches a parallel plotline following a young Russian soldier (Maksim Emelyanov) who's pressed into service against the Chechens and systematically hollowed of his inherent humanity and compassion. The film is familiar and melodramatic, but the young-soldier plotline worked for me, at least; the same could not be said for the unruly European journalists at this morning's press screening, who punctuated a montage of civilian casualties with those aggressive whistles. There were still 20 minutes left to go.

To be sure, the bad buzz that followed The Search wasn't exclusive to the Europeans; one dismissive tweet I saw a few times, from Toronto-based writer Blake Williams, went, "Hazanavicius has my permission to go back to making silent films." But I did wonder whether the French were all too eager to turn on a director who might have been hailed as a homegrown hero.

It reminded me of two years ago at Cannes, when I would mention Marion Cotillard's incredible Rust and Bone performance to French journalists, who replied with dismissive sneers. "We hate her here," one told me. Cotillard had become too successful and was regarded as a sellout, as though she'd gone to Hollywood to make Adam Sandler movies instead of art films. Perhaps that's why Cotillard has won an Oscar but never received an acting prize at Cannes, though some still seem to think she'll be in the mix this year for her work in the Dardennes' Two Days, One Night — which, critical raves aside, I don't find to be nearly as impressive as her passed-over work in the recent Cannes entries Rust and Bone or The Immigrant. If Cotillard wins, it'll be because she finally wore Cannes down.

Call this eager vitriol a byproduct of "tall poppy" syndrome, a phenomenon I first heard about when the British press turned on Kate Winslet after she won the Oscar. It's the practice of cutting to size those who've experienced great success — the tallest poppies in the field are the ones most vulnerable to the scythe — and that happened to Winslet, who is still living down her emotional acceptance speech at the 2009 Academy Awards. In the U.S., Winslet is warmly regarded as one of our greatest actresses; in the U.K., she's often treated in the press like a dodgy, near-hysterical embarrassment.

A cutdown may have been inevitable for a tall poppy like Hazanavicius, and more cuts may await The Search, which many expect to get a trim in order to land a U.S. distributor. In any case, this is an arc Hazanavicius knows all too well: The Artist, after all, was about a man who was the toast of Hollywood one day, then found himself cruelly cast off the next. At least, like that character, Hazanavicius also has the permission to rely on the ample charms of Berenice Bejo to endure this rough professional stretch.