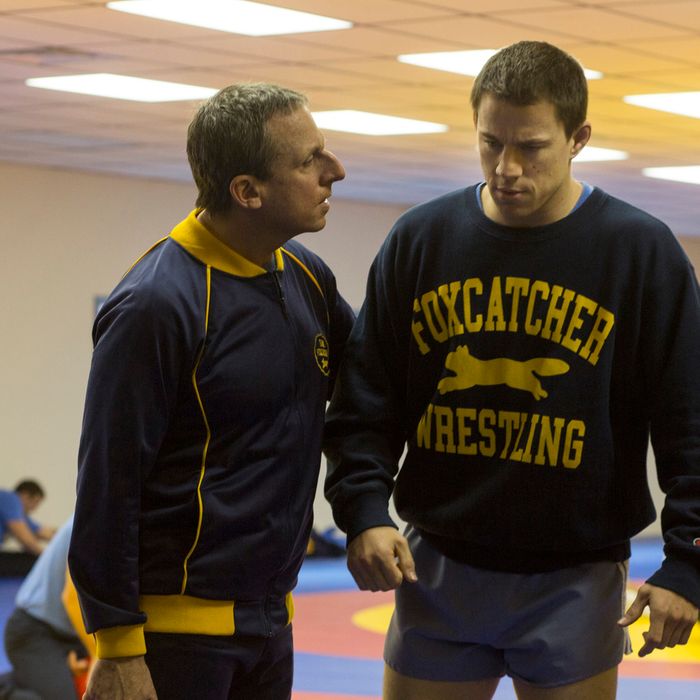 FOXCATCHER
Photo: Scott Garfield/Fair Hill, LLC.
If Jared Leto can win an Academy Award, why shouldn't another formerly featherweight Hollywood hunk have his turn? To be fair to Channing Tatum, the 34-year-old former male model has been turning in steadily more impressive work over the past few years, most particularly in the films he's made with Steven Soderbergh. But there are still some who would dismiss Tatum as some mere meathead, a claim that will be harder to make after his subtly sensational work in today's Cannes Film Festival premiere, Bennett Miller's fact-based drama Foxcatcher.
The funny thing is that Tatum's Foxcatcher role initially seems like his most meatheaded yet, as he's playing Mark Schultz, a brutish, cauliflower-eared Olympic wrestler who broods through most social situations rather than speaking. But Tatum, a consummate physical performer, gets under the skin of Mark and goes deep. You meet Mark when he's still living in the shadow of his genial older brother Dave (Mark Ruffalo), a far more decorated wrestler, and Tatum's hunched, defeated shoulders and self-loathing stares in the mirror tell you everything Mark would never dare to say out loud.
That deep well of insecurity makes Mark an unexpectedly easy pawn for wealthy heir John du Pont (an unrecognizably transformed Steve Carell), who has become obsessed with the sport of wrestling and sinks millions into Mark, his new pet project. Tatum is heartbreaking in his scenes with Carell: Formerly shuffling and mumbling through each conversation, he begins to stand up straighter and feel prouder, ennobled by this rich man's attention. But du Pont has his own demons, and Mark is so trusting (and so indebted to du Pont) that he tries too long to turn the other cheek, allowing the wealthy man's obsession with him to build to a monstrous, ultimately tragic degree.
There had already been a lot of buzz on Carell's performance before Foxcatcher hit the Croisette, and rightly so. (We'll get to that one in a moment.) But it wasn't clear until today just how throughly integral Tatum is to the film, and how much of himself Tatum pours into his role: When upset, the miserable Mark has an inclination for self-harm — he'll punch his own face over and over, or smash a mirror with his forehead — and Tatum is so committed to those scenes that he left the audience fearful not just for Mark's well-being, but for his own. When awards season starts to get underway, let's hope we find him in the thick of the Best Actor derby right alongside his flashy co-star Carell.
But then, who's to say that awards season hasn't already begun? Three other performances are drawing plenty of buzz here at Cannes, and each of these actors will be a serious contender, too.

Steve Carell. At the press conference following Foxcatcher's first screening, a French journalist asked Carell if he had any reservations about playing a dramatic character so different than the sort he's known for. "I don't think characters in films know that they're in a comedy or a drama," Carell replied simply, and who could speak to that better than him? Even in his comedies, Carell's beleaguered characters seem to be keeping sadness just barely at bay — you're meant to cringe, then laugh, at every new humiliation writ large on his expansive face — and so the idea of Carell top-lining an out-and-out dramatic tragedy isn't so unusual. Still, his Foxcatcher role feels like a career game-changer simply because it's so fascinating and brilliantly executed. Aged and elongated by prosthetics, Carell plays duPont, a noted birdwatcher, as part bird himself: He stares down his great beak at prey, then snatches Tatum in his talons and installs him in a feathered nest. Maybe it took a physical transformation this drastic for us to see Carell differently, but after Foxcatcher, we'll surely be seeing more sides of him.

Hilary Swank. This 39-year-old actress is a curious case indeed: She's one of very few performers to have ever won two Oscars, and yet she doesn't seem to engender a level of respect (or a caliber of movie offer) that's commensurate with that feat. I suspect, then, that Swank could truly relate to her role in the Tommy Lee Jones–directed western The Homesman: Her frontier woman Mary Bee Cuddy is an athletic, capable landowner possessed of an uncommonly generous decency, and yet she's perpetually turned down by every man she courts to marry her. A solitary figure with lots of love to give but no one to invest it in, Mary Bee volunteers to transport three of her town's mentally disturbed women to a hospice one state over, a difficult journey that requires drafting an irascible claim jumper played by Jones himself. This is easily Swank's best role since Million Dollar Baby, and if the movie's no-fuss classicism finds favor with older members of the Academy, she could find herself in the Oscar race once more.

Julianne Moore. In Maps to the Stars, Julianne Moore gives a wild, let-it-all-hang-out performance that reminded me of Nicole Kidman in The Paperboy, though while that Cannes premiere found Kidman squatting over Zac Efron and unleashing a spray of number-one, Moore's most game scene in Maps finds her hunched on a toilet, unleashing a long ramble about her inability to go number-two. Moore's character is frustrated in plenty of other ways, too: An aging, never-was movie star named Havana Segrand, she spends most of her time haranguing anyone in Hollywood who can get her a plum role in the remake of her actress mother's most famous movie. Havana is certain that the project could put her into the Best Supporting Actress conversation, and in a meta-twist, so might Maps for Moore. The only drawback is that the movie around Moore isn't nearly as good as she is; director David Cronenberg and writer Bruce Wagner have fashioned a self-congratulatory Hollywood satire that feels two decades out of date. Still, Moore's done plenty of great work in good films that the Academy has inexplicably shunned, so if it takes a movie this meta to score her a long-overdue fifth nomination, consider it a make-good and celebrate.