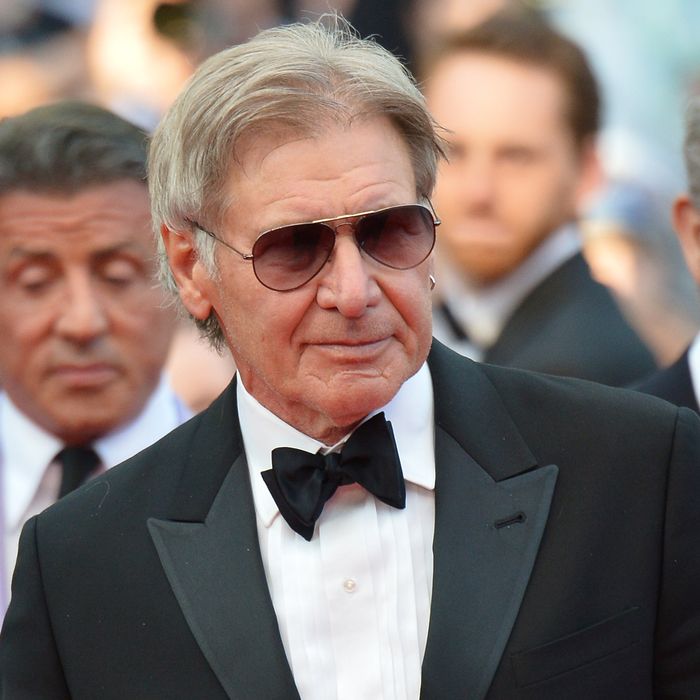 Harrison Ford is in Cannes promoting The Expendables 3, but at Vanity Fair and Armani's legendary party at the Hôtel du Cap, guests wanted to know more about his recent viral video work. Specifically about that clip of him freaking out at a David Blaine card trick performed to Ford in his own kitchen. Ford explained to friends that the video, which aired in November as part of the TV special "David Blaine: Real or Magic," had actually started with a different, private magic show Blaine had done for Ford's adopted son Liam, 13, and friends. Ford had been so impressed he told Blaine, "Whatever I can do," he said. "And, uh, well, he called" and asked if he could come to Ford's house with cameras.
It's hard to pull one over on Han Solo; Ford said he knew all about card tricks where magicians can "push" a card on you make you feel like you picked it on your own. But Ford wasn't prepared for the voodoo Blaine had in mind. The magician merely had Ford think of a card. Ford thought of the nine of hearts. Then Blaine asked Ford if he could have an orange out of a bowl of fruit on Ford's kitchen counter. "He picked one orange out of six oranges — a whole orange," said Ford. 'And he opened it up and inside was the card I'd been thinking about in my head! I told him, 'Get the fuck out of my house' because you do not want a guy who can do something like that in the place where you live."
I, personally, was more intrigued by Ford's other great viral moment: when he pierced Jimmy Fallon's ear on live TV. Ford had been old school, with just some ice for numbing, and a needle. Was there more ear piercing in his future? The 71-year-old pulled the hair away from my left ear, examined my lobe like he was a piecing professional in a Claire's at the mall, and nodded his approval. "I'm pretty available," he said, winking as he walked away.
Also seemingly pretty available was Justin Bieber, who took nearly every picture that was asked of him. The singer didn't RSVP until thirty minutes before he arrived, and almost got turned away at the door. He was also somewhat underdressed for the black-tie affair, in slouchy jeans, gleaming white high-top sneakers, and a camel colored Dolce & Gabbana leather jacket. He'd come at the invitation of Vanity Fair's fashion director Elizabeth Saltzman, but was squired around the party by none other than mogul Barry Diller. Excited "Bieber is here!" texts began circulating among those at the nearby Hunger Games party.
As the exclusive dinner transitioned into a party, wealthy Russians flocked to Bieber for photos. He gladly obliged, usually with some well-practiced peace signs or into-camera smoldering gazes. On one side of his neck was a vertical tattoo reading "patience" and on the other, below his ear, was a tattoo of a musical clef. The Dubai Film Commissioner came over to give Biebs the hard sell on his country. "Dubai is about culture and entertainment and good people," the commissioner told him — and Biebs had already had a taste of that. He's performed in Dubai twice, but told the commissioner he wanted to spend more time there, based on the recommendations of Tyrese Gibson and Will Smith, who'd spent New Year's there with his family. "Will told me all about it," said Biebs. "I need to get back  there and explore it more."
What was Justin Bieber doing in Cannes anyway? "I'm just here to take in the scene, have a good time," he told me. "I mean, I'm 20 years old. Why not?" And unlike many of the celebs who just come to Cannes to hang out, he was hoping to catch some films. "My best friend just graduated film school so I brought him here," apparently indicating the young man wandering around with him all night. He's also a friend of Liam Hemsworth. When The Hunger Games' Gale showed up, the three guys broed down big time.
Outside on the terrace, Bieber had a welcome introduction to Jennifer Lawrence, who'd said loudly upon entering the party, "I want to meet Bieber!" He also met Russell Crowe, though someone who witnessed it described the encounter as "the weirdest standoff I've ever seen. Justin Bieber was being really deferential and Russell Crowe kept, like, backing away."
Joining Bieber, Ford, Hemsworth, Crowe, and Lawrence (who later gave us all a lesson on how to get rid of hiccups with the help of Josh Hutcherson) were Cate Blanchett, Julianne Moore, night owl Gael García Bernal (still the front-runner for the most fun member of this year's Cannes jury), and America Ferrera, cheery and recovered from her red carpet disaster the night before. Last to arrive and last to leave was Wesley Snipes, also in town for Expendables 3. He'd worn a white linen tunic outfit with Converse sneakers and a Namibian talisman around his neck and was feeling a bit underdressed. "It seemed like a good outfit for this place and the weather. I thought more guys would be in white," he said, looking around. "Oh well, I'm used to being an anomaly." He laughed. "Not a lot of brothers here."